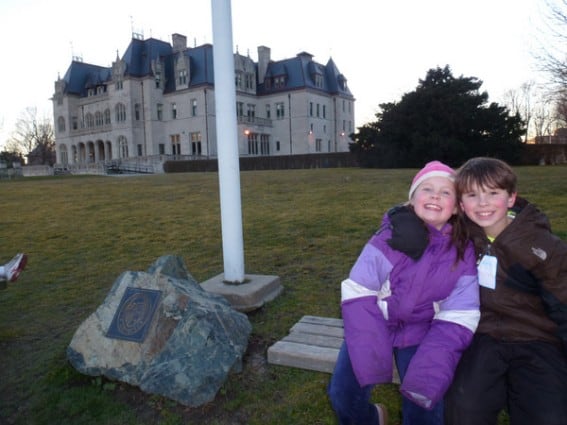 Typically when most people think of Newport, Rhode Island they think of beaches, boats, and summertime fun. While all of this is certainly part of the city's identity, there is much more to Newport for you and your family to enjoy. We recently got to spend a weekend in Newport during the Annual Newport Winter Festival. Even with the winter weather, we enjoyed our time outdoors. The beauty of the Atlantic Ocean is everywhere and there are so many family friendly activities to take advantage of to enjoy the area and learn about its rich and mischievous history. Newport Rhode Island is a renowned 'tres chic' community. Before our recent visit,I knew about its history of opulence and grandeur but was not aware of the roguish past.
Rogues to Riches History-Yo ho ho
Local history is well preserved by Newport citizens. During the Revolutionary War, Newport was a very active port and much of that history, preserved by the Historical Society, can be seen at their downtown museum and through interactive tours. My family enjoyed a Lantern Tour of Historic Newport by a very knowledgeable docent from the Newport Historical Society. We learned that many colonists seeking relief from persecution landed in Newport as did many pirates running rum. These are the rogues that put Newport on the map many years after the natives discovered this rich piece of paradise. Our kids' sentiments- "no pirate's life for me".
The Newport Mansions are reminders of the decadence of the Gilded Age and the opulence of summer cottages before taxes. The kids marveled at the grandeur of the staircase at the Elms mansion and the size of their kitchen, even though it was not modern. This 'cottage' was built for the Edward Berwind family who had made their fortune in coal. Our kids were able to see how their cottage vacations of today compared to those of the wealthy from the Gilded Age. Ours are a bit homier, to say the least. There are 10 mansions and facilities owned by the Newport Mansion Preservation Society that are open to visit. It's easy to imagine being a princess walking into these beauties.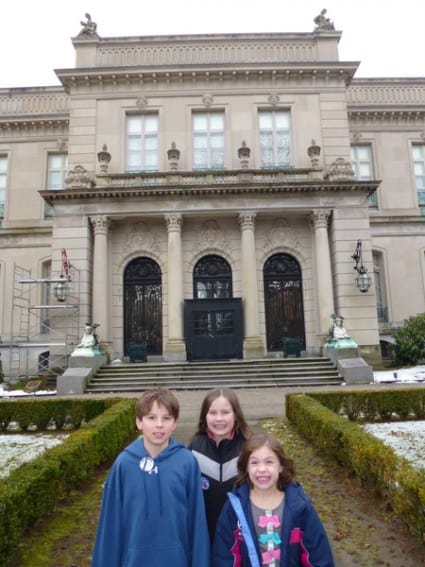 Wintertime waterfront fun

Pirates running rum once sailed the very waters we could see right from our hotel .We were lucky enough to stay right on the harbor at the Newport Harbor Hotel and Marina. The weather, although sunny while we visited, was tremendously windy. We watched the boats rock outside our hotel window and were able to shop in the stores across America's Cup Avenue.The wind could not deter us from enjoying another outdoor activity: Ice skatiing. The Newport Skating Center is located a block from the hotel and we enjoyed skating outdoors right on the harbor with the ocean in sight.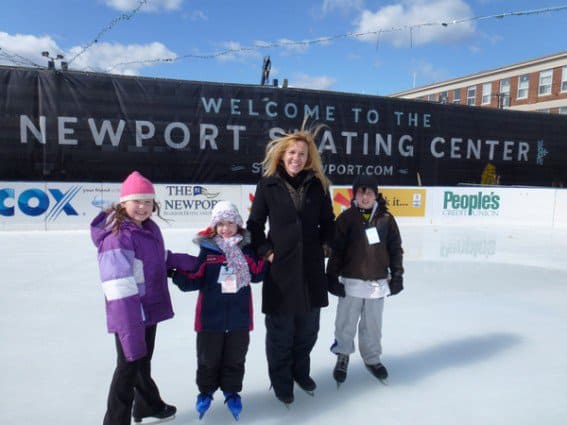 If you would like to enjoy Newport more like the pirates before you, get on the water. Seal safari's from Seal Watch Cruises and other tours are available year round. If your family is more the landlubber type head for one of the city's beaches which are open year round and feature free parking in the off season. Easton's Beach is a quick drive or longer walk from the center of Newport. The water may not be inviting for swimming in the winter, but beach combing is definitely in order. The crowds are nonexistent and the shells and sea life are plenty. This beach also offers up a carousel and small aquarium making it a great way to spend a few hours. The beach is also close to the historic Cliff Walk, a 3.5 mile walk with history dating back to native days. The walk follows the Newport bluffs past fabulous estates and historic mansions.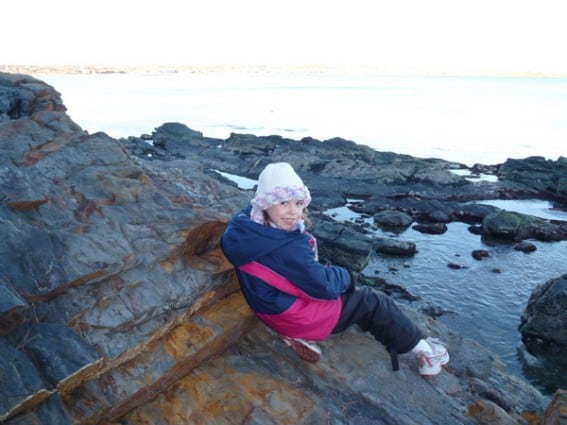 Eat
The New England coast is known for its fresh and tasty seafood. On a trip to the Barking Crab we indulged on a meal of crab, clam and lobster. A family that came in behind us decided on a 10 pound lobster from the tank and my kids said adios a lobster friend they had just made upon entering. Seafood is not all Newport has to offer. We sampled a bunch of tasty wings from a dozen local establishments at a chicken wing cook-off at the Newport Hyatt Regency. Newport knows wings. The winner was Nikolas Pizza, my youngest daughter's favorite. My roguish son was even temped by the suicide wings at Wings to Go. It was a flaming feast he won't soon forget!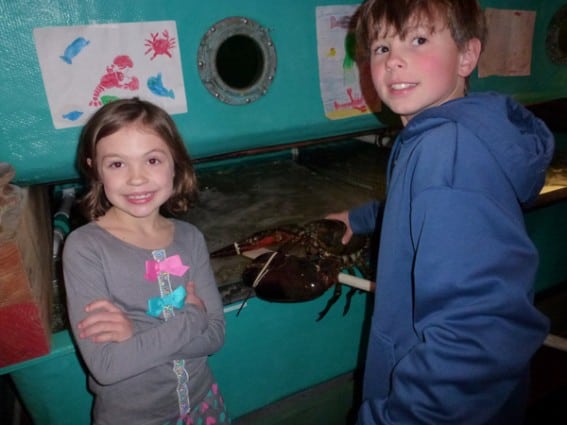 The city of Newport and its 1 million citizens make for a community focused city. During February they host a Winter Festival that lasts over a period of 10 days. There are shows, restaurant food contests, craft stations, music, and much more. Purchasing a Winter Festival button for $9 allows discounted admission into a number of attractions as well as discounts off area restaurants, making it a great way to experience the city!. One of our favorite experiences was family day at Easton's beach where we dug for wooden blocks like pirates digging for treasure and won kites. We spent some time taking advantage of the wind with those kites and created some great memories. The Newport Art Museum  had a theater 'whodunit' production requiring audience participation. The play followed household help from a mansion during the Gilded Age and all of their antics. After the production we searched the museum for clues and interviewed the suspects still in character. It was a great way to spend a night with the family. There are so many activities in Newport we actually had to choose which we would participate in. The Winter Festival is held each February so you can experience the rogues to riches of Newport each year and not just in the summer.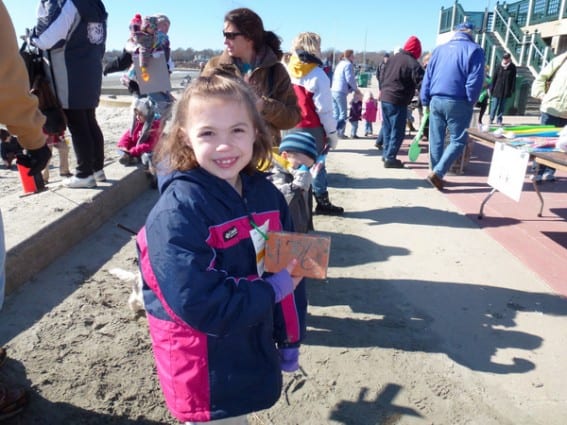 This post is based on a trip our family took to Newport. We were provided a 2 night stay by the Newport Harbor Hotel and Marina and a VIP pass to some attractions. My review was not influenced and all opinions are my own.
---
Travel with kids to: CA |CO | DC | FL | HI | IL |MA | NC | NY | OR | PA | TN | TX | UT | VA | WA