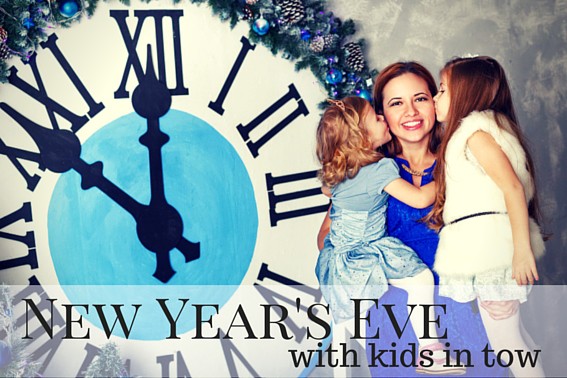 Photo by: Bigstock/vagengeym
How wild was your last New Years? In the past 10 years of motherhood, I've celebrated some CRAZY all-nighters to ring in the new year. They've included nudity (exhausted, boob-out nursing sessions), drunkenness (see aforementioned milk-drunk baby), sloppy kisses (wiping drool off of face before kissing a passed-out hubby good night), lewd acts (cleaning up vomit from stomach-flu toddlers), laugh-till-you-pee (thank you, birthing muscles) games, and all-out dance sessions to jamming music (this actually happens).
And as fun as these at-home parties can be (I genuinely mean that), sometimes parents need a break. Pinterest is full of a thousand adorable and ambitious projects that will keep your littles entertained until the wee hours, but most require a hefty dose of planning and energy that this post-Christmas mom can't ever seem to muster. And since finding an available babysitter for the year's biggest party night is hard to come by, skip the champagne sipping, adults-only parties and bring the kids with you this year for a family friendly New Year's Eve.
From visits to amusement parks to hotel stays, local festivals, and live entertainment events, here are some great ideas for hitting the New Year's Eve party scene with your family in tow.
New Year's Eve with Kids: Amusement Parks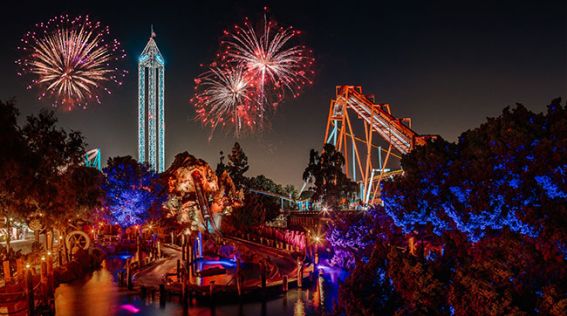 Photo Courtesy of Knotts
Ring in the New Year with a celebratory visit to theme parks across the country. Most local parks offer some sort of celebration for the holiday with many parks boasting kid-centric activities that take place during the daytime and early evening for parents hoping to keep an early bedtime routine.
Pros: Kids and their parents can have a TON of fun with little planning from parents. Many activities are offered throughout the day, which allow families to spend as much (or as little) time as individual families can handle.
Cons: Parks can tend to be crowded, and the late-night drive home can be taxing. Consider booking a room nearby if your family plans to stay through the new year.
Expert pick: Knott's Berry Farm boasts something for every member of your family. Learn to swing dance from the Memories Swing Dancers while dancing to the live music of the Jumpin' Joz Band; numerous other live music acts and artists will fill the park's atmosphere with a variety of toe-tapping jams. Don't miss Taylor Hughes, a family-friendly comedian, in his must-see show of comedy, magic, and audience interaction that will end your year with a ton of laughs. Count down to midnight by watching the Sky Cabin ascend to the sky to welcome in the new year with an impressive fireworks spectacular framing the moment. The park's popular Knott's Merry Farm lineup of holiday entertainment include Snoopy on Ice, snowfall, and Camp Snoopy stories and fun, paired with the park's year-round attractions and decor that cater to the interest of all age levels, make Knott's Berry Farm a best bet for New Year's Eve.
Other Top Picks: Disneyland and Walt Disney World, boasting special NYE fireworks, holiday parades, and special dining menus | LEGOLAND California and LEGOLAND Florida, celebrating Kid's New Year's Eve with an early NYE brick drop, live entertainment, and fireworks just perfect for very young families | Universal Studios Florida, featuring live 80s music and the year's last presentation of Universal Cinematic Spectacular at midnight.
New Year's Eve with Kids: Hotel Offerings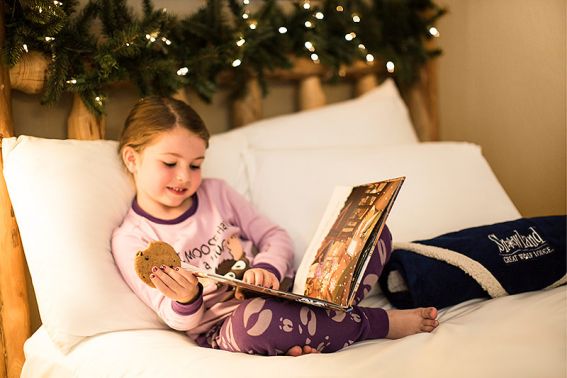 Photo Courtesy of Great Wolf Lodge
Even if you aren't planning a New Year's Eve getaway, consider splurging on a night away at a hotel or resort; even one close to you can offer a celebratory air to your holiday. Many hotels across the country offer complimentary events for families, while others go all out with over-the-top festive events perfect for your hard-to-please traveler.
Pros: With events tailored to kids by hotel staff, parents are free to relax and enjoy the day. In-room babysitting services and kids clubs often allow parents to enjoy the actual ball drop on their own, while family celebrations often take place during the daytime and early evening.
Cons: Non-complimentary events can be pricey, which must be calculated into the cost of the hotel stay itself. If you plan to add in kid's club and/or babysitting services, additional cost will likely apply on the holiday. Event policies vary and are sometimes only open to hotel guests.
Expert Pick: Great Wolf Lodge resorts, known for their family-friendly and year-round focus on fun, feature New Year's Eve events that match the familial expectation. Specific activities vary by resort, but most include crafts, games, yummy treats, story time, karaoke, and a culminating "ball drop" of thousands of balloons at midnight, all set in the magical Snowland, a re-creation of the North Pole. Kids can start 2016 with a splash by spending the first day of the new year at the on-site, indoor water park.
Other Top Picks: Ritz Carlton Half Moon Bay (among other properties nationwide), featuring the Ritz Kids New Year's Eve Party boasting movies, games, a kid's buffet, balloon drop, and sparkling cider toast | The New York Marriott Marquis gets kids as close to the Times Square action as possible, without getting lost in it. Rooms overlooking the nation's biggest party start at $3,000 for the night! | Beaver Creek Resort features a glow stick ski party with early-to-bed fireworks.
New Year's Eve with Kids: Live Events & Festivals

Photo Courtesy of Boston First Night
Live events throughout the country offer families the chance to celebrate the New Year as a group. First Night festivals have become popular nationwide events that feature kid-friendly music, games, crafts, activities, and -typically- no alcohol.
Pros: Kids get to experience the in-the-moment live action of the holiday in a festive, but still kid-friendly, atmosphere.
Cons: Crowds, noise levels, and patrons can vary. Parents will need to use caution and keep a keen eye on little ones, especially at free events.
Expert Pick: Boston's First Night offers families a wide assortment of New Year's Eve fun and excitement for the whole family at this First Night event, the oldest and largest in the country. Their Family Festival of arts features performances, ice sculptures, vendors, crafts, and ice skating on Frog Pond. If kids can stay awake until midnight, they'll enjoy the stunning fireworks over Boston Harbor.
Other Top Picks: New Year's Eve in Hershey, PA, with kid-centric programming including live performances by Disney star Olivia Holt | Panama City Beach's Ball Drop, featuring the dropping of 10,000 beach balls at 8pm | EVE WinterFest in Salt Lake City, a 3-day event for the whole family
Find First Night Celebrations in Pittsburgh, New Jersey, New York State, Bethlehem, PA, Harrisburg, PA, State College, PA, Virginia, and Washington, D.C. (Alexandria First Night).