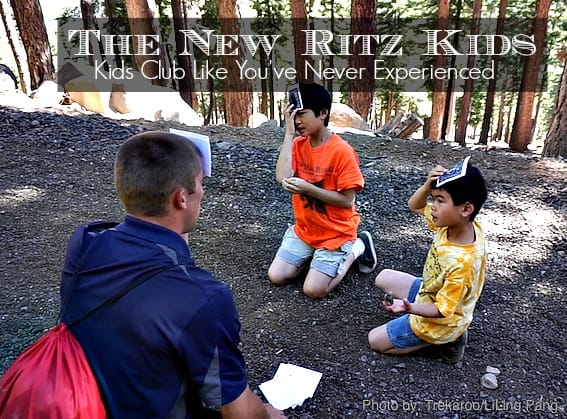 The elevation is 7,000 feet, there's not a cloud in the cobalt blue sky, the sun is blazing at 85 degrees, and my boys are hiking. In fact, they are hiking UP the trails of Northstar Ski Resort, and they are not whining or complaining. Instead, they are asking questions about the wildlife, referencing books they've read, comparing this alpine mountain landscape to other environments they've been on. Who are these children?
I'm convinced that Patrick, the Ritz Kids counselor from The Ritz Carlton, Lake Tahoe, has cast a spell on my children, and I'm plotting how I might sneak some of his secret potion into my luggage. But truly, he's cast no spell on them; our counselor has carefully paced our hike, stopping about every 5-7 minutes to play a game adapted specifically to this alpine ecosystem.
If you've ever been hiking with children, you quickly realize that there is nothing more tedious to a child then walking. But this hike was different. Patrick drew my boys, ages 8 and 10, out of their shells by making connections and asking questions that encouraged keen observation. As my encyclopedic 8-year-old spewed fact upon fact, it was clear that Patrick was very knowledgeable and passionate about learning himself. His excitement was contagious.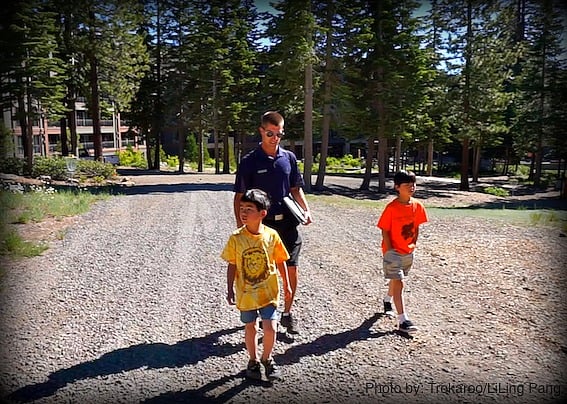 The conversation flowed naturally from one topic to another as Patrick comfortably adapted to what the boys were interested in talking about. We paused periodically to engage our senses – listening, smelling, checking out tracks and scat. A few times, we stopped for an activity that encouraged the kids to delve deeper into different aspects of life on the mountain. We learned about photosynthesis while standing under the shade of a grand pine savoring it's sweet aroma with every breath and we learned about alpine animals while spying on a Stellar's Jay. It never felt like we were back at school. As we turned around to head back down the mountain, I marveled that we had spent 45 minutes walking uphill, with narry a whine or mention of Minecraft!
Check out this video of our visit to The Ritz Carlton, Lake Tahoe:
Blown away by this experience that completely redefines kids programming for the hospitality industry, I was eager to speak to the team behind the reimagined Ritz Kid's experience.
An Interview with Bobbie Verdegaal – the brains behind the New Ritz Kids
Bobbie Verdegaal is the Manager of the Ritz Kids and Jean-Michel Cousteau's Ambassadors of the Environment Programs. She started her life as a naturalist and biologist at the renown Jean-Michel Cousteau Ocean Futures Society where she traveled to Alaska and French Polynesia to work in environmental education family programs. She's also worked as a public school teacher and served with the U.S. Peace Corp in Nicaragua as an environmental educator. Eventually, she was commissioned to help the Ritz Carlton develop their Ambassadors of the Environment program in partnership with Jean-Michel Cousteau, which is offered at select Ritz Carlton properties. That program was so well received, that she came onboard with Ritz Carlton to head up the development of a new Ritz Kid's program to be offered at all 86 Ritz Carlton properties around the world from New York City to the Kazakhstan.
Me: Bobbie, tell me, why did The Ritz Carlton commission you with the task of reimagining Ritz Kids?
Bobbie: The Ritz Carlton wanted to create a consistent offering for our youngest guests at all of our properties so that families could always be assured that even their children would receive the legendary service of The Ritz-Carlton. Nothing like Ritz Kids existed in the luxury market and guest insights revealed that this was "an ask" of our consumers. They revealed that more than ever, their vacation destinations were being determined by their children. Our guests wanted an experience aimed at our youngest guests that was beyond the usual babysitting service, but rather an opportunity to experience something special and customized for each resort's location.
Me: Why did the Ritz Carlton pick the Jean-Michel Cousteau Ocean Futures Society to partner with to develop this new program?
Bobbie: Cousteau is such a prominent name in the world of environmental education and the family legacy that began with Jacques Cousteau has continued to live on through his son, Jean-Michel Cousteau. Jean-Michel has taken the groundwork laid by his father and expanded it beyond the ocean to include all types of ecosystems and environments. We also knew that Cousteau would be able to capture the fun and immersive spirit of the program as he had already done through our successful Ambassadors of the Environment program.
Me: What are the differences between the Ambassador's of the Environment program and new Ritz Kids program?
 Bobbie: The Ambassador's of the Environment program is for all ages. The Ritz Kids program is really tailored to our youngest guests, kids ages 4-11. The message is the same, the games and activities are also similar, but the Ritz Kids program doesn't always include an outdoor excursion component and it is tailored to each location's natural setting.
Me: What was Jean-Michel Cousteau's mandate and vision for developing this exclusive program for the Ritz Carlton?
Bobbie: We wanted to capture the essence of the Ambassadors of the Environment program and package it in such a way that it could be used at any Ritz Carlton around the world. Jean-Michel Cousteau created the program around the four pillars of water, land, culture and environmental responsibility. His approach to the program is that "all kids start off as scientists" and the activities embody that natural sense of curiosity. Kid's are always asking questions and all the activities tap into that natural tendency of children. We never want it to feel like a classroom.
Me: How does each Ritz Carlton property customize the program to their property's setting and location?
Bobbie: There are 30 activities that each property can choose from to complement their local environment and setting. We encourage counselors to choose topics they feel passionate and enthused to teach. We know that if the counselor is passionate about what they are teaching, that passion will come through and be contagious. We also encourage properties to customize activities to what is important to their ecosystem. The activities span many ecosystems from mangroves, to mountains, and deserts. So, a property like Dove Mountain and Rancho Mirage would select activities like "deserts", and properties like Orlando or Sarasota, would select activities like "coral reefs." Our Urban properties can also add their own unique touch through the amenities that the children receive.
Me: What kind of training do Ritz Kid's staff undergo to learn to run this program effectively?
Bobbie: The activities exist as training manuals, but our counselors are also trained through site visits or webinars. Counselors are also encouraged to select activities that they are interested in and then utilize their knowledge and passion. I, myself, visit sites to work with the counselors one on one and hold a series of webinars were we hold mock sessions with our counselors to help them acquire the skills to facilitate these activities successfully.
Me: What are some of the most exciting ways that you have seen individual properties execute the program developed by Jean Cousteau?
Bobbie: Lake Tahoe takes the group outside for a nature hike through the forest around the property so the kids can see the natural environment first hand. Orlando took an activity called "Something's Fishy" that talks about the diversity of life in the ocean. They have a pond on property that is stocked with fish, and they take kids out to the pond, feed the fish, and talk about why their mouths are shaped the way they are. New York Central Park made a scavenger hunt for their young guests to use in Central Park, encouraging them to explore outside with their families. Sarasota takes the kids outside and visits a little piece of Mangrove area near their property. One of my favorite stories that came out of that property is about a family visiting from Iceland. One of their older kids was a little resistant to going to a program because she thought she was too old. However, by the end of the day, the kids were all begging their father to go back the next day because as they went outside to explore the mangroves in person, they saw a butterfly for the first time. They were just beside themselves with being able to touch, hold, and see for the first time these things in nature. It really instilled an awe and respect for nature.
Me: How will you measure the success of the new Ritz Kid's program?
Bobbie: Our guest insights are instrumental and just as they helped us shape the program, they will continue to influence the direction of not only Ritz Kids, but all of the offerings of The Ritz-Carlton. Although we only launched this program in December, we've already gotten a lot of "Wow" stories from our guests who have been so moved by their experience with Ritz Kids.
Me: I wonder, what's going to happen when parents see all the fun their kids are having and want to be part of the Ritz Kids adventure?
 Bobbie: (chuckle!) Actually, we've had parents comment on how they would love to spend a day at Ritz Kids.
As a parent, it's incredibly exciting to finally find a kid's club experience I would not feel guilty dropping my kid off at because I know they will be getting a unique experience and growing a deeper appreciation for the place we are visiting.  I'm also thrilled that as a brand, The Ritz Carlton is listening to families and have created a global program that brings an educational summer camp type experience to the traditional kids club experience.  This is huge leap forward for family travel.
We'd love to hear from you. Would your kids want to be a part of an adventure like the Ritz Kids? When you vacation, is that a program that would influence your choice of location? Tell us in the comments.
Disclosure: The author received a complimentary hotel stay and kid's club program; all thoughts are her own.