The troubadours' trumpets sounded. Disney princesses from all corners of the park assembled in front of Cinderella's castle. Jordan Sparks belted out a show stopping medley of classic Disney tunes. And then, with one confetti and firework filled bang, Magic Kingdom's New Fantasyland was officially open for business.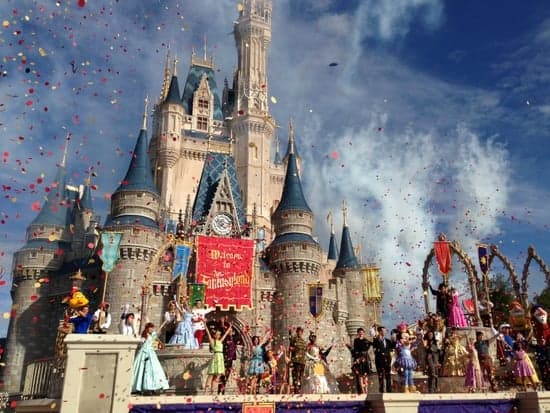 Enchanted Forest
The largest expansion in the history of Magic Kingdom, New Fantasyland takes guests beyond Cinderella's Castle walls and into the Enchanted Forest which is home to Ariel, Belle, and all of their animated friends.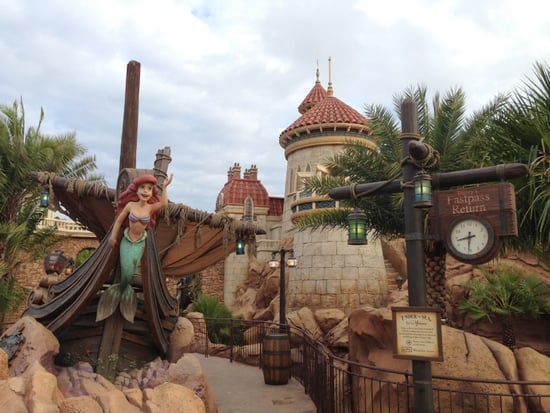 For the first time ever, Prince Eric's Castle has been brought to life inside a Disney Park, sitting atop the grotto and caverns that house Under the Sea-Journey of the Little Mermaid. Destined to become a classic Fantasyland attraction, Under the Sea takes allows riders to be part of Ariel's world as they listen to the captivating music and are carried into classic scenes from The Little Mermaid aboard a slow moving clamshell vehicle. Though the queue and ride exterior are different from the Little Mermaid ride at Disney California Adventure, the ride itself is exactly the same, great news for East Coasters who have been eager to ride the ride but unable to make the trip out to California.
Read reviews of Under the Sea- Journey of the Little Mermaid on Trekaroo.
Much of the landscape of New Fantasyland revolves around Belle's world from her village to Beast's Castle sitting high on the hill. Those looking to meet the Beauty herself should head to Enchanted Tales with Belle. Here an enchanted mirror, Belle and Lumiere bring the "tale as old as time" to life.  At the center of Belle's Village stands a bronze statue of Gaston, the self-involved fella who tried his darndest to win Belle's heart from the Beast. Gaston may not have succeeded in winning over Belle but I think he is destined to become the next big thing inside Fantasyland. Besides serving a darn good pork shank and massive cinnamon inside Gaston's Tavern, he also serves us a special beverage and plenty of entertainment. Our friend Sue from Fieldtrips with Sue shares her own experience with Gaston and his new brew.
Read my full review of Gaston's Tavern.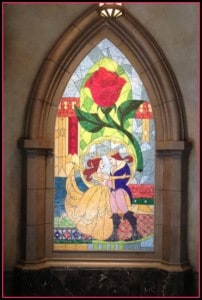 Perhaps the biggest highlight of the Enchanted Forest portion of Fantasyland is the new Be Our Guest Restaurant.  Countless children (and let's face it, adults) have daydreamed about enjoying an enchanted meal inside the Beast's dining room. Finally, they have their chance!  From 10:30am to 2:45pm every day, Be Our Guest is a quick service restaurant serving French bistro style dishes (priced $14.99 and under) such as braised pork, quiche, tuna Nicoise salad, and Croque Monsieur (a French version of the ham and cheese sandwich). Lunch diners will enter the restaurant through the Armor Hallway where suits of armor have been to chat with one another. Dinner (priced $15 to $30 for adult entrees), served 4pm to close, is a sit down affair with thyme-scented pork rack chop, Cornish hen, and layered ratatouille all gracing the adult menu. Kids can choose from fish, meatloaf, chicken, steak, or pasta which are all reasonably priced under $9.00 and include a drink and dessert. All meals are eaten in the Ballroom, forbidden West Wing which houses a glass bell jar contained the pedal dropping enchanted rose, or Rose Gallery which features a music box with a 7-foot tall Belle and Beast turning atop. Each room offers a setting which truly brings the movie to life from music throughout the restaurant to the smallest details in the intricate tile mosaics. I fully expect to see little girls getting up mid-meal to twirl around in the ballroom just as they have admired Belle do on the big screen.
Storybook Circus
The circus has officially taken over one corner of Fantasyland bringing vibrant color, new attractions, and a remake of one Magic Kingdom's most beloved rides. If you have finally convinced your son or daughter to muster up their bravery and ride a coaster for the very first time, The Barnstormer is the one to try. The ride is short and not-so-scary with Goofy serving as their forever silly host. After the adrenaline rush and successful coaster conquering, take the kids to celebrate with their favorite classic Disney characters (think  Minnie, Daisy, Donald, and Goofy) inside Pete's Silly Slideshow. When the days are hot, which is pretty often in Orlando, take time to play in the water at Casey Jr. Splash 'n' Soak Station. It is going to be one of those spots that might seem like an after thought in your Magic Kingdom itinerary but ends up being the place you literally have to drag your kids away from after 45 minutes.
The attraction to get most excited about in Storybook Circus is the newly revamped Dumbo ride. We all know Dumbo. It's that ride we have all dreaded because the line was always long and S-L-O-W.  If you haven't been to Magic Kingdom since the new Dumbo ride opened, prepare to be blown away. First of all, there is now not one but two rides; one turning clockwise while the other turns counterclockwise. Second, the line has pretty much disappeared! As families enter the tent they are given a circus ticket pager when it is their turn to board the ride.  Instead of sweating it out in the Florida heat while your kids whine and ask you how much longer until they get to fly on the magic elephant, you get to take them inside an air-conditioned circus tent where they can run around, play, and climb to their hearts delight with various toys and equipment.  Don't believe it? Check out the video and see for yourself!
What's New Beyond the Magic Kingdom?
Disney hasn't focused their efforts exclusively on New Fantasyland. Walt always said he wanted these park to be ever evolving and never finished and the folks at Disney have continued the tradition by always having something new and exciting in the works. Over in Epcot, Test Track had traditionally been one of the most popular rides. Luckily, Disney decided to take a good thing and make it even better with a newly designed Test Track. The track itself is exactly the same but the experience before, during, and after is distinctively different because riders get to design their own cars! While in line, riders will reach a set of computer touch screens where they can design a pretty car with purple glitter or a streamlined machine made for high performance. Disney worked closely with Chevrolet to create an experience that allows for literally trillions of end results. Once the car has been designed, riders get to test it out on the track and see how it ranks in capability, efficiency, responsiveness, and power with high hopes of designing the "best" car of the day. After the ride, there are places to create commercials about their new cars (which I could have done for hours), pose in fun green screen pictures, drive the cars on a virtual track in video game style, and fall in love with engineering. Good to know: if you opt to use Fast Pass for this ride, you experience only a very limited version of the design experience. This may end up being a line that people actually don't want to skip! Here is a look at Test Track. That whirl of blond hair towards the end is me!
Did you know bowling is the number one participation sport in America? At Downtown Disney, the new kid on the block is Splitsville and it is not your daddy's bowling alley. Opening December 19th, this is boutique bowling alley with an über cool vibe has two levels, a high-end menu (sushi anyone?) and decor that makes you feel like you are someplace to be seen. I imagine Splitsville will become an especially popular spot on rainy days, extremely hot days, and after hours. Customers purchase bowling in 90 minute increments ($20 per person during peak hours and $15 per person during off peak) and are provided shoes and balls by their bowling concierge. Swanky but very family-friendly.
Finally,2013 will bring Limited Time Magic to Disney parks. Every week will feature something different and special such as appearances by rarely seen characters; special weeks themed to events such as true love, pirates, and patriotism; and even an entire week to celebrate Disney villains! We at Trekaroo are very excited to discover what each new week will offer and plan to follow along and share each week's Limited Time Magic as we discover what is in the works.  Stay tuned for what will surely be a memorable year at Disney Parks!
Disclosure: I attended the grand opening of New Fantasyland as a member of the media. I was granted complimentary access to the parks, some meals, and lodging. All opinions are my own.