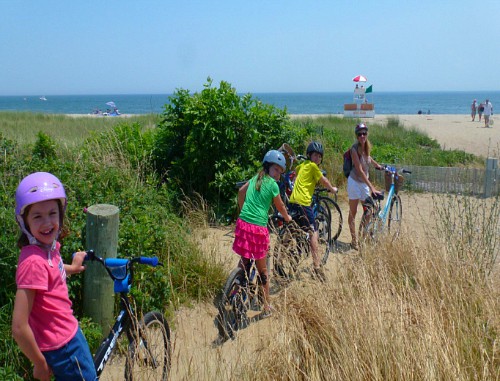 Thoughts of a summer beach vacation conjure up ideas of family time, gentle breezes, sandcastles and waves, shingled cottages, lazy days, and amazing sunsets.   All this and more can be yours during a beach vacation on the New England Isle of Nantucket.
As a native New Englander, I had heard many tales of Nantucket, but never had a chance to visit with my family.  I knew it was an island off of Cape Cod, but my knowledge ended there.  With the assistance of a ferry ride on the Hyline Ferry, a stunning place to stay at Harborview Place, some bicycles from Young's Bicycle Shop, and my family's undying spirit of adventure, we set out to explore the charming island of Nantucket.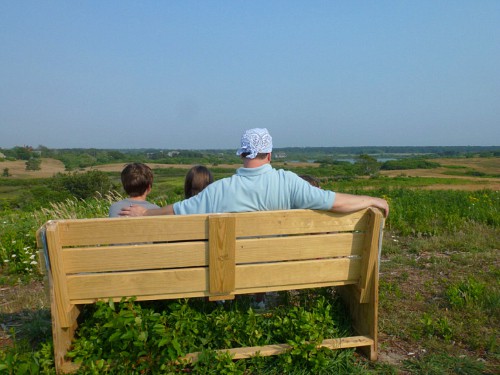 The whaling history
Nantucket is a historic whaling town.  At one time during the middle 1800's, when whaling was at its peak, Nantucket was the 3rd largest metropolitan area in Massachusetts.  The history of whaling is still very evident here with period homes and a thriving Historical Association.  We visited the Whaling Museum and came away with an appreciation of the island we would not have understood otherwise. The Whaling Museum includes a self-directed tour where you can learn the impetus behind Moby Dick and view the suspended skeleton of a 40-foot whale that washed ashore in 1998.  The Discovery Room here is very family-friendly and includes a variety of hands-on exhibits.  The kids were enjoying themselves so much that we had a tough time getting back on our bikes, however, we finally got them out the door.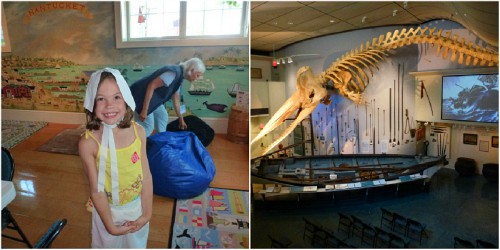 The town and accommodations
Nantucket is separated into a few distinct areas, including Madaket and 'Sconset, to name a few.  In town is where the action happens.  The ferry drops you at Straight Wharf where you can find restaurants, shops, beautiful scenery, and our favorite: boats and fishing wharfs. One evening after an ice-cream treat we watched locals fish for squid.  Needless to say, the kids took flashlights out nightly to look for the inky creatures.
Most commercial accommodations are right within walking distance of town on the picturesque, yet bumpy, cobblestone roads.  We stayed at Harborview Place, a 5-star luxury accommodation consisting of separate cottages, complete with a harbor beach.  The Harborview supplies just about everything you might need for a luxurious family stay.  A well-appointed kitchen, laundry, and living areas are in addition to multi-room sleeping accommodations.  The back door leads you right to the onsite beach.  The staff here will assist you in any way possible during your stay.  This has become my kids' favorite hotel. Other options for accommodations include renting cottage of your own. 'Sconset is an idyllic part of Nantucket that comes without the hustle and bustle of town with plenty of rental properties.
Harborview Place on Nantucket is offering a deal for Trekaroo readers!

Stay four nights and pay for three : September 15 – November 15 !

This offer is good on all accommodations from one bedroom with loft (ideal for two adults and two kids) up to 3 bedrooms (for two adults + 4 kids).  Savings:  four nights in 3 bedrooms regularly $3600 – Trekaroo price $2700; savings of $25%.  Offer also includes Free tickets to new Dreamland Theatre.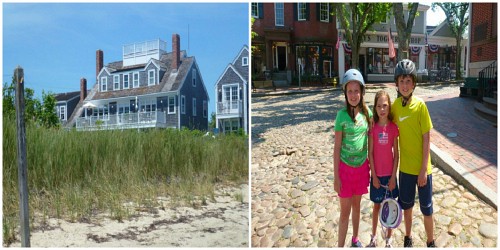 Kid pursuits: bikes, beaches,  and museums
My kids love to be active.  Beautiful weather and bikes allowed us to tour the island, as we did not bring a car over on the ferry.  We could bike anywhere on the island, however, I have some words of warning.  In town is busy and best for veteran bikers, not learners.  The cars come very close to bikers on these old roads.  You must also walk bikes on the sidewalks in town and follow the one way signs.  The rules do take some acclimation time.  Spend a few minutes getting familiar with and understanding the rules before you head out.  There are several bike paths that are most suitable for all ages and these take you all around the island.  Tandem bicycles and tow-behinds are also available for rent.
Biking to the beach proved to be a big hit.  There are many different types of beaches on which to claim your spot in the Nantucket sand.  Each of the beaches we came across, Children's Beach, Jetties Beach, and 'Sconset Beach had town lifeguards manning their stations.  The Children's Beach is a low-wave area best suited for small kids.  Mine had fun catching crabs and playing on the playscapes.  The Jetties Beach provides kids with snorkeling opportunities.  The 15-mile round trip bike ride to 'Sconset brought us to a big wave beach for the body surfing-types.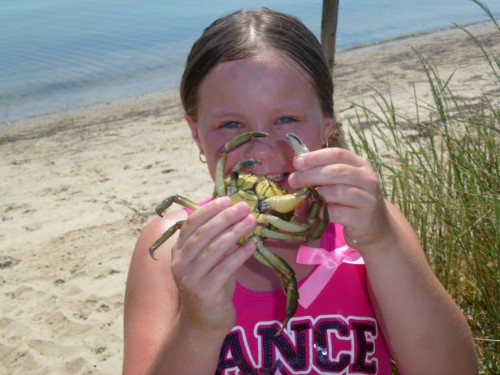 For a rainy day diversion, in addition to the Whaling Museum, families can head to the Maria Mitchell Association Museums.  We spent some time at the aquarium learning about and touching some native species.  A few knowledgeable interns, ripe with marine biology information from their college studies, answered questions from my 3 kids.  However, nothing satisfied my junior marine biologists more than finding their own specimens while snorkeling at Jetties Beach.
Dining on Nantucket
Nantucket is known to have some of the finest cuisine on the east coast. This does not necessarily always translate into kid-friendly establishments and usually means a big price tag. As a family, there are a few options to take advantage of.
Eat-in: Our accommodations at Harborview Place had a magnificent kitchen.  We used it to prepare in-room breakfasts and lunches.  Dinner would be an option too.  I actually enjoyed pedaling my bike a couple of blocks to the local Grand Union to pick up food supplies.  I loaded up my bike basket with fruits and baked goodies!
Beach restaurants: The Jetties at Jetties Beach has open air dining with shaded picnic tables, perfect for the wee-set.
Restaurants: Fusaros Italian restaurant serves up homemade Italian with a priced-right kid menu.  Met on Main, a recent addition to Main Street, is a 'Sunday best' option while on Nantucket. The menu specializes in local and seafood fare, with patio seating.  Although there is no official kids' menu, they are perfectly willing to create a kid staple like pasta or split a dish for 2 kids.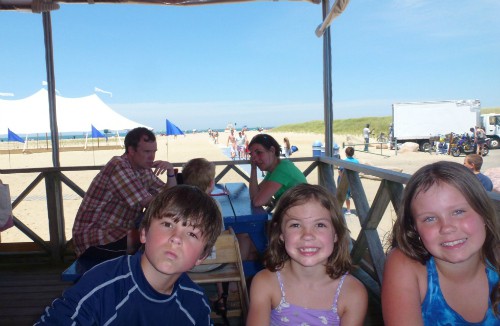 We left Nantucket determined to come again, now that we were seasoned veteran visitors.  Something we will always remember is the amazing island sunset.  The tones of the sky, clouds, water, and sun meld into a beautiful haze of color, reminiscent of the multi-hued hydrangeas which populate the island. We hope to be back soon.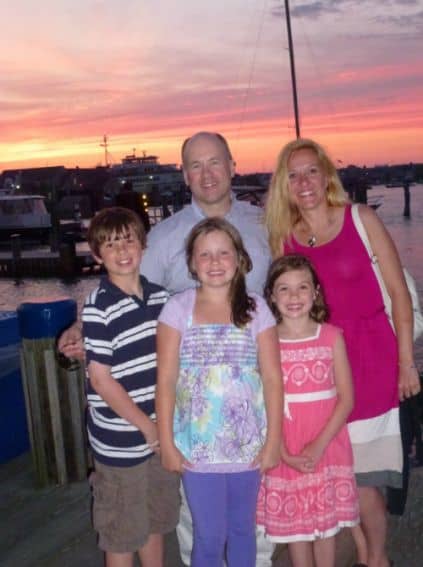 The Deal: Trekaroo readers get a FREE NIGHT!
Stay four nights, pay for three at the Harborview Place on Nantucket- September 15 – November 15   No restrictions.
Good on all accommodations from one bedroom with loft (ideal for two adults and two kids) up to 3 bedrooms (for two adults + 4 kids).  Savings:  four nights in 3 bedrooms regularly $3600 – Trekaroo price $2700; savings of $25%.  Offer also includes Free tickets to new Dreamland Theatre.
Disclosure: My family and I were provided complementary accommodations along with tickets to the Maria Mitchell Association and Nantucket Whaling Museum during a recent press trip. I was not required to provide any particular opinion. All opinions are my own.
---
Travel with kids to: CA |CO | DC| FL | HI | IL |MA | NC | NJ | NY | OR| PA| TN | TX | UT | VA | WA