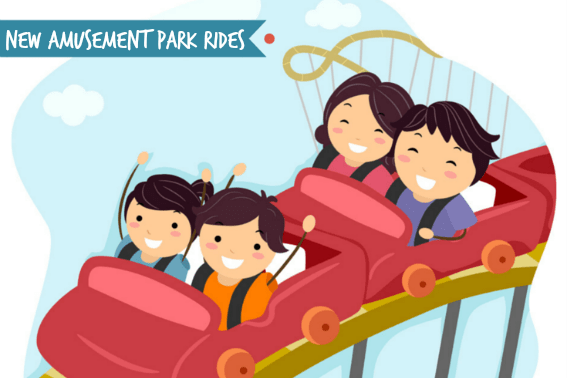 From innovative coasters using the latest technology to rides featuring familiar classic brands, parks across the United States and Canada have once again outdone themselves with new thrilling and fun experiences this year. So do yourself a favor and arm yourself with this comprehensive guide of kid-friendly amusement parks amassed from the IAAPA (the largest international trade association for amusement facilities and attractions), and get ready to have fun! Here are the new amusement park rides for 2015.
USA
Alabama
Alabama Splash Adventure in Bessemer, Alabama, opens a revamped version of "Rip Roarin' Rampage," a wooden roller coaster that takes you 120 feet off the ground and sends guests through multiple turns and drops as they reach top speeds of 56 mph.
See Alabama Splash Adventure in action.
Check out our Top 10 Things for Families to Do in Alabama.
California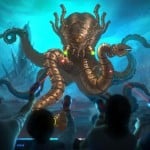 Knott's Berry Farm in Buena Park, California, debuts a new 3-D interactive dark ride, "Voyage to the Iron Reef." Guests climb aboard four-person submarine-inspired ride vehicles and embark on the four-minute gaming adventure into the Iron Reef. Equipped with an interactive freeze ray, guests aim for ballooning puffer fish, an iron-clad octopus, and other exciting 3-D creatures as they attempt to save Knott's from a watery doom. Along the way, the submarines navigate 600 feet of track and 11 scenes featuring hundreds of media-based creatures and live-action special effects.
Buena Park offers a ton of family friendly attractions in the OC.  Explore Knotts & more family fun.
LEGOLAND California in Carlsbad, California, opens the LEGO Star Wars Miniland Death Star. The attraction offers guests the chance to view iconic scenes made of LEGO bricks that were filmed inside the Galactic Empire's space station. LEGO models of Stormtroopers, a Rebel X-wing fighter pilot, and an Imperial Starship pilot are on display. Guests can use their imaginations to construct their own LEGO spaceships at nearby building stations. LEGOLAND also debuts Heartlake City. The new area is based on the LEGO Group's "LEGO Friends" toy line, which focuses on the lives and personalities of five girls: Mia, Olivia, Andrea, Stephanie, and Emma.
Is everything really as awesome as they say it is? Read on to find out more about LEGOLAND California.

Six Flags Discovery Kingdom Vallejo, California's  introduces the "Dare Devil Chaos Coaster," a single looping coaster that builds anticipation as riders, seated back-to-back, travel backward and forward until they complete multiple revolutions through a 70-foot-high loop.
See what families think of Six Flags Discovery Kingdom.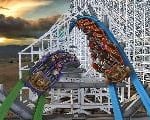 Six Flags Magic Mountain in Valencia, California, near Los Angeles, debuts the newly created "Twisted Colossus" wood hybrid coaster. The four-minute ride takes guests along nearly 5,000 feet of track including numerous exciting features such as a "Top Gun" element, where the coaster slows as it passes through a loop. Two trains are on the track at the same time and at certain points it will appear as if they are interacting with one another, even passing through overbank turns at the same time opposite each other. The coaster also features a zero-G roll and includes two lift hills as it blends steel track technology with an iconic wooden structure.
Explore or write kid-friendly reviews of Six Flags Discovery Kingdom & Magic Mountain.
Universal Studios Hollywood in Universal City, California, celebrates its 50th anniversary with enhancements to its Universal Studios Hollywood Studio Tour. The tour features nighttime operations where some sets such as the "Psycho" house have actors re-creating scenes, overhauled tram vehicles with ultra-high-definition monitors, and more comfortable seats. For the finale of the tour, trams go into a new 50,000-square-foot "Fast & Furious Supercharged" motion simulator, which uses a tunnel-like movie screen to create an immersive 3-D experience based on the popular movie franchise. The park also opens a "Simpsons"-themed area that brings Springfield, the fictional hometown of "The Simpsons," to life with accompanying retail and restaurants next to the park's existing "The Simpsons Ride."
Read all about the top fun things to do with the kids in California.
Colorado
Cave of the Winds in Manitou Springs, Colorado, unveils the "TERROR-dactyl." The ride sits on the edge of a 200-foot cliff in Williams Canyon. Riders are launched 200 feet into the canyon at nearly 100 mph and swing back and forth as they take in scenic views of the canyon. caveofthewinds.com
Check out a video of the ride.
Elitch Gardens Denver, CO's Elitch Gardens debuts "SlideZilla," a six-story hybrid slide where four riders seated in a clover-shaped raft accelerate through a curved chute and into a swirling 24-foot tornado funnel and then unexpectedly drop 57 feet into a massive four-story-tall bowl. After cresting the water wall, the riders slide back down the wall to an exhilarating splashdown.  Check out the video here.  www.elitchgardens.com
Explore or write kid friendly reviews of Elitch Gardens.
"Iron Mountain Hot Springs" opens at Glenwood Caverns Adventure Park in Glenwood Springs, Colorado. Located on the bank of the Colorado River, the "Iron Mountain Hot Springs" features a family pool with an elevated section where parents can relax while watching kids play, eight smaller mineral water pools for soaking, and a warm creek with small pools along the way where guests can soak and slide in the iron-rich thermal spring water. A watch tower, reminiscent of one located on the site in the 1890s, reflects the property's rich history. glenwoodcaverns.com
Glenwood Springs is full of rich history and family fun.
Royal Gorge Bridge & Park in Canon City, Colorado, reopens its "Aerial Gondolas." Sightseers travel 1,200 feet above the Arkansas River, traversing 2,400 feet across the park. www.royalgorgebridge.com
Explore our Top 10 Things for Families to do in Colorado.
Connecticut
"Dino Expedition" debuts at Lake Compounce in Bristol, Connecticut. The attraction includes various lifelike dinosaurs along a walking trail, an archaeological dig site where guests can search for a dinosaur skeleton in the sand, and the Dino Traders souvenir shop. www.lakecompounce.com
Explore or write kid friendly reviews of Lake Compounce.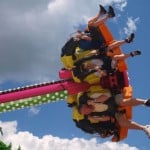 Quassy Amusement Park in Middlebury, Connecticut, introduces two new guest experiences in 2015. The thrilling "Frantic" swings riders back and forth, higher and higher, until it reaches full 360-degree flips. The park also adds "Collidoscope" bumper cars for kids between 36 and 48 inches tall. www.quassy.com  See how the "Frantic" ride will get you frantic!
Read more about Quassy Amusement Park.
Check out our Top 10 Things to do in Connecticut!
Florida
Walt Disney World Resort in Lake Buena Vista, Florida, transforms Downtown Disney into Disney Springs, doubling the number of shops, restaurants, and other venues at the complex. The new area will open in phases starting in 2015 and include Morimoto Asia, a one-of-a-kind dining experience created by Chef Masaharu Morimoto of "Iron Chef America" fame. The two-story pan-Asian restaurant includes open terraces, a grand hall, private rooms, long bar, cocktail lounge, waterside seating, and more. Disney Springs also features The Boathouse, an upscale waterfront dining experience with live music, available water taxi tours, and a gourmet menu. disneyworld.disney.go.com/destinations/downtown-disney
Everything you ever wanted to know about WDW is here. 
Disney's Hollywood Studios in Lake Buena Vista, Florida, debuts a reimagined "The Great Movie Ride" in partnership with Turner Classic Movies. Guests journey through eras of film and see clips, hear audio, and explore the history of movie classics. disneyworld.disney.go.com/destinations/hollywood-studios
Fun Spot America in Orlando, Florida, adds "Space Invader" and a permanent version of "Air Race." "Space Invader" swings guests back and forth while they are riding on seats attached to long metal poles. The "Air Race" flips riders in barrel rolls as they rotate around a central point on this carousel-style ride for thrillseekers. fun-spot.com
Is Fun Spot as fun as they say? Read parent approved reviews.
I-Drive 360 in Orlando, Florida, brings together Merlin Entertainments' attractions Madame Tussauds, Sea Life Aquarium, and the Orlando Eye. Madame Tussauds features wax figures of worldwide celebrities in music, sports, politics, science, and more. Sea Life Aquarium contains more than 5,000 creatures and learning experiences. The Orlando Eye Ferris wheel is 400-feet tall and offers scenic views of the surrounding area. The complex also includes Skeletons: A Museum of Osteology, which showcases 300 animal and human skeletons in a 7,500-square-foot exhibit space. www.i-driveorlando.com
Miami, Florida's Jungle Island expands the park, adding new environments for the park's animals and aerial activities for guests, including ziplines, adventure bridges, and bungee swings. www.jungleisland.com
Is Jungle Island as wild as it seems? Read on and find out.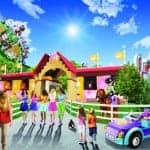 LEGOLAND Florida in Winter Haven, Florida, unveils its themed hotel and Heartlake City area. Heartlake City, an attraction geared for girls, features the interactive show "Friends to the Rescue" show and "Mia's Riding Adventure" horse-themed spinning roller coaster.  www.florida.legoland.com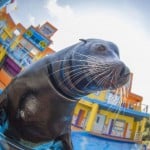 SeaWorld Orlando debuts the all-new show, "Clyde & Seamore's Sea Lion High," a hilarious tale filled with amazing animals and splashy audience fun. The comedic sea lion duo is joined by mischievous otters, a 2,300-pound walrus, and a cast of goofy human characters. seaworldparks.com/en/seaworld-orlando
Summertime fun at SeaWorld Parks
Ready for more?  Explore our top 10 picks for family friendly fun in Florida.
Georgia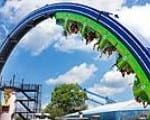 Six Flags Over Georgia in Austell, Georgia, brings Gotham City to life with "Harley Quinn Spinsanity" and a looping coaster, "The Joker Chaos Coaster." On "The Joker Chaos Coaster," 20 guests sit facing each other as they glide forward and backward looping multiple times seven stories in the air. On "Harley Quinn Spinsanity," seven cars follow a circular track and each guest has the ability to spin their vehicle as much as they want before the end of the ride. Guests can also experience "Batman: The Ride" roller coaster backwards for a limited time. www.sixflags.com/overgeorgia
Check out kid friendly reviews of Six Flags Over Georgia.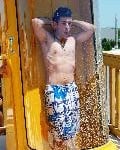 The "Dive Bomber" water slide opens at Six Flags White Water near Marietta, Georgia. Guests stand in a clear capsule with a trap door, then the door opens and riders drop more than 100 feet at nearly 90 degrees in a zero-gravity experience. www.sixflags.com/whitewater
There's more fun waiting for you in Georgia. Read all about the top activities to do with your family.
Idaho
Triple Play Family Fun Park expands in Hayden, Idaho, to include a laser tag arena and 32-foot-tall indoor ropes course with attractions for all ages. The total expansion measures 8,750 square feet. www.3play.com/triple-play
Explore more things to do with the family in Idaho.
Illinois
Six Flags Great America in Gurnee, Illinois, celebrates 40 years of thrills with upgrades to signature areas of the park, including the Carousel Plaza. The park also reintroduces three children's rides that existed when it first opened: the "Lady Bugs," the "Red Baron Airplanes," and the "Tots Livery Surrey Carriage." www.sixflags.com/greatamerica
Explore or write kid friendly reviews of Six Flags Great America.
Indiana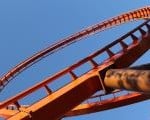 Holiday World and Splashin' Safari in Santa Claus, Indiana, introduces "Thunderbird" a first-of-its-kind launching wing coaster. The ride features a zero-to-60-mph launch followed by multiple inversions, including a barrel roll, a 14-story-Immelmann loop, and another loop 125 feet in the air. "Thunderbird" loops high in the air and then hugs the ground, surprising riders via near misses with keyholes, scenery, other rides, trees, and more.
Explore or write kid friendly reviews of Holiday World and check out the Holiday World "Thunderbird" video.
Interested in more Indiana? Read about the top ten things to do with the family in Indiana.
Kentucky
Kentucky Kingdom in Louisville opens five rides: the suspended looping "T3-Terror to the Third Power" roller coaster, the "Raging River Raft Ride", the "Enterprise" Ferris wheel, the 130-foot-tall "SkyCatcher" swinging gondola attraction, and the 360-degree rotating pendulum "Cyclos." www.kentuckykingdom.com
The Newport Aquarium near Cincinnati, Ohio, adds several new attractions. "Shark Bridge" allows guests to cross the "Surrounded by Sharks" exhibit's tank on a 100-foot-long, V-shaped rope bridge. The exhibit's tank contains rare scalloped hammerhead sharks. "Canyon Falls" features Asian small-clawed otters, yellow monitors, and panther chameleons. www.newportaquarium.com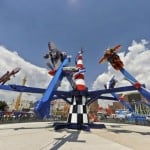 Beech Bend Park & Splash Lagoon in Kentucky are adding five new rides. Guests will feel like pilots in "Air Race," an acrobatic plane with banks, loops, dives, and weightlessness. They will also be adding a carousel swing, "Monster Truck," a children's ride, "Sizzler", and "Tornado." www.beechbend.com
Explore the Top 10 Things to do with Kids in Kentucky
Maryland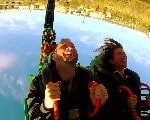 Six Flags America near Washington, D.C., launches the "Bourbon Street Fireball." This roller coaster takes up to 24 riders backward and forward through a 70-foot-tall, 360-degree loop. www.sixflags.ca
See what else made our top 10 Maryland.
Massachusetts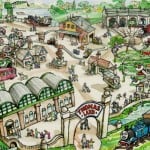 Edaville USA, a family amusement park and heritage railroad located in South Carver, Massachusetts, opens Thomas Land. The new area covers 11.5 acres and boasts 14 rides based on "Thomas & Friends." Thomas Land features a 20-minute long, scenic train ride on a life-sized Thomas the Tank Engine and theme park favorites, including a roller coaster, drop tower, Ferris wheel, soft-play area, and much more. www.edaville.com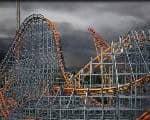 Six Flags New England opens the "Wicked Cyclone" wood hybrid coaster at the Agawam, Massachusetts park. The ride features a 109-foot hill, a 200-degree stall, and two zero-G rolls as thrill-seekers race along 3,320 feet of track, and reaches a top speed of 55 mph. See it for yourself. www.sixflags.com/newengland
Explore or write kid friendly reviews of Six Flags New England.
Check out our top 10 things to do when visiting Massachussetts.
Michigan
The new Sea Life Michigan Aquarium opens in Auburn Hills, Michigan, and houses more than 5,000 sea creatures, including sharks, sea horses, stingrays, and more. The 35,000-square-foot aquarium features a 180-degree underwater tunnel and a touch pool experience with starfish and crabs. www.visitsealife.com/michigan
Learn about this water-loving state by checking out our Top 10 Michigan.
Minnesota
The Sea Life Minnesota Aquarium in Minneapolis completes a $2 million expansion that brings guests closer to stingrays with the "Stingray Adventure," a 50-foot, 15,000-gallon touch pool. The aquarium opens "Pacific Northwest Touchpool" and adds a "Shipwreck" display, showcasing new varieties of fish. www.visitsealife.com/minnesota
Valleyfair's Soak City water park in Shakopee, Minnesota, adds the multi-slide "Breakers Pipeline" complex, taking guests from 65 feet above ground in four tube slides and dropping them 90 feet on two-speed slides. The park also opens the family-friendly "Barefoot Beach" splash pad, adding nearly one acre of water play attractions for young guests. www.valleyfair.com
What else can you do in Minnesota with the family? Read on for top ten suggestions.
Missouri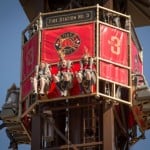 The 10-attraction Fireman's Landing opens at Silver Dollar City in Branson, Missouri, featuring six family rides and four interactive play zones, all saluting the spirit and training activities of volunteer firefighters. The park also launches a live basketball experience starring the world-famous Harlem Globetrotters. www.silverdollarcity.com
Explore or write kid friendly reviews of Silver Dollar City.
Six Flags St. Louis in Eureka, Missouri, launches the 3-D interactive dark ride attraction "Justice League: Battle for Metropolis," in which guests take on a role as the Justice League Reserve Team and engage in a full-sensory journey with the Justice League heroes as they battle to save the city of Metropolis from villains Lex Luthor and the Joker. www.sixflags.com/stlouis
Get tips on visiting Six Flags.
Kansas City, Missouri's Oceans of Fun water park debuts "Splash Island," a 4,200-square-foot interactive, family-friendly water attraction featuring water jets and swan-shaped paddle boats. www.worldsoffun.com
We've got lots of tips & tricks on exploring KC with kids.
Nevada
"Slideboarding," the first water slide integrated with a video game, opens at Wet'n'Wild Las Vegas in Las Vegas, Nevada. Riders try to score points as they speed down a water slide flume equipped with lights, sounds, and colorful targets they try to hit using the raft's game controller handles. The water slide uses a smart gaming system that tracks a player's progress and score during their run down the chute. www.wetnwildlasvegas.com
Explore our Top 10 Things to do in Nevada.
New Jersey
Breakwater Beach on Casino Pier in Seaside Heights, New Jersey, adds two water slides and a wave pool, which is integrated into a new 36-hole mini-golf course. Casino Pier also offers a new drop tower and a larger go-kart track. casinopiernj.com
Morey's Piers and Beachfront Water Parks, the classic family owned and operated seaside destination located on the boardwalk of the Wildwoods, New Jersey is bringing back the colossal gorilla themed amusement ride. It stands 25 feet tall and growls furiously as riders in biplanes duck and dive to avoid Kong's grasp. www.moreyspiers. com. Watch Kong in action.
Explore or write kid friendly reviews of Morey's Piers.
Six Flags Great Adventure in Jackson, New Jersey, adds its 13th roller coaster, "Looping Dragon," a pendulum-style looping coaster. The park also adds two new year-round indoor haunt mazes: a 3-D black light experience, "Big Top Terror," and the prison-inspired "Condemned." www.sixflags.com/greatadventure
Read parent tips on visiting Six Flags and Hurricane Harbor.
Storybook Land in Egg Harbor Township, New Jersey, installs the tree-shaped "Out on a Limb!" children's swing ride. The ride includes a custom-made squirrel that sits on top of it. storybookland.com
Ready for more? Top 10 New Jersey has plenty of suggestions!
New York
Darien Lake in Darien Center, New York, unveils two new attractions. "Rolling Thunder" seats 32 riders on a coaster car as they go backward and forward through a seven-story vertical steel loop at 10 revolutions per minute. "Brain Drain" is a 70-foot-tall water slide with a launch capsule that drops guests on a 38-foot-per-second free fall. www.darienlake.com
Explore or write kid friendly reviews of Darien Lake.
L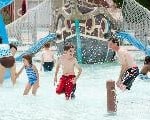 ake George, New York's Six Flags Great Escape introduces the Buccaneer Beach children's area in its Splashwater Kingdom water park. The pirate-themed kid-friendly water playground is stocked with a vast array of water games, pop-up spray jets, splash pads, and water slides. www.sixflags.com/greatescape
Made it through The Great Escape?  Share your tips or read kid friendly recommendations.
North Carolina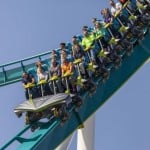 The 325-foot-tall "Fury 325" giga coaster launches at Carowinds, located near Charlotte along the North Carolina-South Carolina border. The coaster reaches speeds up to 95 mph through a series of hills, curves, and quick transitions along a 6,602-foot track during the three-and-one-half-minute ride. The park also adds "Slingshot," a two-person attraction in which a pair of cables catapults riders nearly 300 feet into the air at speeds up to 60 mph, flipping them until they come to rest at the ride's launch point. Watch the Fury 325 experience. Carowinds also unveils renovations to its front entrance. www.carowinds.com
Explore or write kid friendly reviews of Carowinds.
Great Wolf Lodge Concord in North Carolina opens the "Howler's Peak Ropes Course." The 50-foot-tall ropes course includes ziplines, ropes, and wobbly bridges. The attraction also includes a smaller ropes course for younger children. www.greatwolf.com/concord/waterpark
Check out family friendly perks of Great Wolf Lodge.
Ohio
Coney Island in Cincinnati, Ohio, introduces a new thrill ride and kiddie bumper cars. The yet-to-be-named thrill ride swings in a back-and-forth pendulum motion sending riders in a 360-degree arc more than 35 feet in the air as the ride carriage spins in a clockwise rotation. The new kiddie bumper cars arena puts young guests in the driver's seat for a bumpy, bouncing adventure.  coneyislandpark.com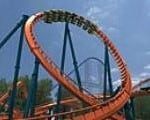 Sandusky, Ohio's Cedar Point launches "Rougarou," a floorless roller coaster based on a werewolf-like creature. The ride reaches speeds up to 60 mph and sends riders down a 137-foot dive and through four inversions.  www.cedarpoint.com
Is this iconic park kid friendly? Parents weigh in on Cedar Point.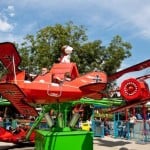 Kings Island in Mason, Ohio, unveils two new rides. "Woodstock Gliders," a classic flying scooters ride, features eight two-person planes that glide 28 feet above the ground. As the planes begin to rotate, they fan out over a large area. Each plane has a moveable front wing that allows the guest to control the flight and alter their ride experience from mild to wild. "Snoopy's Space Buggies" is designed for children of all ages and bounces guests in six four-seat vehicles while rotating in a circle. www.visitkingsisland.com
Explore or write kid friendly reviews of Kings Island.
There's plenty to do in Ohio. We've shared our best recommendations in our Top 10 Ohio.
Oklahoma
"Brain Drain," a seven-story steel looping thrill ride, makes its way to Frontier City in Oklahoma City, Oklahoma. Twenty-four riders sit face-to-face as they rock back and forth before looping in a 360-degree revolution and stopping upside-down over 72 feet in the air. www.frontiercity.com
Explore the rest of OK with our Top 10 Oklahoma!
Pennsylvania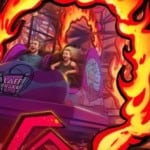 Camelback Mountain Resort in Tannersville, Pennsylvania, opens the 533,000-square-foot Aquatopia Indoor Water Park. The attraction features six pools, the "Bombroa Flowrider" indoor surfing simulator, 13 water slides, and an indoor water coaster, "Storm Chaser." Aquatopia opens as part of the new 453-room Camelback Lodge. www.skicamelback.com
DelGrosso's Amusement Park, in Tipton, Pennsylvania, opens the "Rock Star," a thrill ride that elevates riders 55 feet above the midway atop a rotating platform shaped like a guitar. Then, the platform whisks toward the ground in a free-fall motion. The ride also features a LED light show at night and seats 22 riders. www.mydelgrossopark.com
Dorney Park in Allentown, Pennsylvania, unveils "Cedar Creek Flyers," which features eight two-person carriages and sends guests flying 28 feet over the midway. Riders can take their flight from mild to intense as they control the thrill level using a moveable front wing. www.dorneypark.com
Check out reviews of Dorney Park.
"Bon Voyage Balloon Chase" debuts at Dutch Wonderland in Lancaster, Pennsylvania. The ride can accommodate up to 32 guests and features eight spinning hot-air balloons with gondolas that can be rotated individually by riders using a center wheel. www.dutchwonderland.com
Great Wolf Lodge Pocono Mountains in Pennsylvania unveils "Slideboarding," a fusion of video game and water slide that challenges guests to hit corresponding buttons on their controller as they travel down the slide. www.greatwolf.com/poconos/waterpark
The "Laff Trakk Indoor Coaster," a spinning glow-coaster, opens at Hersheypark in Hershey, Pennsylvania. The 70-second-long ride experience pays homage to funhouses of yesteryear. The family-friendly ride entertains guests with thrills from a 1,400-foot steel track, high-banked curves, camelback air time hills and curves, and an Immelman turn, as well as funhouse sights and sounds complete with glimpses of colorful characters and a dizzying hall of mirrors. www.hersheypark.com
Hersheypark offers kid friendly fun. Check out parent recommendations.
"Impulse" is a brand new steel roller coaster, makes its debut this spring at Knoebels Amusement Resort in Elysburg, Pennsylvania. The tower roller coaster features nearly 2,000 feet of track, a 98-foot-high chain lift hill, a 90-degree freefall drop, multiple inversions, speeds over 55 mph, three eight-passenger roller coaster cars, and more. "Impulse" is the first major steel roller coaster to open at Knoebels since 2005. www.knoebels.com
Is Knoebels kid friendly?  Check out parent approved reviews.
Idlewild Park Located in Logonier, Pennsylvania, this amusement park that has won the coveted Golden Ticket award will take visitors through a trolley ride through Daniel Tiger's Neighborhood. Idlewild is the first amusement park to introduce this character to young children, which is the first TV series inspired by the original Mister Rogers' Neighborhood. www.idlewild.com
The Amish Experience in Bird-in-Hand, Pennsylvania, debuts Magic Lantern Shows at the Plain and Fancy Theater. The theater provides audiences with a unique 19th-century entertainment experience popular before there were movies. Antique hand-painted images on glass are projected onto a large screen using a rare triple lantern. With music, special effect slides, and sound effects, a live showman interacts with the audience to bring the stories to life. The three shows presented in collaboration with the American Magic Lantern Theater are "Bible Stories," "Patriotic America," and "Victorian Christmas." www.amishexperience.com
Undergoing the largest expansion in its history, Waldameer Park & Water World introduces its new "Giant Wave" pool. Located in a 3.5-acre addition, this wave pool holds 500,000 gallons of water and accommodates more than 1,000 people.  www.waldameer.com
Explore or write kid friendly reviews of Waldameer.
At Sesame Place, located in Langhorne, Pennsylvania, guests can soar, swing and fly on three new mechanical rides including The Count's Fly By, The Castle Swing and The Count Around. www.sesameplace.com
Trekaroo families love Pennsylvania. Explore our Top 10 PA!
Texas
"Grizzly," a swinging gondola with 20 seats opens at Joyland Amusement Park in Lubbock, Texas. The ride swings 360 degrees in both directions and reaches a height of 35 feet, giving riders a thrilling, weightless feeling. www.joylandpark.com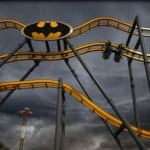 Six Flags Fiesta Texas in San Antonio launches "Batman: The Ride," a 4-D spinning wing coaster that sends guests up a 120-foot elevator-type lift before releasing them on a multi-sensory journey. Riders are seated on both sides of the track as they experience six head-over-heels spins aided by new magnetic technology as well as two beyond-vertical freefalls. The ride also features a full-scale Batmobile, Bat Signal, and other special effects. Get the full Batman experience and watch this video. www.sixflags.com/fiestatexas
Check out kid friendly reviews of Six Flags Fiesta Texas.
Six Flags Over Texas in Arlington opens "Justice League: Battle for Metropolis," a 3-D interactive dark ride attraction in which guests take on the role of the Justice League Reserve Team and engage in a full-sensory journey with the Justice League heroes, battling against villains Lex Luthor, and the Joker. www.sixflags.com/overtexas 
Splash Kingdom Water Park opens in Nacogdoches, Texas. The park includes a lazy river, a 40-foot-tall slide tower with two body slides, a children's area, and a 21-foot-tall treehouse with sprayers, water slides, and more. www.splashkingdomwaterpark.com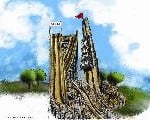 "Switchback," the first wooden shuttle coaster to be built in more than a century, opens at ZDT's Amusement Park in Seguin, Texas. The implementation of a switchtrack allows this coaster to run two trains simultaneously. The ride is locomotive-themed to celebrate the heritage of the park grounds. Check it out. www.zdtsamusement.com
Read about the top things to do in Texas.
Utah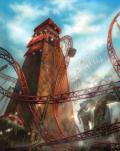 Lagoon Park in Farmington, Utah, unveils the "Cannibal" roller coaster. The ride hoists guests up 208 feet on a vertical lift before a freefall at an angle of 116 degrees into an underground tunnel. www.lagoonpark.com
See what else there is to do with the family in Utah. 
Virginia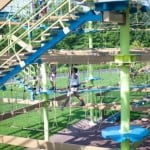 Great Wolf Lodge Williamsburg in Virginia debuts three new attractions. The resort unveils "Slideboarding," a water slide experience integrated with a video game that challenges guests to hit corresponding targets on their controller as they travel down the slide. The "Howler's Peak Ropes Course," a 50-foot-tall ropes course with ziplines, ropes, and wobbly bridges, makes its debut. www.greatwolf.com/williamsburg/waterpark
Read more kid friendly reviews of Great Wolf Lodge.
Kings Dominion in Doswell, Virginia, expands its WaterWorks water park and renames it Soak City. The park adds "Paradise Plunge," a 65-foot-tall water slide complex; Splash Island, a family-friendly splash zone with water slides and water jets for young guests; and various amenities to enhance the guest experience.  www.kingsdominion.com
Explore or write kid friendly reviews of Kings Dominion.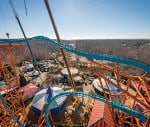 Busch Gardens Williamsburg's new thrill ride, "Tempesto" races into tight turns at 63 mph, then rolls into an inversion 154 feet in the air. With three launch experiences and a signature loop-the-loop, you'll never know what hit you! seaworldparks.com/en/buschgardens-williamsburg/
Get ready for more kid-friendly fun with our top 10 Virginia.
West Virginia
River Riders in Harpers Ferry, West Virginia, adds three new ropes courses to its Aerial Adventure Park that will challenge guests' mental and physical skills. The park consists of a total of nine courses that feature more than 100 obstacles to climb through while reaching heights of up to 80 feet in the trees. A new kid's course with a 700-square-foot treehouse also debuts this year. www.riverriders.com
CANADA
Alberta
"Timber Falls," a new log ride, opens at Calaway Park in Calgary, Alberta. Guests travel through three sawmill-like buildings, plunge down a cascade drop, and zig-zag through a river section at speeds of up to eight feet per second. www.calawaypark.com
British Columbia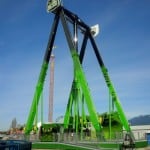 Pacific National Exhibition Playland in Vancouver, British Columbia, begins a 13-year expansion with the introduction of "The Beast" thrill ride. "The Beast" swings riders on a pendulum arm to angles of up to 120 degrees at heights up to 120 feet while traveling 55 mph and spinning 360-degree circles. www.pne.ca/playland
Ontario
Canada's Wonderland in Vaughan, Ontario, adds new attractions to its 20-acre water park, with the addition of the "Typhoon" slide, featuring oscillating funnels and hairpin turns, and "Splash Station," an interactive children's play area. www.canadaswonderland.com
Quebec
LaRonde, located in Montreal, Quebec, adds "Maison Rouge-Labyrinth of Terror," a year-round, haunted walk-through funhouse. www.laronde.com/larondeen
Read all about the fun to be had in Montreal.
All Photos Courtesy of IAAPA and individual amusement parks/activities