-Both Debi Huang (GoExploreNature.com) and Michele Whiteaker (FunOrangeCountyParks.com) are travel hungry 2011 Superoos who have taken to adventuring together on monthly outings somewhere in between Debi's home base of Los Angeles and Michele's in Orange County.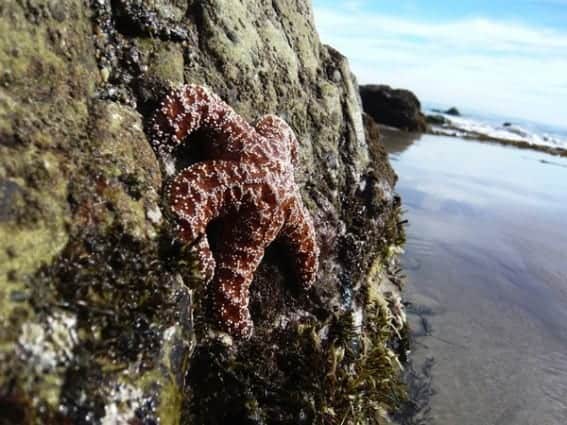 Most tourists associate Malibu with star sightings and surf culture, but the real star of this scenic stretch of Pacific Coast Highway is the opportunity to go on nature outings so close to Los Angeles.
Leo Carrillo State Park offers up a family-friendly blend of beach fun – think tide pools, coastal caves, views to die for and water exploring galore – with campgrounds and hiking trails to boot. The park has 1.5 miles of beach for swimming, surfing, windsurfing, surf fishing and beachcombing. Plan your visit for low tides and you won't be disappointed. Expect to see crabs, sea anemones, sea stars, sea urchins, mussels, barnacles and more. For maximum enjoyment, bring sturdy waterproof shoes, favorite sand toys, towels, a change of clothes and a sense of adventure. Nature walks and campfire programs are offered and a small visitor center has interpretive displays.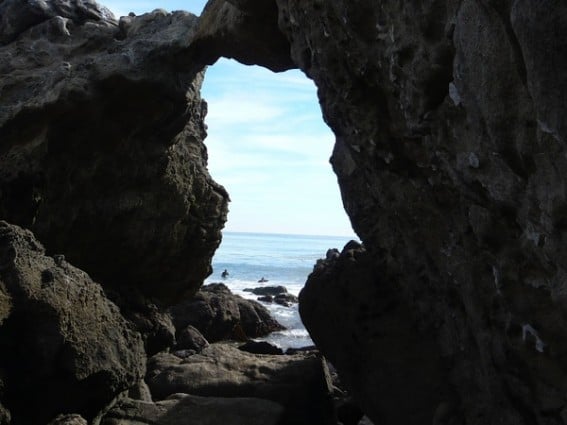 Malibu Lagoon State Beach is a place Michele had driven by hundreds of times, but never stopped.  Debi had raved about taking guided tours there, so they opted to meet on the coast for some exploring.  There's a nice picnic area near the dirt parking lot with a few tables.  Then they took off down the path to the beach for some one-of-a-kind birdwatching spotting hummingbirds and a night heron right away.  The Lagoon was the main attraction, so we walked along the beach and turned our attention towards the Santa Monica Mountains looming beyond the Pacific Coast Highway bridge. We saw the antics of pelicans, terns, and protected species of plover.
In addition to birdwatching, Malibu Lagoon State Beach offers a whole lot more in the way of nature activities. Guided tours of the wetlands and other natural elements such as grunion, the monarch butterfly, tidepools and the gray whale are scheduled seasonally. The Malibu Lagoon beach features wetlands, flower gardens and a sandy beach, which is popular with novice and seasoned surfers alike.
The Santa Monica Bay Audubon Society family walks at Malibu Lagoon are offered every fourth Sunday of the month at 10 a.m., rain or shine. Walks are FREE and kids and parents are provided with binoculars. Experienced, kid-friendly guides are patient and eager to share their love of birds with little ones. May not be appropriate for kids under 5.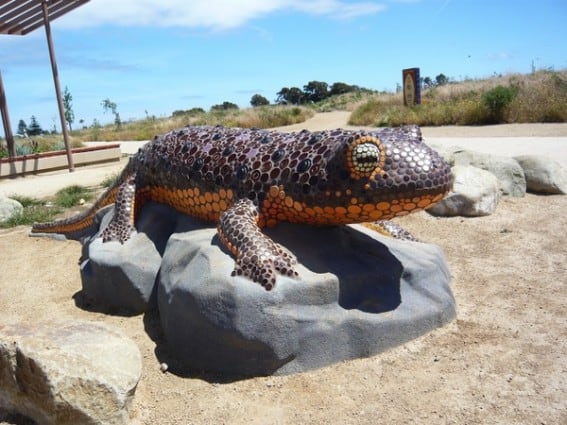 Another reason for picking this location was a first-time visit to the new Legacy Park in Malibu. Just walk across the street from the Lagoon and you'll find yourself in a wonderland of California native species.  The park is divided into habitats with whimsical mosaic statues sprinkled along the dirt paths. According to the City of Malibu website, this park holds the distinction of being "at the heart of the only location in California where four other natural coastal habitats – ocean, lagoon, creek, and bluffs – will be linked and accessible."
Restaurants and shops are right next to the park in the village area of Malibu for easy access to food and restrooms.  Next time you drive the coast — consider stopping for a short, but memorable nature outing.
___________________________________________________________________________________________________________________________________________________________
Travel with kids to: CA |CO | DC | FL | HI | IL |MA | NC | NY | OR | PA | TN | TX | VA | WA