Congrats to entry #17 – Carolina for winning the National Parks Pass.  We can't wait to hear what you recommend families do in the National Parks you've been to and will be going to in the next 12 months!  Winner was selected by Random.org.
Update:  Deadline to Enter has been extended to June 13, 11:59 PM PST
Over the past week, Trekaroo has been highlighting some of most fun adventures in American's National Parks.  If you haven't, catch up on our growing series of tips and reviews on exploring America's National Parks with Kids.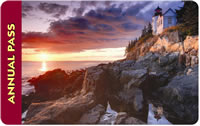 In celebration of launch of these first 6 National Parks on Trekaroo, we are giving away a summer of National Park Adventures to a family!
The Steal:  Win an America the Beautiful National Parks Pass ($80)
One family will win a National Parks Pass that will give you free entry into any of the 400+ National Parks and Monuments across America for one whole year.
Number of Winners: 1 winner
Prize: One (1) National Parks Pass
How to enter:
STEP #1: Sign in to Trekaroo and mark all the places you've been to in any National Park by clicking the "We've Been Here" button. 
Quick links: Acadia National Park | Grand Canyon National Park | Olympic National Park | Rocky Mountain National Park | Great Smoky Mountains National Park | Yosemite National Park
Have you been to other places and want to mark them?  Just add them and we'll automatically mark it as a place you've been to.
STEP #2: Post a link to your Trekaroo passport in the comments below.
For additional entries, feel free to do any or all of the following. Each one counts as an extra entry but be sure to leave a separate comment for each one.
Rules and guidelines:
18 years of age or older
US Residents only
One entry per person
Deadline to enter: Sunday, June 6 13, 2010 at 11:59PM PST
Every week, Trekaroo does a giveaway on Monday Madness.
Every Monday, Trekaroo announces on our blog, either a fantastic giveaway or an incredible deal.  It could be a green water bottle or Broadway tickets. Return every Monday to the Talking Trekaroo Blog for the details. Want a reminder? Become a Trekaroo member or follow us on facebook or twitter.
Related articles: