Last week I told you the story of Loren Wagner and the amazing journey she took to Tanzania with National Geographic Student Expeditions. Now I would like to tell you a new story. It is the story of Francis, Claudia, and Stephanie Jamilla and the incredible Tuscan adventure they shared with each other last summer. They spent their days playing bocce, learning how to paint frescos, attending lectures on history and art, and eating the most heavenly gelato on the planet. They spent their nights behind the walls of a 13th century village turned hotel which was perched on a hilltop with grand views of the Val di Chiana. And they did it all with National Geographic Family Expeditions.
This year, National Geographic will be taking families to Alaska, the Amazon, China, Eqypt, Colorado (Family Dinosaur Adventure), Galapagos, Greece, Norway (Land of the Polar Bears), Provence, Sea of Cortez, the Swiss Apls, Tanzania, Tuscany, and Yellowstone and Grand Teton National Parks. These trips are designed to engage both children and their parents with hands on educational fun and adventure. A vacation like this is sure to create everlasting memories and spark a desire in your child to engage in further exploration of this wonderful planet.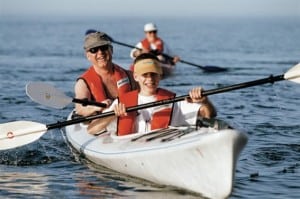 I asked Francis and Claudia why they chose Tuscany for their first National Geographic Family Expedition.  They explained that, "Tuscany has always been on their long list of places to visit. Their cuisine, culture, and countryside (not necessarily in that order) are renowned.  We could have certainly traveled on our own and probably would have had a great time, but (we) hoped NGE would add depth to our experience."  The fact that this trip was geared towards families was also very important to them.  Their daughter Stephanie is an only child and knowing that she could share this experience with other children her age was a huge plus.  But the biggest draw for the Jamila family to this particular expedition was The Palio.  Francis shared that, "This was THE reason for going; to experience this medieval tradition dating back to the 13th century. While tickets were undoubtedly available online or through other travel agencies, I felt I could trust National Geographic Family Expeditions to deliver a memorable experience".
Based on everything the Jamilla family shared, National Geographic Family Expeditions most certainly delivered.  Here is an exerpt from Francis' colorful description of the Il Palio:  "This centuries-old tradition was truly the highlight of all highlights on this adventure.  There are hours of colorful medieval pageantry that fill the streets and then Siena's main piazza, or Campo, as costumed Sienese celebrate their respective districts or contrade.  It is the climactic, manic horse race around the Campo that everyone comes to witness.  The contrade pour all their emotion and energy into their respective riders; there are age-old rivalries at play and the goal is to win at any cost or at least to prevent their arch-rival from winning.  The expedition staff did a wonderful job introducing us to the history of the Palio, then instilling in us a sense of the intensity of the animosity among contrade…  On one of our off days we were organized into "contrade" and staged our own "palio" in and around the pool.  In the days leading up to the Palio, contrade often make behind-the-scenes deals called partiti to thwart their rivals and Carol (a member of the NGE staff) used her source sto keep us up to date as to all the partiti being made. Just like the Siennese, we held our own pre-Palio dinner complete with banners and cheering.  By the time we got to the Palio, we understood what was going on. The chaos at the starting line made sense… Many of us had become, in our minds at least, members of a contrade and we cheered our riders almost as loudly at the locals."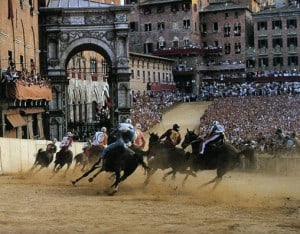 Stephanie, who was eleven at the time she visited Tuscany, shared some of her favorite moments of the trip with me as well. She told me about how much she loved playing bocce, playing capture the flag with her new friends, and interacting with children from all over the US and Mexico. She shared with me the fun she had playing games that the guides helped the children come up with during their down time and told me about in game in which they, "had to carry a watermelon across the pool and (you) could throw things at the people who were carrying the watermelon.  At the end, Massimo (the National Geographic expert that accompanied them on the trip) split open the watermelon and everyone ate from it."  The joy in which she described her adventures with the other children leads me to believe that these memories will be cherished for years to come. 
All in all, the Jamilla family unanimously agrees that their trip to Tuscany with National Geographic Family Expeditions was their greatest vacation ever. They unreservedly recommend this tour to other families and hope to take more tours with National Geographic in the future. Next on their agenda? Either the Galapagos or Tanzania.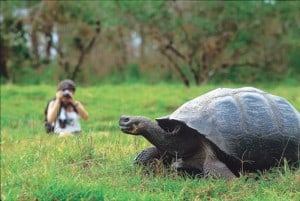 If you would like your family to take its greatest vaction ever with National Geographic, check out the National Geogrpahic Family Expedition website. There is a great summary of each trip and a recommended minimum age for children for each expedition.  If you decide to take the plunge, tell them the Jamilla family sent you.
Sharlene Earnshaw (aka doubleadventure) is Blogger-in-chief for Trekaroo and the blogger behind DoubletheAdventure.

Travel with kids to: CA | CO | DC | FL | HI | IL | MA | NC | NY | PA | TN | TX | VA | WA