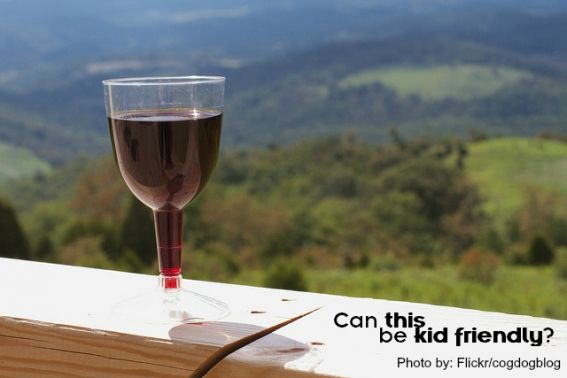 A stroll along the leafy paths of a Napa Valley vineyard, a gleaming glass of Chardonnay or a robust Cabernet in the grasp of your hand and your beloved by your side taking in the crisp air—it's a nice mental picture isn't it?  Think this ideal afternoon is impossible with kids in tow?  Guess again.  A few paces ahead of you on that vino-fueled nature walk are your three rambunctious kids scampering about, playing tag amongst the vines. This is a pretty standard scene at Napa's kid-friendly wineries.  Yes, you read that correctly—KID-FRIENDLY wineries!
Explore Napa Valley's Kid Friendly Wineries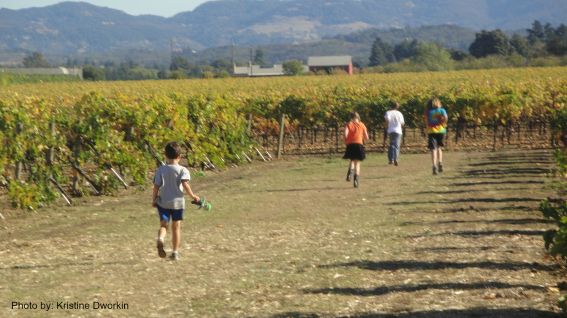 Currently more than 70 of the valley's hundreds of wineries make accommodations for the kiddos who accompany their parents to the tasting rooms.  From juice boxes and coloring books to free run of outdoor areas, more and more parents and kids are enjoying the perks of the kid-friendly winery. It's not unusual to find child riders taking in the valley views from the tram ride at St. Helena's Sterling Vineyards.  The experience is free for kids under 3 years old.  In the tasting room, kids are given coloring books, crayons, and grape juice to enjoy while their parents partake in a wine tasting.  At Frog's Leap Winery, kids are encouraged to explore the barn, vegetable, and fruit gardens.  A tour of the Tuscan style castle that is home to the Castello de Amorosa Winery brings out the inner knight and princess in many tikes.  Inside the Napa's Oxbow Public Market is the ultimate intersection of delights designed for families; the Ca' Momi Enoteca offers parents the opportunity to sample a flight of their wines over lunch while their kids munch on pizza made fresh on the premises.
This kid-friendly approach is succeeding in making the wine country experience more accessible to families. Napa's Andretti Winery encourages guests to enjoy the grounds and come back when they are ready for their next sampling rather than being "tied" to the tasting bar.  "This creates an environment where guests can go enjoy the outdoors, and their children are invited to run around on the lawn and have fun," says Roger de Lorimier, Andretti's Consumer Marketing and Sales Manager. "We even tell people to walk in the rows of vines and taste the fruit as it ripens."
If the name Andretti doesn't sound familiar, it should.  Race car driver Mario Andretti and his longtime friend, Joe Antonini, former Chairman and CEO of the Kmart Corporation, founded this picturesque, 42-acre winery, modeling it after the Italian village of Andretti's boyhood. It's a charming place for kids to explore and the management is encouraging families to do just that.  Seasonal events are offered to families year-round including the recent Halloween party where  laughter and fun emanated from the vineyards from kids running off a sugar high after decorating cupcakes with the winery's chef Athena Palombi.  While their parents enjoyed Andretti wine, their children also carved pumpkins and strolled around the grounds in their costumes.
Winter Holidays in the Vineyards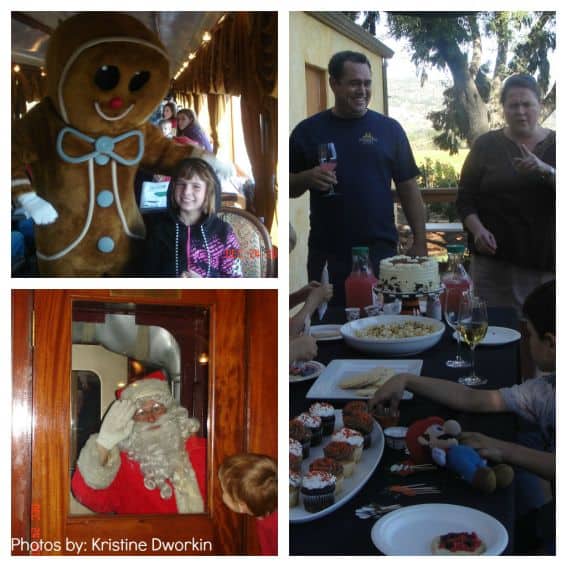 As the Christmas and winter holiday season approaches, quite a few Napa Valley towns and wineries are hosting kid-friendly events you may want to make a part of your family celebrations.  Here are a few that will convince you that an excursion to Napa is possible, even with the kids in tow:
For more tips on family & pet friendly wineries in Napa Valley, head to www.napavinters.com.
Travel with kids to: CA |CO | DC| FL | HI | IL |MA | NC | NJ | NY | OR| PA| TN | TX | UT | VA | WA