For years, the beaches of Cape Cod have been the focal point for our annual family vacations with grandparents, aunts, uncles and cousins. At least once every trip we get everyone together to make sand castles, share a picnic lunch on the sand, and catch up on our tans. Some of my favorite memories include catching up on family news during sunset walks along the shoreline while the kids look for shells. Living in New England, families like ours immediately think of Cape Cod when it comes to planning multi-generational vacations. Many thanks to Red Jacket Resorts for helping us to bring you yet another edition of our favorite ways to spend quality family time in Cape Cod.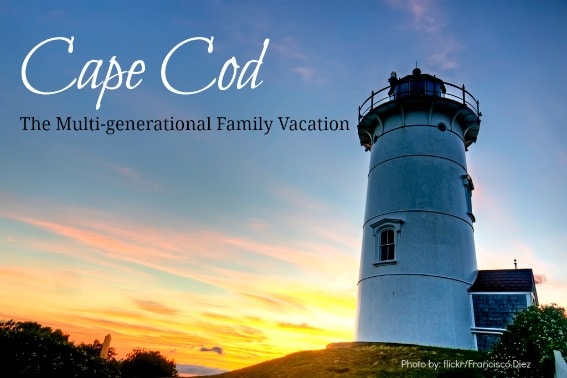 The Cape has more than 550 miles of coastline, including dozens of ocean and bayside beaches. It offers such a wide range of things to do that no matter what the mix of ages and interests in your group, everyone is sure to enjoy their time together. Multi-generational families will appreciate the Cape's many lodging options including full service resorts like the cottages and townhomes at Jacket Resort Green Harbor on Cape Cod that have multiple bedrooms and baths, as well as shared living spaces that allow everyone in the family enough space to relax. Resorts that include pools and direct beach access to make it easier for everyone to come and go as they please.
Review of Red Jacket Resort Green Harbor

Pack for a casual week at the beach and don't forget the beach towels and sunscreen. Adults may want to bring a dressy outfit for a nice dinner to enjoy some of the Cape's best seafood at restaurants like the Old Yarmouth Inn.
To make the most of a multi-generational Cape Cod family vacation, plan a range of activities that allow the whole family to spend time together, with options for downtime or smaller group outings depending on everyone's interests and energy levels. Whether family priorities lean toward beaches, bike rides, shopping, hiking, boat rides, or all of the above, multi-generational groups will never run out of things to do on Cape Cod including:
Cape Cod National Seashore

The Cape Cod National Seashore spans 40 miles along the Outer Cape from Eastham to Provincetown. Created in the early 1960s the National Seashore includes six swimming beaches, multiple historic locations and lighthouses, and miles of hiking and biking trails.
The broad sandy shores of Nauset Light Beach in Eastham are breathtaking, although winter storms damaged access to the beach – so check to be sure it has reopened before heading out. Coast Guard Beach also in Eastham is popular. Another of my favorites is the pristine Marconi Beach in Wellfleet where the first transatlantic wireless communication was completed between the US and England in 1903. The Race Point Beach in Provincetown is known for bird and whale watching while the nearby Herring Cove beach is known for its sunsets. The Salt Pond Visitor Center near Eastham has exhibits and films on the Cape's geology, history, and landscape.
The National Seashore also includes some amazing hiking trails that quickly take hikers off the beaten path. They range from easy half mile boardwalks such as the Red Maple Swamp Trail that grandparents and toddlers can share, to strenuous beach hikes such as the 6-mile roundtrip Great Island Trail in Wellfleet, where it is important to keep track of the tides to avoid being stranded on sandbars! This one is great for the teens and young adult cousins to explore together.
A Week of Family Fun in Outer/Lower Cape Cod
Bike, Hike and Paddle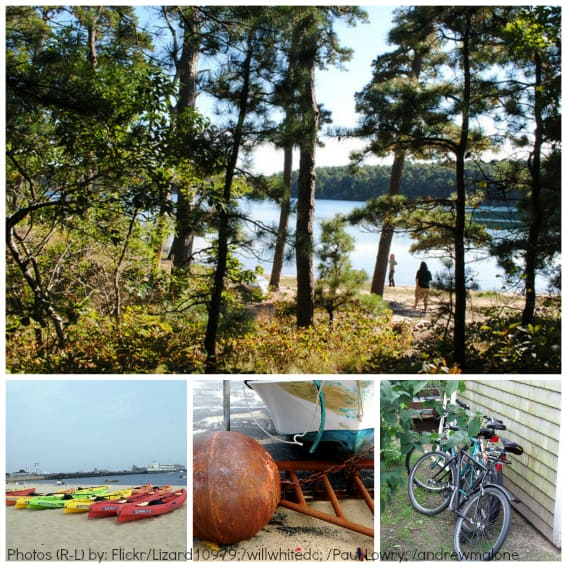 The 1900 acre Nickerson State Park in Brewster has many miles of hiking and bike trails. Fresh water swimming is available at Flax Pond or rent a canoe at Jack's Boat Rental in the Park. Cape Cod Waterways has canoe, kayak and electric paddle boat rentals available on Swan Pond in Dennis Port. Pack a lunch and set up base camp where different members of the family come and go as they choose in between water activities. We have had some really fun times with escorted kayak tours helping us explore areas we never would have found on our own. If your group is large enough you may be able to arrange for a private tour. Great Marsh Kayak Tours offers escorted kayak explorations on the Parker River in West Yarmouth and in the Nauset Marsh at the Salt Pond Visitors Center in the Cape Cod National Seashore.
The Cape Cod Rail Trail runs 22 miles through the towns of Dennis, Harwich, Brewster, Orleans, Eastham and Wellfleet. It is mostly flat, paved well marked, and a fun way for all members of the family to get some exercise. Barbara's Bike Shop has bike rentals available in Brewster and Dennis.
Baseball, Mini-Golf, Ice Cream, Water Parks and More

Need a break from the beach and outdoor adventures? Cape Cod offers an amazing array of family fun options for all ages. The Cape Cod Baseball League is a 10-team summer league that serves as a training ground for the best collegiate players. The league operates as a non-profit – no tickets required to attend games, although donations are gratefully accepted. Just about everyone in the family will enjoy a night at the ballpark.
Mini-golf, another summer staple for our family, is widely available across the Cape with one of the best in South Yarmouth at Pirate's Cove. I've never really been able to figure out why, but -no matter the ages- kids just love mini-golf. Afterwards, stop off for ice cream at Four Seas Ice Cream in Centerville or Sundae School Ice Cream in Dennis Port, Harwich and East Orleans. Kids still got too much energy? The Cape Cod Inflatable Theme Park in West Yarmouth hosts some of the biggest inflatable water slides and rides I've ever seen. In the evening, everyone will enjoy a night out at one of America's last drive in movies at the Wellfleet Drive-Inn Theater. Maybe grandma and grandpa will tell the kids how they used to double date at the drive in!
Cruise the Ocean Blue

No multi-generational visit to Cape Cod would be complete without some kind of boat ride. For us, it usually involves fishing – another great family bonding activity that all ages enjoy. There are endless options to get out on the water all along the Cape Cod coast, from ferries to whale watches, to fishing charters, and pirate ship tours. HyLine Cruises offers daily departures from Hyannis to Martha's Vineyard as well as tours of the Cape Cod Canal and deep sea fishing trips. Whale watches depart from Barnstable with Hyannis Whale Watch Cruises. The Dolphin Fleet sails from Provincetown.
For pirate fans, the Sea Gypsy takes kids ages 3-10 on a swashbuckling treasure hunting voyage around Hyannis Harbor. Helen H Deep Sea Tours in Hyannis caters to families with a range of custom charter fishing operations as well as its Kids Sea-Fari tour led by marine naturalists and kid friendly tours to see the seals at the 8-mile long Monomoy Island National Wildlife Refuge off the coast of Chatham. Monomy Island Ferry offers a number of cruises and naturalist tours of the island as well. For kids that have never seen a real seal colony, a trip to the island provides some pretty amazing sights. Our son enjoyed meeting the seals when he was in kindergarten and still looks forward to seeing them even now that he is in college.
Rainy Day Fun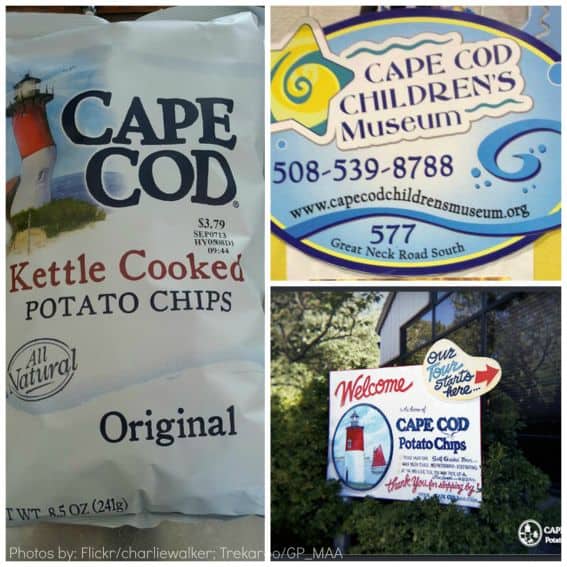 If it's a rainy day or it is time to get out of the sun, there are plenty of indoor multi-generational things to do including the Harwich Junior Theater which always features family friendly live theater productions. The Cape Cod Children's Museum in Mashpee offers kids age 8 and younger a range of interactive exhibits and themed play spaces.
Finally, no multi-generational visit to Cape Cod would be complete without a tour of the Cape Cod Potato Chip Factory in Hyannis. Over 250,000 people a year take this free self-guided tour to learn how those Cape Cod chips get their crunch.
Cape Cod can be busy in the summer so it pays to make reservations for dinner, shows, cruises or other activities that will accept reservations. Call ahead to be sure of operating hours and locations.
Explore more on Cape Cod with Kids:
Start planning your family's Cape Cod trip
We found the cottages at Red Jacket Green Harbor perfect for a multi-generational family vacation to Cape Cod.
Red Jacket Green Harbor is located on 7.5 lush acres. This beachfront resort has 50 beautiful suites, cottages and villa townhouses. Families love the outdoor pool overlooking Nantucket Sound, row boating and canoeing in our ocean waters or miniature golf at their on-site course. In the summer, Red Jacket Green Harbor offers a supervised children's recreation program has trained counselors and daily activities including lawn games, nature walks, golf, and arts and crafts.
We found the resort to be priced affordably when compared to the rates of some of the other resorts in the area. We really loved that the facility itself seemed to save us time and money as well – no driving to the beach, free mini-golf in a town full of pay to play places, and the kitchen. The kitchen itself helped our family save a bunch of money. – trekaroo/momto2

Book a Cape Cod Cottage
---
About Mary Turner. Based in Boston, a short drive from Cape Cod, Mary is the publisher of Travel with Teens and Tweens, a travel blog providing reviews, resources and inspiration for traveling families, particularly those with kids ages 10-19. Find her on Google+