I am a very lucky wife.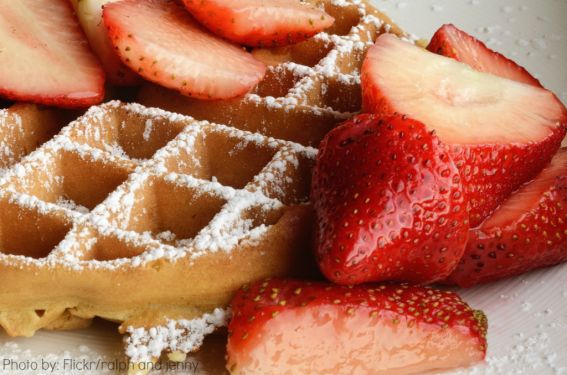 Most weekends, while I sleep comfortably dreaming in my bed, my husband willingly gets up early with our three little girls to make Belgian waffles for the family. The four of them work together, mixing the eggs, flour, oil, dairy-free milk (see my traveling with food allergies article) until the perfect mixture is complete. Within a few minutes, the first golden waffle is ready and I am beckoned from my slumber to enjoy a fresh-cooked waffle topped with a variety of goodies including strawberries, nutella, real maple syrup, or peanut butter.
This isn't Mother's Day. This is Saturday.
I might be a little spoiled.
My role in the breakfast ritual is the cleanup, which is really nothing compared to the extra hour of sleep and fresh breakfast that awaits me nearly every weekend of the year. But once a year, on Mother's Day, I don't even want to do that. Although my husband and girls will gladly clean up the dishes & kitchen for me, Mother's Day is the perfect opportunity to forgo the father/daughter breakfast duty, pull on some fancy clothes (pretty much everything is fancier than PJs), and head to a lovely Mother's Day brunch.
Mother's Day Brunch Across the United States

The food spread is amazing. The choices superb. The pampering supreme. The cleanup, well, that is the piece de resistance for us moms out there!!!
Dads: Score major mom points and take your sweetie to one of these fabulous brunches near you.
(Moms, feel free to hit the share buttons. Your spouse will thank you!!)
PACIFIC NORTHWEST Portland | Seattle | Southern Oregon
CALIFORNIA Inland Empire | Los Angeles | Orange County | Sacramento | San Francisco | San Diego | Temecula
THE PLAINS & MIDWEST Austin | Chicago | Dallas | Denver | Minnesota | St. Louis | Utah
MID ATLANTIC & NEW ENGLAND Albany | Connecticut | Finger Lakes Region | Massachusetts | Philadelphia | Western NY
THE SOUTH Asheville | Charlotte | Florida | Tampa Bay
Don't see your city or favorite brunch location? Add a list on Trekaroo or leave a reply in the comments.
we ♥ moms:
Mother's Day ideas for every type of mom
Mother's Day Pinterest Board – great ideas for mom
Open Letter of Thanks to Sojourning Moms
Featured photo by: Shutterstock