I fondly remember collecting stickers as a young girl on the playground in 1st and 2nd grade.  I grew up and married another collector who had a bookshelf full of Piers Anthony books.  I'm pretty sure we have passed on the collecting gene to our 4 kids who have jars full of bottle caps, little shooter beads, and rocks decorating their bedrooms.  Despite the clutter, we have realized the fun benefits of this collecting habit as we travel.  We all have had a lot more fun together and have saved money as a result of collecting free treasures rather than expensive souvenirs.  Just recently my son said to me, "Mom, a day at the beach is so much more perfect when we find beautiful sea glass!"
Pressed Pennies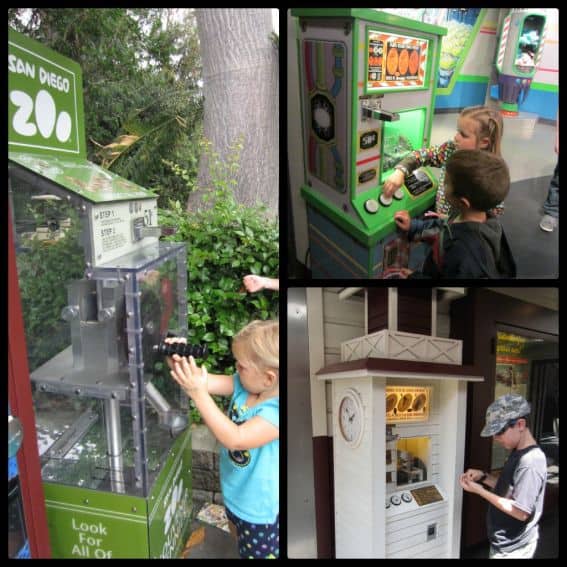 For just 51 cents, kids can find the perfect treasure in just about every gift shop and attraction across America.  We make it a habit to fill our wallets with quarters and shiny pennies when we travel so that our kids can load the machine, turn the handle to perfectly squash their penny, and emboss it with the location and emblem of our visit.  Some machines do this turning for you or even have unique features inside where the penny travels before it is squished.  We like to make it a hunt to find the pressed penny machine.  We give the winner first dibs on the emblem of his choosing.  We were surprised to find penny machines all over Disneyland including our favorites at Buzz Lightyear Astro Blasters and Splash Mountain.  PennyCollector.com gives plenty ideas of how to find, store, and display your penny collection.  We will need a new penny book soon!
Sea Glass, Shells, and Rocks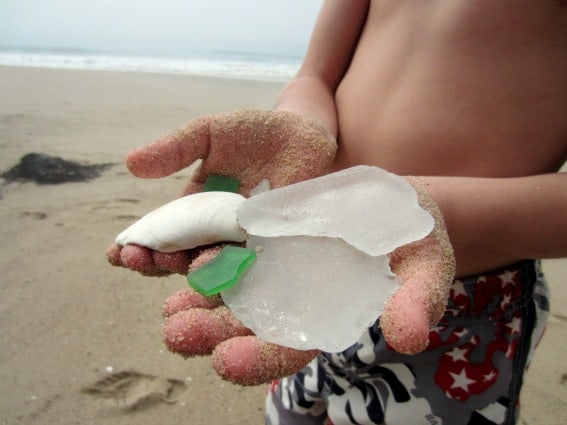 We have a mason jar on our kitchen shelf that is slowly filling with the most beautiful etched and smoothed shards of glass, with colors ranging from sea foam green, white, brown, to the rare light blue.  Because it is technically trash, these treasures are free to collect and don't take away from natural habitats.  During this last spring at Crystal Cove Beach, my boys were delighted with our finds and my pockets were heavy with our treasures.  As long as it is okay with the local habitats, collecting a few natural elements such as sea glass, shells, rocks, or leaves is a wonderful way to enjoy nature together.  To find local beaches with sea glass treasures, check out the Online Sea Glass Journal.
National Park Stamps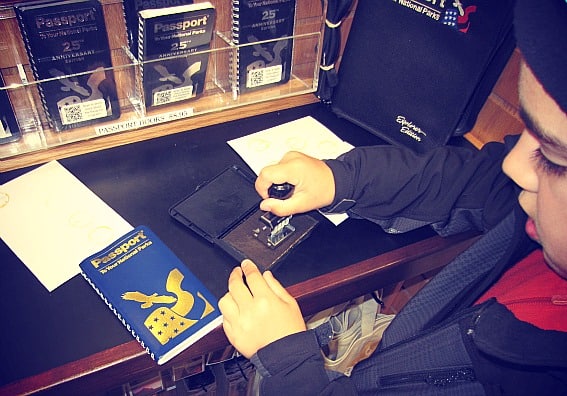 You don't have to travel internationally to have a passport filled with stamps.  Just visit any of the National Parks and find the Cancellation Station, usually located within the Visitor Centers or Nature Centers to find the dated stamp to mark in your book.  It's a great way to keep track of where you have gone, and it definitely can inspire more trips to our beautiful National Parks!  As a bonus, we found out while in Yosemite that you can get different stamps for the various parts of the park.  Our book now has stamps from Curry Village, Happy Isles, and the Yosemite Visitor Center.
Letterbox Stamps or Geocaches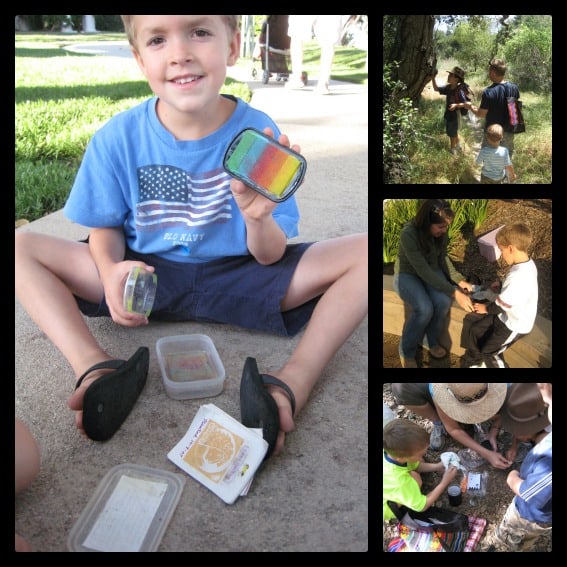 Many people have heard of geocaching where you use a GPS to travel to specific coordinates and find a hidden treasure.  Then, you take the treasure that you find and leave one of your own.  Very similar to geocaching is letterboxing.  First, you look up specific clues that someone has written online.  Then, after decoding them, or simply following the directions, you will find a hidden box that contains a small notebook and rubber stamp.  Next, stamp your own image or write your name in the notebook kept in the box.  Lastly, use the rubber stamp to make a mark in your own notebook as your own record that you found the box.  The perfect place to get started is in your own neighborhood.  Find clues at Atlas Quest or Letterboxing North America.  Our kids love following the written clues and it makes for a perfect family outing.  Read more about our story of letterboxing on the Trekaroo blog.
Patches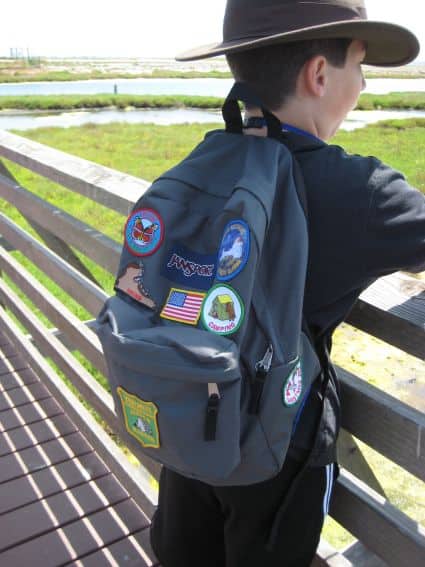 Since I was a little girl earning patches for my Girl Scout Brownies sash, I have loved seeing the collectible stitched designs on trips.  Each of our kid's backpacks has become a display board for the various patches from National Parks, activities, and exotic locations such as Alaska.  Whenever we travel I love browsing gift shops, but knowing that we are looking for a patch (and a pressed penny machine), helps us all to not spend so much on other cheaply made toys.  The best part is when a fellow traveler comments on all the fun places we have been to when seeing our backpacks.  My kids beam with a smile as they say, "Yes! I have been to the Arctic Circle!"
Lead image by Shutterstock/ BlueOrange Studio
All other images by Michelle McCoy
---