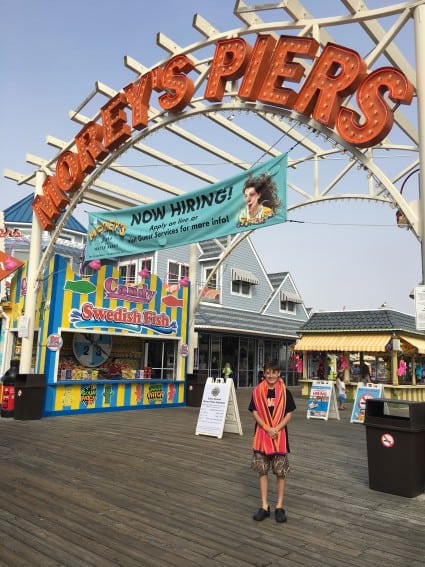 Bored kids can equal a frustrating vacation for the whole family. Finding a family-friendly solution that keeps the kids entertained yet doesn't bore the adults – all without breaking the bank – can be a challenge. Enter Morey's Piers in Wildwood, New Jersey. Morey's Piers is a family-owned and operated business that has decades of experience catering to families. They know what you're looking for because they have families of their own. They're proud of their business but even more proud to be able to be able to offer families a great place to make memories. When you experience all that Morey's Piers has to offer, you get a vacation that's anything but boring.
Look for current hotel deals nearby Morey's Piers

Morey's Piers: Amusement Rides
Morey's consists of three amusement piers located in three separate areas of the boardwalk in Wildwood. There are over 100 rides and attractions on these piers, along with two beachfront waterparks. Should your crowd consist of some more daring members, be sure to visit Adventure Pier where you'll find more extreme amusements like bungee jumping, helicopter tours, the Screamin' Swing, a Skycoaster and the famous wooden roller coaster Great White. For folks who are ready to try some new and more daring experiences, this pier may be just the thing they need to challenge themselves.
Surfside Pier was the first pier purchased by the Moreys in 1969. It began with a giant fiberglass slide called WipeOut that guests could go down in a burlap sack on for 25 cents. The pier has come a long way since the days of WipeOut, but it continues to be a fun and enjoyable place to spend the day (or evening) with kids. This pier is home to both smaller rides for the littler tykes, as well as bigger rides for the older set. It's nice how they organize the layout here, as the rides meant for younger kids are at the front of the pier, and the bigger rides are a little further back. You can stick to the section that's best for your little ones. This pier is also home to one of the two waterparks that are part of Morey's. Located at the back of the pier closest to the beach, the waterpark is clean, offers a good deal of things to do, and really feels like a mini escape. It's nice to be able to cool off and spend some time in the water after walking around in the heat. There are many places to sit and relax, and plenty of eateries nearby for when hunger or thirst strikes.
Mariner's Pier is the most centrally located pier, and is set up much like Surfside. There is a waterpark here as well and rides for kids of all ages. The Sea Serpent is located here, and it was the first seaside park-looping coaster in the world when it was first introduced. Also located on Mariner's Pier is the Great Wheel, a huge ferris wheel that allows you to see for miles on a clear day from the top. Early in the morning, you can eat even breakfast on the wheel! This is a fun ride to do together to see the entire pier, as well as the beach and the ocean. On this pier, families can partake in rides, waterpark fun, eat, drink and enjoy arcade games as well. There's plenty to do and plenty of choices depending on what your crowd is interested in.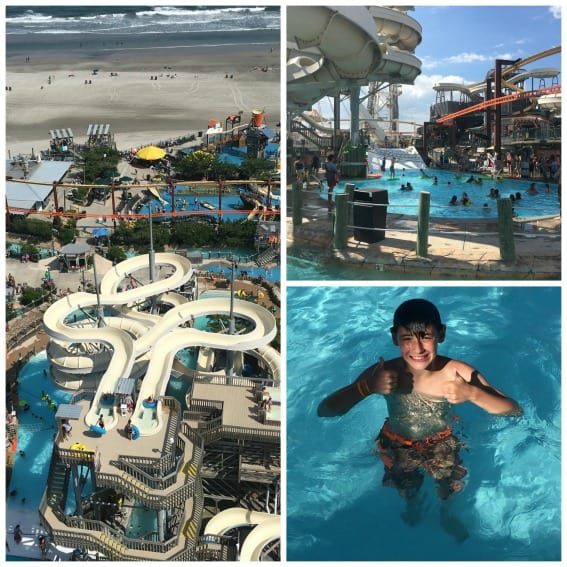 Morey's Piers: Water Parks
The water parks that are part of Morey's Piers offer families a wonderful way to cool off and play during the hot summer months. Floating along in the lazy river, splashing down one of the tube slides, trying your luck at crossing the pool on giant tilting lily pads, or swinging on the rope swing are surefire ways to keep kids busy and give them great stories when the day is done. Adults who love the water are able to enjoy themselves as well, or they can grab a lounge chair and relax nearby with the confidence that there are plenty of lifeguards here helping keep the kiddos safe.
Check for hotel availabilities nearby Morey's Piers
Morey's Piers: Eateries
Of course, a visit to the boardwalk wouldn't be complete without food and drink options. Luckily, Money's Piers has quite a few to choose from. Whether you're looking for something fun like Curley's Fries, something sweet like Dippin' Dots, a sit-down meal like one you can find at Joe's Fish Co or Stubborn Brothers, or just a cold drink, the piers have plenty of places to satisfy your needs. Head to Surfside or Mariner's Piers for choices other than smoothies and ice cream.
Visiting Money's Piers offers you the opportunity to pay per-ride by buying tickets at the centrally-located ticket booths, or you can purchase a wristband which lets you forget about tickets and get into almost every ride or the waterpark quickly and easily. Should you have an older child or one that really likes to ride the rides, this may be your best option for a day of fun, but its nice to know you have choices.
Morey's Piers is a great place to spend some time while at the beach when you've had enough of the sand and surf. There are options for kids (and grown-ups) of all ages. Spend time in one or both waterparks, ride some of the dry rides, spend time on the ferris wheel, play some arcade games, eat food here, have something to drink, enjoy the view and know that you're playing in a place where the owners care about their business, make constant and continued improvements, monitor your safety and security, and want you to have fun and come back again next year. The piers are clean, well-organized, conveniently located and offered a variety of things to see and do. It's great destination for the whole family.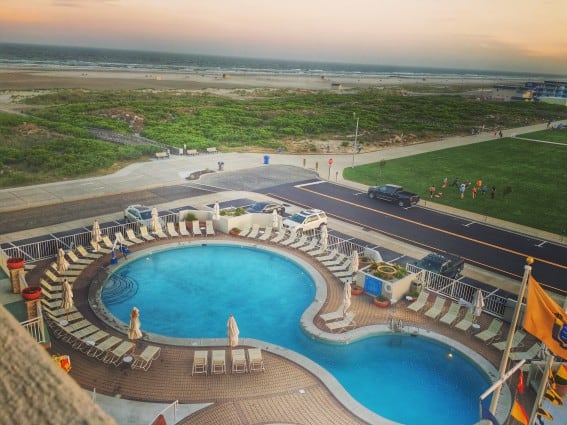 Where to stay nearby Morey's Piers
A visit to Morey's Piers is also easily made into an overnight trip or weekend adventure. Cozy up in one of the nearby lodging options like the Port Royal Hotel or StarLux Hotel. Eat on site, enjoy the hotel pool, have easy access to the beach, enjoy great hotel amenities and then head up to the piers when the mood strikes you. Together with the option to stay the weekend, Morey's Piers gives families heading to NJ all that they need for a vacation they'll be able to afford, enjoy and remember.
Disclosure: The author and her family were hosted as part of a press trip to Morey's Piers. The opinions stated herein, however, are her own.