When the producers of the 2-time Tony and Drama Desk Award-winning  comedy invited our family to watch this spoof of Alfred Hitchcock's murder mystery – 39 Steps, I wasn't sure what to expect for our 7 year old.  However, from the moment the lights dimmed and the stage broke into life, our 7 year old became progressively spellbound by the experience.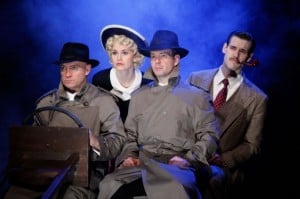 As an adult, I was absolutely thrilled by the brilliance with which a cast of 4 was able to play a 140 characters.  This clever and absurd rendition of Alfred Hitchcock's murder mystery was filled with unexpected interpretations and wildly hilarious moments.  What I enjoyed most about the performance was being reminded that great theatrical performances don't need extravagant sets, costumes or a 100 piece orchestra.  39 Steps is a performance where the power of suggestion and exaggeration tug your imagination out of the closet and transport you into a different reality.  We thoroughly enjoyed this show filled with many laughs, mystery, suspense, and a touch of romance.
I was a little concerned that the story line of a murder mystery would be too much for a 7 year old.  There are 2 shooting scenes where blanks are fired from a revolver that caused him to jump visibly, but all in all, the comical way in which these events unfolded on stage did not disturb him at all.  In any case, I was delighted that he was able to appreciate the artistry with which the directors and actors commanded on this stage.  Theatre is an art form that young people are slowly loosing the appreciation  for as productions lean more and more on special effects to draw their audiences in.  39 Steps isn't so.  It's artistically ingenious and I was delighted that our 7 year old had the opportunity to savor it.
It was with great sadness that I learned that 39 Steps just announced that their last performance will be Jan 16, 2011.  Time is running out to watch this brilliant performance.  I highly recommend that families with kids ages 9 and up try to catch the show before it's final bow.
Here's one of my favorite scenes from 39 steps.

Planning your trip to New York with kids?  Check out:
The Steal:  Win 2 Tickets to the comedy 39 Steps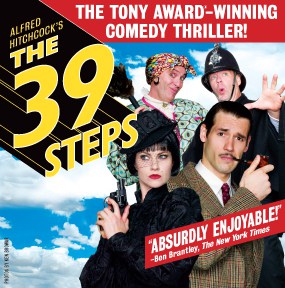 Details: One lucky winner will win two tickets to a performance of 39 Steps at New World Stages in New York City
Winner: One (1) winner
Prize: Two Tickets to any performance of 39 Steps
HOW TO ENTER TO WIN: Leave a comment telling us which scene you liked the best.  Watch scenes of 39 steps here.
For additional entries, feel free to do any or all of the following. Each one counts as an extra entry but be sure to LEAVE A SEPARATE COMMENT FOR EACH ONE.
Rules and guidelines:
18 years of age or older
US Residents only (Alaska and Hawaii residents are not eligible to win the Koolatron Travel Cooler)
Deadline to enter: Sunday,December 26, 2010 at 11:59PM PST
Contest Restrictions: Prize is valid for two full price orchestra/mezzanine seats to The 39 Steps on a select performance through January 16th, 2011.  Winner will have the option to choose from a variety of dates.  Some blackout dates apply.
The Deal: Trekaroo Families Get Up to 50% off Tickets
$39 – Best available seats (Wed & Thurs performances only)
$55 – Rear Mezzanine seats (all performances)
$65 – Orchestra & Front Row Mezzanine (all performances)
SAVE OVER 50%! Tickets regularly priced at $69.50 – $89.50.
HOW TO ORDER:
1.  VISIT http://www.BroadwayOffers.com and use code TNHHC210
2.  CALL (212) 947-8844 and mention code TNHHC210
3.  BRING a printout of this discount to New World Stages at 340 West 50th Street
Restrictions: Offer valid for select seats at all performances through 1/16/11. Limit 10 tickets per order. All prices include a $1.50 facility fee. Offer is subject to availability and may be revoked at any time.
What is Monday Madness?
Every Monday, Trekaroo announces on our blog, either a fantastic giveaway or an incredible deal.  It could be a green water bottle, a hotel stay on Maui or theme park tickets. Return every Monday to the Talking Trekaroo Blog for the details. Want a reminder? Become a Trekaroo member or follow us on facebook or twitter.