(Last Updated On: March 31, 2016)
This giveaway is now closed. Congrats to Hoa, comment number 156 and Cyndi Peterson, comment 205. Your numbers were picked viz a random number generator. We hope you enjoy your new bags!
In the days before children, I didn't give bag design much of a thought. Purses were more of a fashion statement than a matter of practicality.  These days, a purse is not an accessory, it's a necessity.  And up until recently, my purse was a big unorganized mess that was destroying my back and shoulder.  Then I discovered Overland Equipment.
I was sent the Donner and Cambridge bags to review.  The Donner is a smaller bag that can be used for hiking, travel, or as your everyday purse around town.  I fell in love with the bag the first day I used it and have been using it as my purse daily ever since.  When we hike or even head to Disneyland, I have room to put in snacks.  Even my Nikon D40 with its giant lens fits comfortably with room to spare.  Best of all, my back doesn't hurt after I use it.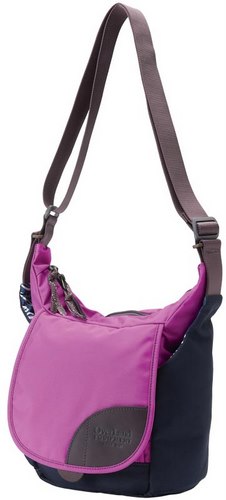 Pros:
The adjustable shoulder strap is very ergonomic and helps reduce the stress on the user's back and shoulders.
There are plenty of pockets which make organization a breeze, even for someone as unorganized as me.
The bag features two side pockets for water bottles. So cool!
There is a fleece-lined pocket which is perfect for cell phones or sunglasses
The bag is made from durable material that is easy to clean and withstands a lot of abuse.
Cons:
The bag is not incredibly trendy or stylish.
The Cambridge, the larger of the two bags, is an amazing travel bag.  It has become my carry-on for airplanes and the bag I use to carry my laptop and work supplies for hotel travel. I was amazed at how much I could fit in the bag without losing everything to disorganization. My favorite aspect of the bag is the backpack straps.  They allow me to easily carry a heavy load when I am going long distances, such as through an airport terminal and then tuck back nicely into the pocket when I am ready to use the bag as a tote once again.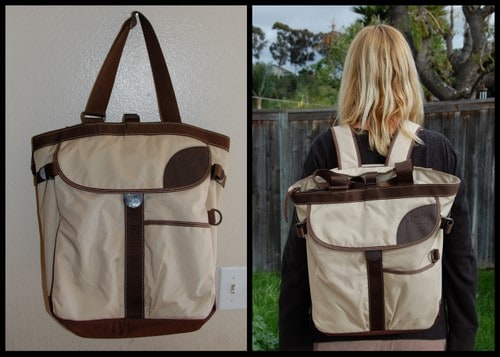 Pros:
The padded laptop sleeve keep laptops safe and takes up very little space.
The bag features backpack straps which can be hidden when used as a shoulder bag but are incredibly useful (and a back saver) when walking through the airport.
All of the straps on the bags are adjustable because we all come in different shapes and sizes.
There are pockets for cords, cell phones, and sunglasses.
The bag is made from durable material that is easy to clean and withstands a lot of abuse.
Cons:
The durable material does make the bag appear less trendy.
Bottomline: I am in love with Overland Equipment's bags.   They are lightweight, durable, and keep me organized.  I highly recommend them to any woman who is active and think they are a wonderful for both travel and everyday life. You won't find me traveling without mine.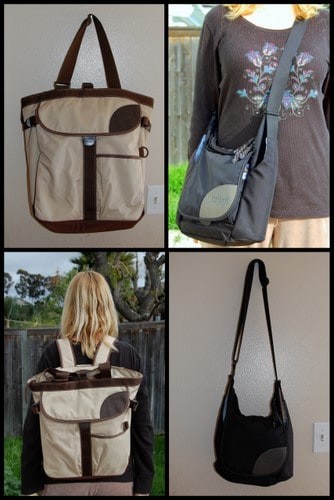 The Steal:  Two lucky entrants will win an Overland Equipment Bag.  Trekaroo is giving away one Donner bag and one Cambridge bag.

Number of winners: (2)

Details: There will be 2 lucky winners in this giveaway. The first winner picked will received a Donner bag in the color of their choice. The second will received a Cambridge bag in the color of their choice.
HOW TO ENTER TO WIN: Visit the Overland Equipment website and then come back and tell us in the comments which other bag (besides the Donner and Cambridge) you love.

For additional entries, feel free to do any or all of the following.  Each one counts as an extra entry but be sure to LEAVE A SEPARATE COMMENT FOR EACH ONE or the entry will not be counted.
Follow Overland Equipment on Twitter.

Tweet a link to this Monday Mad Steal via @Trekaroo .

Rules and guidelines:
18 years of age or older
US Residents only
Deadline to enter: Sunday, March 6, 2011 at 11:59PM PST
What is Monday Madness?
Every Monday, Trekaroo announces on our blog, either a fantastic giveaway or an incredible deal.  It could be a green water bottle, a hotel stay on Maui or theme park tickets. Return every Monday to the Talking Trekaroo Blog for the details. Want a reminder? Become a Trekaroo member or follow us on facebook or twitter.
Disclosure: I received both the Overland Equipment did not ask me to state any specific opinion and all opinions are entirely my own.
– – – – – – – – – – – – – – – – – – – – – –
Sharlene Earnshaw (aka doubleadventure) is Blogger-in-chief for Trekaroo and the blogger behind Double the Adventure.

Travel with kids to: CA |CO | DC | FL | HI | IL |MA | NC | NY | OR | PA | TN | TX | VA | WA
Comments
comments