Today was a big day in the Earnshaw household. After a whirlwind week in San Antonio, we flew back home last night to get a couple days of rest before our Twizzler Landmark Summer adventure.  Even though we are all still quite tired from traveling, we couldn't help but pop out of bed early because we were just too excited about what was scheduled to arrive- the Twizzlermobile!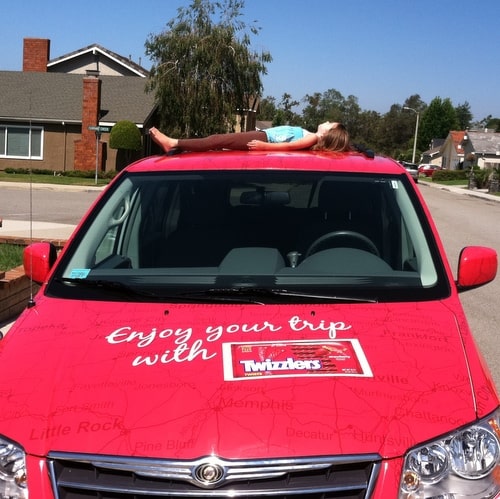 I  can only imagine what my neighbors must be thinking and I can't wait for all the honks and thumbs up we will be getting on the highway, but mostly, I just can't wait to get on the road and explore the California coast. After a week in the 100 degree San Antonio heat, those cool ocean breezes and a forecast for 65 degree temperatures sound wonderful.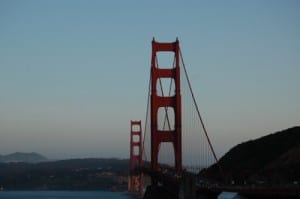 While the final details of our itinerary have yet to be decided (I still need to make one last search on Trekaroo for some great activity and dining ideas), the stops on our road trips are definite. Our family will be staying at the central California beach towns of Avila Beach and Cambria on our way up and back from San Francisco.  While the coastal route is not the most direct route from Los Angeles to San Francisco, it is definitely the most scenic. I can't wait to drive along the coast and take in all those sweeping ocean views.
Read all about Trekaroo's involvement in Twizzlers Landmark Summer.

Since the Twizzlermobile has finally made its way across the country and into my driveway, Trekaroo is going to give away 5 more Twizzler prize packs! I received one of these prize packs for my trip and I think the beach bag and blanket are just too cool. They will definitely be permanent additions to our beach kit.  After you enter this giveaway, be sure to head to the Twizzler site for a chance to win a wide variety of prizes, including a roadtrip to the landmark of your family's choice!
The Steal:  Win a Twizzlers Prize Pack!


Details: FIVE very lucky winners will receive a Twizzler prize pack which contains Twizzler beach/cooler bag, Twizzler towel, and a variety of Twizzler candy products.
HOW TO ENTER TO WIN:



Leave a comment mentioning one spot in San Francisco you would like to visit with your family! Need ideas? Check out Trekaroo's San Francisco page.
Rules and guidelines:
18 years of age or older
US Residents only
Deadline to enter: Sunday, August 21, 2011 at 11:59PM PST
What is Monday Madness?
Every Monday, Trekaroo announces on our blog, either a fantastic giveaway or an incredible deal.  It could be a green water bottle, a hotel stay on Maui or theme park tickets. Return every Monday to the Talking Trekaroo Blog for the details. Want a reminder? Become a Trekaroo member or follow us on facebook or twitter.
– – – – – – – – – – – – – – – – – – – – – –
Sharlene Earnshaw (aka doubleadventure) is Blogger-in-chief for Trekaroo and the blogger behind Double the Adventure.

Travel with kids to: CA |CO | DC | FL | HI | IL |MA | NC | NY | OR | PA | TN | TX | VA | WA