Have you ever desperately reached into your over-sized "mom bag" searching for a pen or broken crayon and a piece of paper to amuse your child?  Well, step aside grubby receipt and dried up marker because the travel size Magna Doodle is in the "building".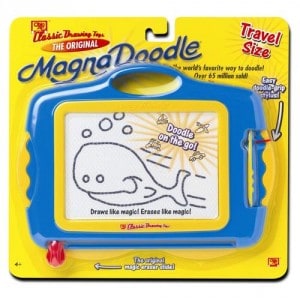 The travel size Magna Doodle is perfect to keep in your diaper bag or carry on bag because it's small and light.  We love how easy it is for even small uncoordinated hands to use because your child hardly needs to exert any pressure on the writing surface to make a mark.  The writing surface is firm so it's easy to use on the go even if your child is bouncing up and down in a stroller.  My favorite thing of all is you don't have to deal with messy ink and you can keep using it again and again. Kids will be just as amused erasing their drawings with the little lever as they are with drawing with the magnetic pen.  The travel size Magna Doodle is a tried and true product for traveling with kids.
The Steal:  Win a Travel Size Magna Doodle
Trekaroo is giving away a travel size Magna Doodle to six lucky kiddos.
Number of Winners: Six (6) winners
Prize: One travel size Magna Doodle.
How to enter:
Leave a comment telling us about some cool products you've discovered that are great for traveling with kids on a road trip, plane trip or camping trip.  We want to know what's so great about it too.
For additional entries, feel free to do any or all of the following. Each one counts as an extra entry but be sure to LEAVE A SEPARATE COMMENT FOR EACH ONE.
Write a review on Trekaroo and post a link to it in the comments (include your Trekaroo username) one entry per review.  (each review gets you 5 entries)

Subscribe to the Trekaroo Blog
Tweet a link to this Monday Mad Steal via @Trekaroo
Post this on your Facebook Wall using the Facebook Share link above
Follow Trekaroo on Twitter
Post this giveaway on your blog
Subscribe to Trekaroo in your reader

Rules and guidelines:
18 years of age or older
US Residents only
Deadline to enter: Sunday, August 15, 2010 at 11:59PM PST
What is Monday Madness?
Every Monday, Trekaroo announces on our blog, either a fantastic giveaway or an incredible deal.  It could be a green water bottle, a hotel stay on Maui or theme park tickets. Return every Monday to the Talking Trekaroo Blog for the details. Want a reminder? Become a Trekaroo member or follow us on facebook or twitter.
– – – – – – – – – – – – – – –
LiLing Pang is co-founder of Trekaroo – a website dedicated to traveling with kids

Travel with kids to: CA | CO | DC | FL | HI | IL | MA | NC | NY | PA | TN | TX | VA | WA
Comments
comments