(Last Updated On: March 31, 2016)
New mom and San Francisco local, Nikki Gunn Rodenbeck, is the owner of a unique company called Soft Cities. Soft Cities provides an endearing way to immortalize your favorite place through blankets and napkins fashioned with maps.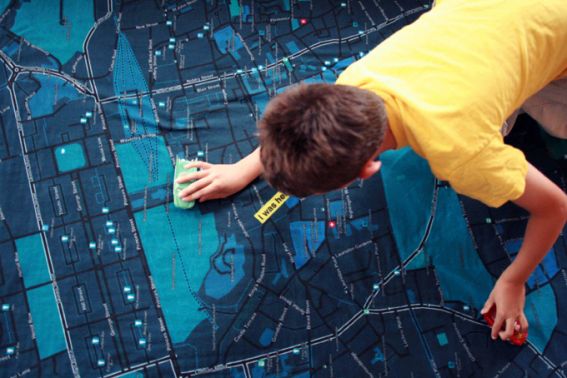 After you've fallen in love with a destination, perhaps the place where your husband proposed or the llama Trek you took with the kids in New Mexico, preserving the memory is easy. Here's how it works; the address you send Nikki becomes the center of your blanket and the blanket's map area is a two mile radius around that point. Three map markers for tailoring your blanket are included in the price. Map markers are fun arrows with customizable text which point to a special place of meaning.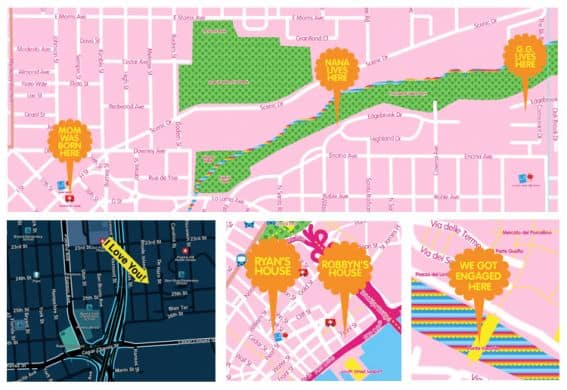 As a new mom, Nikki's dialed into the baby scene. Soft Cities blankets are made with permanent dye that's non-toxic to babies, who as we all know, love to put things in their cute little slobbery mouths. Nikki also warns parents that since her blankets are made of fleece, they're flammable (all fleece is flammable.) So remember, no fleece blankets if you plan to roast s'mores by a camp fire.
Soft Cities Blankets are a snazzy way to draw some attention to your fun side or to give as a thoughtful gift. Though Nikki's blankets are keepsakes, they're also affordable enough to tote around for everyday use. I have to admit that each time I whip out my Soft Cities blanket I wait for the reaction it gets. Call me a ham but I never tire of hearing people tell me I'm a good mommy!
Currently, there are two colors to choose from: Candymap Pink or Midnight Commander Blue. If you're seeking more sophisticated color schemes, Nikki's blog hints she'll soon be coming out with new designs using watercolors and silk.
Read my full review of Soft Cities Blankets.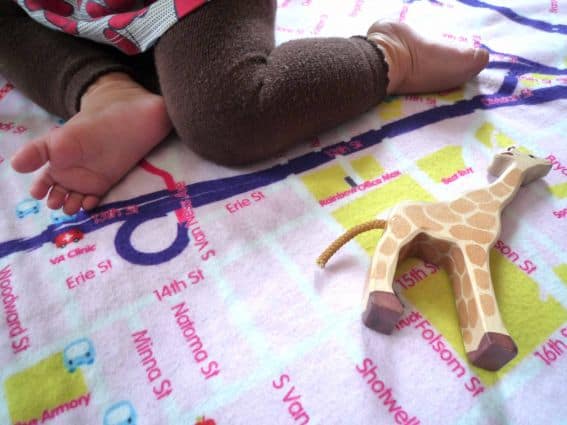 The Deal: Trekaroo readers save 10%!
Details: Use code TRKROO to receive 10% off any blanket purchase made until August 7, 2012!
The Steal: Win a Soft Cities Blanket Valued at $175
Details: One very lucky winner will receive a Soft Cities Blanket in the color of their choice featuring a map of their chosen place with three map markers, shipped anywhere within the continental United Sates.
a Rafflecopter giveaway

Rules and guidelines:
18 years of age or older
US Residents only
Deadline to enter: Sunday, July 30, 2012 at 11:59PM PST
What is Monday Madness?
Every Monday, Trekaroo announces on our blog, either a fantastic giveaway or an incredible deal.  It could be a green water bottle, a hotel stay on Maui or theme park tickets. Return every Monday to the Talking Trekaroo Blog for the details. Want a reminder? Become a Trekaroo member or follow us on facebook or twitter.
Disclosure: I received a complimentary blanket in order to complete my review and facilitate the giveaway. Soft Cities did not ask that I state a particular opinion. All opinions are my own. Photos courtesy of Soft Cities.

______________________________________________________________________________
Travel with kids to: CA |CO | DC| FL | HI | IL |MA | NC | NJ | NY | OR| PA| TN | TX | UT | VA | WA
Comments
comments