This contest is now closed. Congrats to comment #139, Danielle!
I will never forget my first trip to Sea World. It was a huge treat to be able to drop fish in the mouths of smiling cetaceans and watching dolphins and whales perform their acrobatics twists and flips in the air was nothing short of exhilarating. I left the park that day intent on becoming a dolphin trainer. Unfortunately, I was not an expert swimmer so my dreams of dolphin training were never reached, but I still get a kick out of paying them a visit every time I head to the park.
Recently, I took my kids to Sea World for the first time (you can read my full review here). They were thrilled by the sight of Shamu splashing the crowd and squealed as they dropped fish in to the mouths of barking sea lions at Pacific Point. They loved seeing sharks swim above their heads in the Forbidden Reef and enjoyed entering the chilly world of those adorable little waddlers that reside in the Penguin Encounter.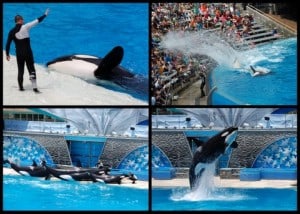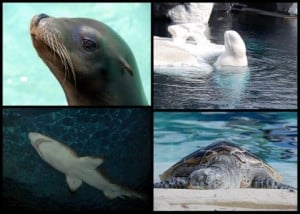 .
When we weren't exploring the animal encounters, we were enjoying the Sesame Street Bay of Play. In addition to fun kids rides, there is also a huge play structure with rope nets to climb, bridges to cross, and slides to whirl down. When the weather is warm, there is also a nice splash area.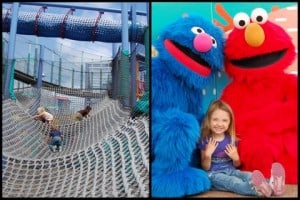 For bigger kids, there is Shipwreck Rapids and Journey to Atlantis. I was completely jealous of everyone riding Journey to Atlantis and tried to convince my three year olds that it would be fun to go splashing down a huge waterfall but they weren't buying it. Oh well, there is always next year.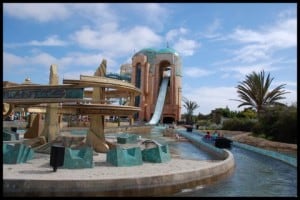 My favorite experience of the day was watching the new Blue Horizons dolphin show. It definitely had a Cirque Du Soleil feel to it. The show combined acrobatics, music, colors, birds, and water effects with beautiful dolphins showing off their incredible abilities.
I'll be honest, after The Cove came out last year, we at Trekaroo had some concerns about theme parks that utilize dolphins in shows. I expressed these concerns to the fine people at Sea World and they assured me that "SeaWorld is opposed to the drive fisheries in Japan and does not support, fund or acquire dolphins from the drive fisheries". They also told me that "SeaWorld is a member of the Alliance of Marine Mammal Parks and Aquariums (AMMPA). We strictly prohibit any zoological park and aquarium from joining the organization if the facility acquires animals from the drive fisheries… The Alliance, with the voice of 51 member marine-life parks, aquariums and zoological parks, has urged U.S. government agencies to proactively work with the government of Japan to end the drive fisheries. Also, a Web site, sponsored by AZA (SeaWorld is a member), provides the opportunity to sign a petition pushing for the end of the drive fisheries — http://actfordolphins.org/help.html." This certainly made me feel better about taking my children to see the aquatic life at Sea World.
SeaWorld Deals
SeaWorld San Diego has several great deals on tickets this summer. Here are a few:
SeaWorld Cares Offer – This is a single day offer perfect for families who only plan on visiting Sea World once within a calendar year. With the purchase of a full-price adult ticket, you can purchase as child's ticket (age 3-12) for $5. The $5 will then be donated to wildlife conservation. This is an online offer only at at www.seaworldcares.com
$59 Summer Pass – This is a great summer offer for people living in the San Diego area or for those vacationing in San Diego. With this pass, you can visit the park as many times as you'd like through Sept. 6. There's a similar offer if you live in the Los Angeles area. You can buy this at the gate or online.
Buy a Year, Get a 2nd Year Free – This option is greta for locals who can't get enough of Sea World. Buy an annual pass is $109 and gives you a 2nd year free.
Here's to the Heroes – This fantastic tribute program provides a single day's free admission to any active duty, active reserve, ready reserve service member or National Guardsman to SeaWorld for the service member and as many as three of his or her direct family members (spouse & children). Register at the gate or online at www.herosalute.com.
To learn more about these and other admission offers at check out the Sea World San Diego website.
And now for…
The Steal: Win a Sea World San Diego Family Four Pack of Tickets!
A lucky Trekaroo family will win four tickets to Sea World San Diego.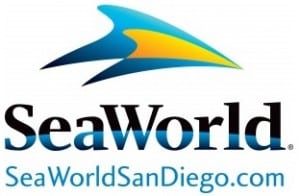 Number of Winners: 1 winner
Prize: Four (4) tickets to Sea World San Diego
How to enter:
Leave a comment below telling us which animal you are most excited to see at Sea World San Diego.
For additional entries, feel free to do any or all of the following. Each one counts as an extra entry but be sure to leave a separate comment for each one.
Write a review on Trekaroo and post a link to it in the comments (include your Trekaroo username) one entry per review
Follow Sea World on Twitter.
Fan Sea World San Diego on Facebook.
Subscribe to the Sea World Blog.
Subscribe to the Trekaroo Blog
Tweet a link to this Monday Mad Steal via @Trekaroo
Post this on your Facebook Wall using the Facebook Share link above
Follow Trekaroo on Twitter
Post this giveaway on your blog
Subscribe to Trekaroo in your reader

Rules and guidelines:
18 years of age or older
US Residents only
Deadline to enter: Sunday, July 4, 2010 at 11:59PM PST
What is Monday Madness?
Every Monday, Trekaroo announces on our blog, either a fantastic giveaway or an incredible deal. It could be a green water bottle, a hotel stay on Maui or theme park tickets. Return every Monday to the Talking Trekaroo Blog for the details. Want a reminder? Become a Trekaroo member or follow us on facebook or twitter.
Disclosure: My family received a complimentary visit to Sea World. I received no other compensation besides the tickets and Sea World didn't state any requirements that I express any particular point of view. All opinions expressed are entirely my own.
– – – – – – – – – – – – – – –
Travel with kids to: CA |CO|DC | FL | HI | IL|MA | NC | NY | PA | TN | TX | VA | WA
Comments
comments