(Last Updated On: October 19, 2017)
One of the most difficult aspects of traveling with a young child is lugging all that gear through the airport. Traveling with an infant or toddler usually means traveling with clothes, toys, car seats, strollers, and porta-cribs, making a trip to the airport quite the cumbersome experience.  Trekaroo loves helping families travel better and easier so we are always on the search for gear that will help make life easier. Recently we discovered the QuickSmart Backpack Stroller and enlisted one of fabulous Superoos, Sisily, to test out the product. Sisily flies with her preschool-aged daughter frequently, and knows the struggles of  flying with a typical stroller all to well. The QuickSmart claimed to fold easy, weigh only 11lbs, and convert into a backpack for those times when you need an extra hand to get things over to the check-in counter or drag a couple suitcases through the terminal. Best of all, the stroller manufacturer said that the QuickSmart would fit in the overhead bin on the airplane! So what did Sisily think? She thinks that as long as her daughter is in a stroller, she will be packing her QuickSmart.
Check out the difference in size between a typical jogging stroller and the QuickSmart:
Be amazed at the difference in trunk space: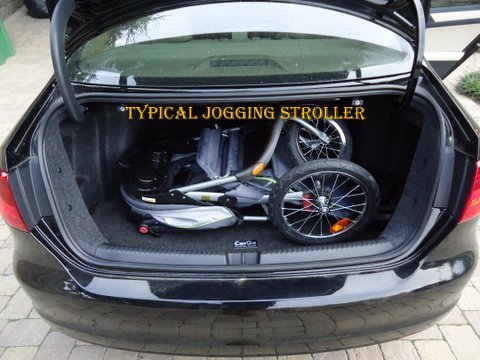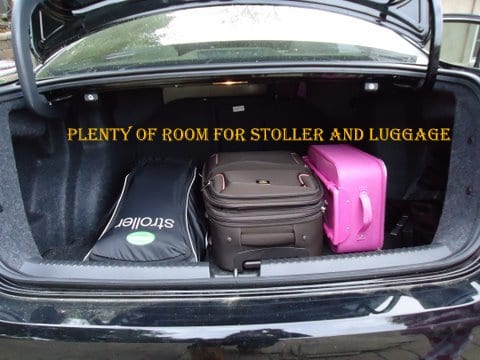 Pros
Stroller collapses easily into a square and slips into a backpack.
When collapsed, stroller fits in overhead storage bin.
This stroller is sturdy but light; weighing in at only 11 lbs.
 The height of most umbrella stroller push bars are just too low to make pushing them comfortable but the height of the Quick. Smart. Go Stroller was a perfect fit.
The single wheel in front makes one hand maneuvers a breeze.  This is especially important when traveling while traveling alone and trying to do the mommy juggling act.
Suggestion for improvement
 I would also have the backpack equipped with small roller wheels and a pull up bar for optional rolling capability, like a rolling suitcase.
Buy a QuickSmart Backpack Stroller.
The Steal: Win a QuickSmart Backpack Stroller valued at $219.99!
Details: One lucky winner will receive one (1) QuickSmart Backpack Stroller in their color choice.

HOW TO ENTER TO WIN:
In an effort to make it easier to enter, we are now using Rafflecopter. Simply click on the more link below and follow the directions. The more you do, the more entries you will receive!
Rules and guidelines:
18 years of age or older
US Residents only
Deadline to enter: Sunday, April 29, 2012 at 11:59PM PST
What is Monday Madness?
Every Monday, Trekaroo announces on our blog, either a fantastic giveaway or an incredible deal.  It could be a green water bottle, a hotel stay on Maui or theme park tickets. Return every Monday to the Talking Trekaroo Blog for the details. Want a reminder? Become a Trekaroo member or follow us on facebook or twitter.
Disclosure:

____________________________________________________________________________________________
Travel with kids to: CA |CO | DC | FL | HI | IL |MA | NC | NY | OR | PA | TN | TX | UT | VA | WA
Comments
comments