(Last Updated On: January 9, 2013)
-Sharon Rigney (aka msrigs) is a Trekaroo Superoo and a Bucks County, Pennsylvania-based writer and mother to a daughter and two sons, ages 6 to 12.  She and her family welcome the opportunity to travel and try new things, sometimes close-to-home and sometimes a little out of their comfort zone just to shake things up.  Her kids are so used to her reviewer's eye, that when something notable happens on vacation their first question is usually "so are you going to write about that?".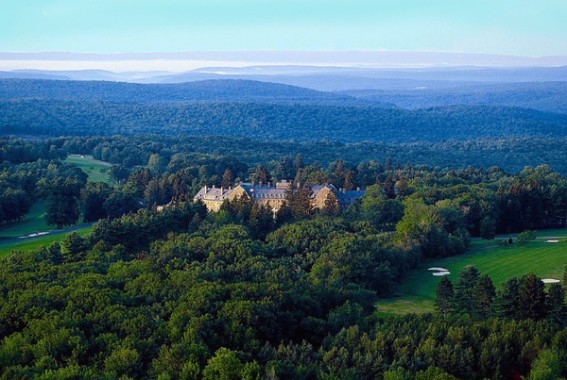 Sometimes when you go away on vacation you just want to plant yourself on a beach somewhere and veg.  Other times you want to learn something about your destination through tons of tours or a museum visit.  And then there are those vacations where you just want to forget the complexities of daily life for a while, take some time to simplify, relax, and partake in the great outdoors.  Skytop Lodge, in the heart of the Pocono Mountains of Pennsylvania, is the perfect place to do just that.  Take your family (or your friends, spouse or coworkers) for an opportunity to enjoy the wonders of nature and the simplicities of the great outdoors.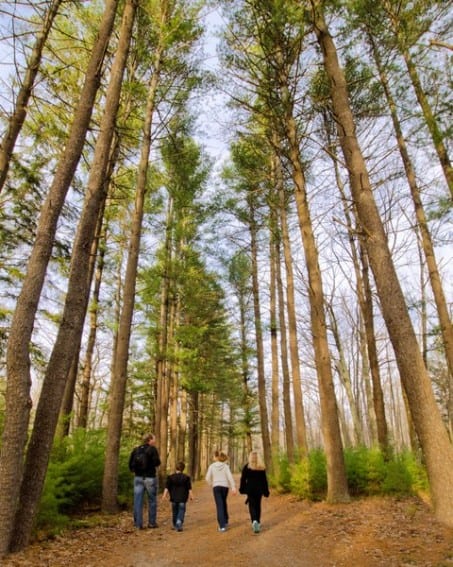 Skytop knows all about simplification.  Its history dates back to 1928 when things were a whole lot different.  People were just beginning to recognize the health benefits of being in nature and taking part in outdoor activities.  One of the founders, a physician, was an advocate of this thinking and thought a retreat like Skytop would be the perfect place for people to restore and rediscover themselves through the joy of the outdoor experience.  How amazing that more than eight decades later we are realizing just how right he was!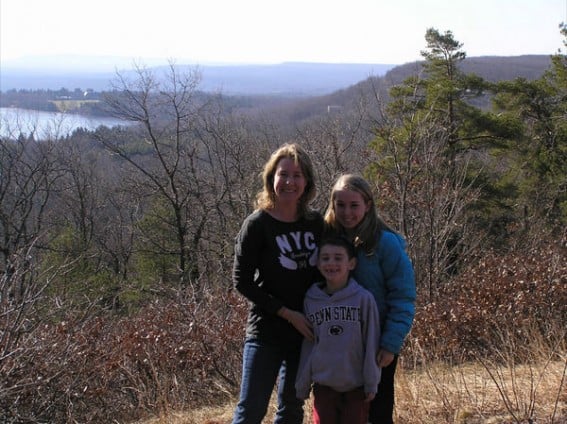 When my family of five visited Skytop recently, I was amazed at all there was to see and do.  Having always lived within a 2-hour drive from the Pocono Mountains, I had forgotten what a wonderful place it can be and how grounding it is to leave your everyday stresses behind to really appreciate your surroundings and your companions.  From their over 30 miles of hiking trails, their Orvis fishing and shooting center, indoor and outdoor pools, and an all-new Adventure Center featuring paintball, rock climbing, geocaching, mountain bike courses and wilderness survival classes, you can easily lose yourself in the physical activity of your liking and ability.  Winter sports include downhill and cross country skiing, ice skating and sledding, and the occasional snowball and snow-fort-building contest amongst your companions of course! There are also a variety of additional on and off-site activities including dogsledding, outback UTV tours, a spa and more.  Whatever your interests, Skytop offers all ages the opportunity to decompress and reconnect.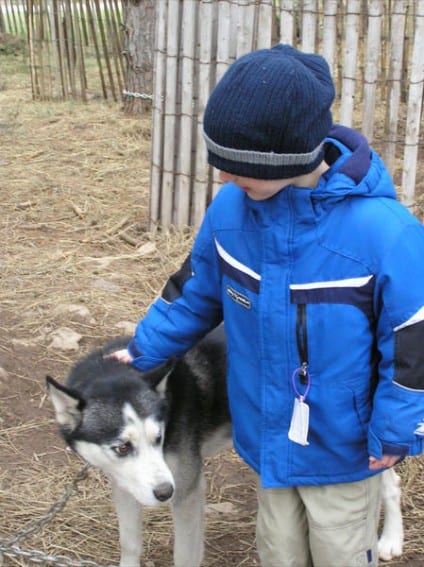 While at Skytop I was also reminded about the powerful connection we all have to each other.  At no other place was I more amazed by the friendliness of the staff or the other guests.  I guess when you simplify, you not only appreciate yourself more, but also those around you.  Visit Skytop for yourself and reconnect to the simple things.  They make the difference.
Read Sharon's full review of Skytop Lodge.
Does a stay at Skytop sound like your idea of a dream family getaway? Then you will love this week's Monday Madness giveaway! We have teamed up with Mama Cheaps, THE authority in deals, bargains, coupons, and frugal shopping (not to mention a fabulous Trekaroo Superoo), to give you an exciting opportunity to win a stay at the acclaimed Skytop Lodge which includes both meals and activities! Want the details? Scroll on down….
The Steal:
Win a 2-night getaway for four to Skytop Lodge including meals and activities valued at $2400.00!

Details:
Your 2-night getaway includes accommodations for 2 adults and 2 children (in the same room), three delectable meals per person per nights stay and a wide array of activities and amenities. Some activities and amenities require an additional charge. Some restrictions may apply. Not valid July, August and Holidays. Cannot be combined with any other offers. Must be used by December 15, 2012.
Experience the ultimate retreat of the most esteemed lodges in the country—Skytop. This grand historic estate nestled in the picturesque Pocono Mountains, features the very best in accommodations, fine dining and limitless recreation including the new Adventure Center at Skytop.
You can explore 5,500 pristine acres of inspiring natural beauty while enjoying a range of seasonal activities. Choose from the adventurous—like clay shooting and downhill skiing—to the serene—like nature hikes and full spa services. No matter your age, personality or desire, Skytop Lodge is an unforgettable experience.
How to enter:
Entering to win is as easy as 1-2-3!
Then keep going and get more entries by following the link to Mama Cheaps and Skytop Lodge on Facebook.
Remember, to grab all 3 chances to win!
Rules and guidelines:
18 years of age or older
US Residents only
Entrants may receive up to three (3) entries per email address
Some activities and amenities require an additional charge. Some restrictions may apply. Not valid July, August and Holidays. Cannot be combined with any other offers. Must be used by December 15, 2012.
Deadline to enter: Wednesday, March 14, 2012 at 11:59PM EST
What is Monday Madness?
Every Monday, Trekaroo announces on our blog, either a fantastic giveaway or an incredible deal.  It could be a green water bottle, a hotel stay on Maui or theme park tickets. Return every Monday to the Talking Trekaroo Blog for the details. Want a reminder? Become a Trekaroo member or follow us on facebook or twitter.
---
Travel with kids to: CA |CO | DC | FL | HI | IL |MA | NC | NY | OR | PA | TN | TX | VA  | UT | WA
Comments
comments