(Last Updated On: January 9, 2013)
Most people recognize Sacramento as the capital of California, but Sacramento is more than just the political center of the Golden State. Sacramento is a growing metropolis of scrunchy diapered baby butts; toothy, drooly infant grins; and glowing, boastful proud parents. Dense in family friendly activities, charming playgrounds, and artistic pursuits; Sactown is just plain fun, but not at all plain. Whether your idea of fun is museum hopping or outdoor festivals and celebrations; Sacramento is rich in culture and community! The River City is a GREAT place to raise a kid and an EVEN BETTER place to be a kid. To give you a taste of the good stuff, Trekaroo is giving one lucky person a fun filled weekend courtesy of Sacramento's finest family friendly businesses!
Lodging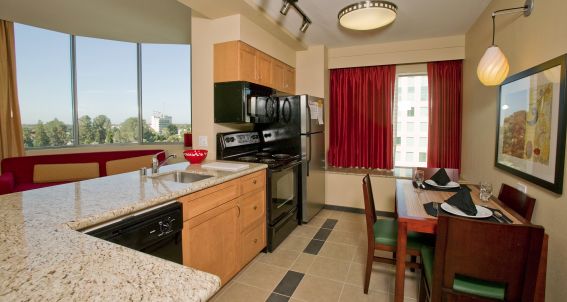 Photo Courtesy of Marriott International
Residence Inn Sacramento Downtown at Capitol Park is offering a two-bedroom suite for two nights. I've stayed at this hotel and the complimentary morning breakfast is delicious! Their coffee station is stocked with Coffee-mate Hazelnut and Vanilla creamers. My household drinks this creamer by the gallon so it really makes me happy when I stay here and am able to make my morning coffee just as I would at home. Residence Inn Sacramento is centrally located in Downtown Sacramento and features large wall mounted LCD televisions and crisp white duvets.
Restaurants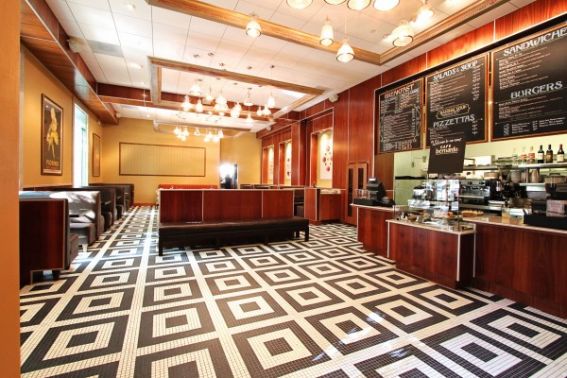 Café Bernardo on K
When tummies start to rumble, Cafe Bernardo on K is a soccer mom's delight. This casual café features a delicious selection of healthy yet hearty menu items that will leave you rubbing your belly on the way out. Finish your meal off with a scrumptious café mocha; Café Bernardo's large coffee mugs will leave you feeling like a kid sipping cocoa on Christmas morning. The ambiance is interesting and the location is perfect for people watching. Bernardo features a full bar so feel free to enjoy a libation on your celebratory weekend in Sactown! Photo Courtesy of Café Bernardo on K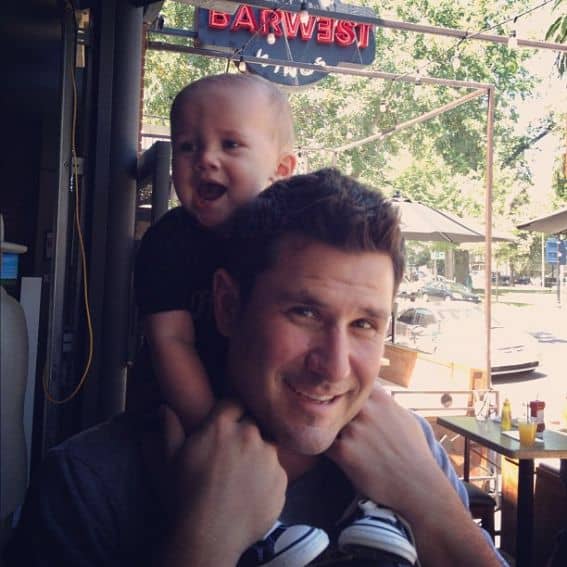 BarWest Restaurant
When Trevor Shults isn't expanding his family (he's a new father to a 1 year old son and is expecting his second child this fall) he's busy behind the scenes at BarWest Burgers and Wings. After a long day of exploring and sightseeing, nothing beats a beer and a burger. His family friendly establishment features 18 televisions and a 10 foot projector screen. BarWest takes it entertainment seriously! There isn't a kids menu per say, but there are high chairs and many of the entrées are kid friendly such as hot dogs, corn dogs, and tater tots.  BarWest comes alive at night after 8:30 pm. To avoid the evening crowd, arrive with your family for lunch, plan for an early dinner, or enjoy Sunday Brunch on their pet friendly outdoor patio.
Activities
California State Railroad Museum
The California State Railroad Museum is arguably the best museum in Sacramento. Children will delight in the 100,000-square foot Railroad History Museum, the reconstructed Central Pacific Railroad Passenger Station and Freight Depot, the 1849 Eagle Theatre, and the Big Four and Dingley Spice Mill commercial buildings in Old Sacramento. If you're never been to Old Sacramento, its chock full of old timey shops and is a pedestrian friendly blast. Balloon twisting street vendors, horse drawn carriages, and a giant Jelly Belly jelly bean roam the streets of Old Sac spreading joy to elated children. Photo by: Flickr/Allie_Caulfield
Fairytale Town
No visit to Sacramento would be complete without a visit to the greatest place on earth, Fairytale Town. If I had to choose between Disneyland and Fairytale Town, I'd choose Fairytale Town! Fairytale Town is a magical place for children and families to imagine, explore, and discover. With 25 play areas built to mimic nursery rhymes and fairytales, exhibits with gentle farm animals, and two performing arts stages; Fairytale Town is the jewel of Sacramento. Fairytown Town is conveniently located across the street from The Sacramento Zoo and Funderland. I guess you could call this small area within William Land Park "The Toddler Trifecta." Photo by: Flickr/Fairytale Town
Sacramento Zoo
The Sacramento Zoo houses over 140 native, rare and endangered species and is accredited by the Association of Zoos and Aquariums. The Zoo encourages conservation mindfulness through education and public viewing. Since The Sacramento zoo is directly across the street from Fairytale Town, I would set aside at least 4 hours to enjoy both of these activities. Parking is free and plentiful but these areas do get very busy. I suggest arriving as close to opening time as possible. Currently the Zoo is home to two new zebras. Photo by: Flickr/oh sk
If all these undertakings sound like activities your family will appreciate, you will be happy to know that we have joined forces with The Design Confidential and Four in the City to assemble this exciting Sacto giveaway!
If you're not acquainted with The Design Confidential and Four in the City, let us introduce you! Rayan, the Founding Editor of The Design Confidential, has never met a project (or a product) she didn't adore! From gardening and cooking to building your own designer furniture pieces, The Design Confidential delivers up a well-rounded variety of projects you can do on your own for pennies on the dollar! Adel at Four in the City is mother to a clever and hilariously funny 5 year old boy and a smiley, happy baby girl. She's an internet junkie and her blog covers everything she holds close to her heart. Adel is a talented photographer and has been shooting and editing her son's life since he was born.
Both of these women are enthusiastically sharing their DIY skills which center around their children, their home, and seeing the world from a new perspective, making them the perfect allies for our Discover Sacramento Family Giveaway!
The Steal: Win a Family Friendly Weekend in Sacramento, CA Valued at $700
Details: One very lucky winner will win:
·         Family pack of tickets to Fairytale Town valid for one day
·         Family pack of tickets to Sacramento Zoo valid for one day
How to enter:
This Family Friendly Weekend in Sacramento provides you many opportunities to enter to win!
a Rafflecopter giveaway

 
Rules and guidelines:
All prizes expire August 10, 2013
Blackout dates for the hotel are August 9, 10, 11, 2012 and December 31, 2012.
US Residents only
Deadline to enter: Sunday, August 5, 2012 at 11:59PM PST
What is Monday Madness?
Every Monday, Trekaroo announces on our blog, either a fantastic giveaway or an incredible deal.  It could be a green water bottle, a hotel stay on Maui or theme park tickets. Return every Monday to the Talking Trekaroo Blog for the details. Want a reminder? Become a Trekaroo member or follow us on facebook or twitter.
______________________________________________________________________________
Travel with kids to: CA |CO | DC| FL | HI | IL |MA | NC | NJ | NY | OR| PA| TN | TX | UT | VA | WA
Comments
comments