(Last Updated On: March 31, 2016)
This giveaway is now closed. We used Random.org to select a winner  and number 36 was picked. Congratulations to commenter #36, Jenny, for winning the 4 pack of tickets. Enjoy your time at the Tar Pits!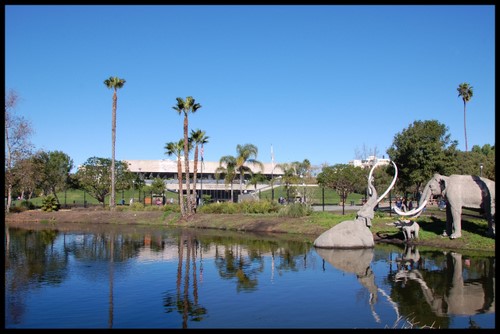 Project 23.  It sounds like some sort of secret government operation taking place in the Nevada desert.  Who knew a parking garage excavation in the middle of Los Angeles could lead to the most important ice age fossil discoveries in the world?  I suppose the scientists who work at the Page Museum might have had an inkling. After all, the garage was set to be built only couple hundred yards from the famous La Brea Tar Pits, home to one of the largest known concentrations of Late Pleistocene fossils on the planet.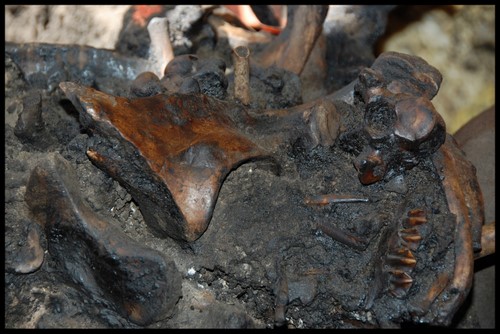 Instead of halting construction to do the excavation work on site, a job which would have taken years, paleontologists agreed that using massive tree boxes to move these giant fossil deposits to an area near Pit 91 would be a better option. In all, 23 boxes (hence the name) were moved and 28,768 hours have been spent excavating 16,097 specimens.  So far, 5 boxes are done and 2 are in progress.  That means there are 16 giant boxes that have yet to be cracked open!
Last week, I had the amazing opportunity to climb up a ladder and into the two boxes currently being excavated.   I stood mere inches from an asphalt melded jumble of dire wolf and saber tooth cat bones which were carefully being excavated using nothing more than common dental tools.  Volunteers and staff talked enthusiastically to me about the work being done and the new discoveries being made all the time.  Their excitement was definitely contagious.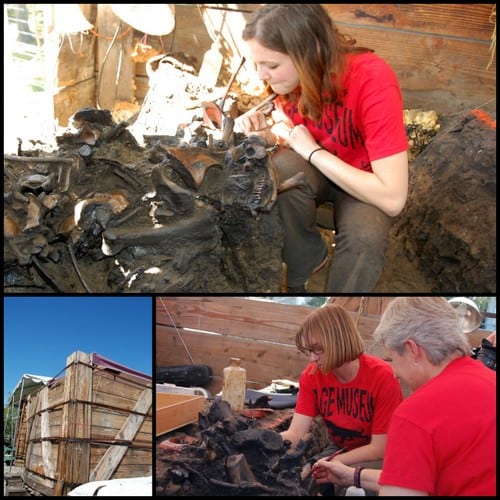 So what exactly is the big deal about these tree boxes full of dirt, asphalt and bones?  Before, Project 23, the museum only had 8 or 9 complete animal skeletons in its collection of over 1 million bones.  Since this new excavation has begun, it has produced more individual animals, including a mammoth, camel, weasel, snake, turtle, horse, bison, a juvenile mastadon, 6 saber tooth kittens, than 100 years of excavation at Rancho La Brea!
Asphalt still seeps in Hancock Park which surrounds the Page Museum.  Birds, reptiles, and small mammals still fall victim to the black goop, especially on warm sunny days when it is at its stickiest.   Visitors can smell the trademark stench of asphalt in the air and discover small seeps coming up in the grassy fields as they wander through the park and visit the Pit 91 or Project 23.  Then they can step inside the Page Museum and into a place dedicated to educating both young and old about the animals that roamed Los Angeles during the Ice Age.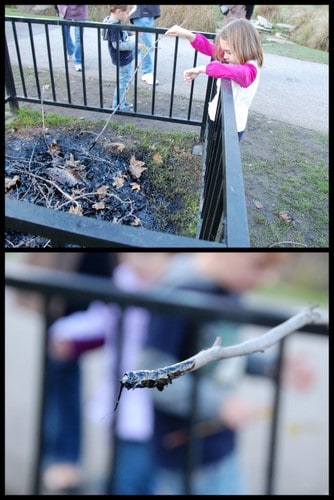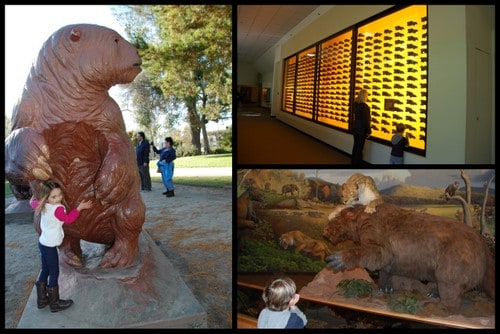 Are you ready to take your kids to the tar pits? Then do we have a deal and steal for you!
The Deal: Every first Tuesday of the month, admission to the Page Museum is FREE!
The Steal: One lucky winner will receive a four pack of tickets to visit the Page Museum at the La Brea Tar Pits.

Number of winners: (1)

Details: One winner will receive 4 admissions to the Page Museum in Los Angeles, CA.
HOW TO ENTER TO WIN: Tell us your favorite ice age animal.

For additional entries, feel free to do any or all of the following.  Each one counts as an extra entry but be sure to LEAVE A SEPARATE COMMENT FOR EACH ONE or the entry will not be counted.
Vote for us in the Cribsie's under the "Smartest Family Travel Tips" section and then leave a comment letting us know you did.

Tweet a link to this Monday Mad Steal via @Trekaroo .

Rules and guidelines:
18 years of age or older
US Residents only
Deadline to enter: Sunday, March 27, 2011 at 11:59PM PST
What is Monday Madness?
Every Monday, Trekaroo announces on our blog, either a fantastic giveaway or an incredible deal.  It could be a green water bottle, a hotel stay on Maui or theme park tickets. Return every Monday to the Talking Trekaroo Blog for the details. Want a reminder? Become a Trekaroo member or follow us on facebook or twitter.
Disclosure: This complimentary product was received from the manufacturer to be reviewed by Trekaroo. The reviewer received no other compensation, and was not required to express any particular point of view.
– – – – – – – – – – – – – – – – – – – – – –
Sharlene Earnshaw (aka doubleadventure) is Blogger-in-chief for Trekaroo and the blogger behind Double the Adventure.

Travel with kids to: CA |CO | DC | FL | HI | IL |MA | NC | NY | OR | PA | TN | TX | VA | WA
Comments
comments