This contest is now closed. Congratulations to our winner Carrie! Enjoy your brand new Chicco car seat!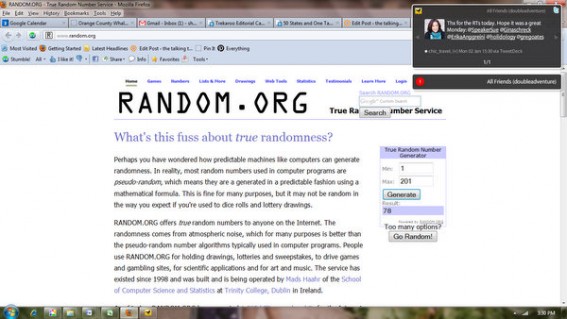 More than 80% of car seats installed incorrectly.  That is a pretty staggering statistic isn't it?  It evoked so much anxiety in my husband that while my kids were infants, he became a car seat installation expert. He managed to get their car seats into cars so snug that even police officers who install car seats professionally were impressed.  Since I am not a 6'5″ 200lb man, I was never able to secure them quite as tight as dear hubby, hence banning me from ever moving their car seats. It was a major pain.
Chicco's KeyFit 30 is the #1-rated infant car seat  and claims to be among the easiest to install. The double bubble level guides easily demonstrate accurate placement in the vehicle and the car seat detaches from stroller and base with just one hand. On paper it sounded like a great stroller so I put the call out to our Superoos to see if anyone was interested in reviewing the product.  One of our Superoos, keebz, already had the KeyFit 30 for her child and loved it so much that she was happy to write a review.  She chose the KeyFit 30 because it
– Has a good safety rating
– Fit behind the driver's seat comfortably
–  Has easy to use buckles
– Is easy to install base with LATCH or without the base using a seatbelt
–  Able to work with her current stroller frame
–  Has a 30 pound weight limit
–  Is Affordable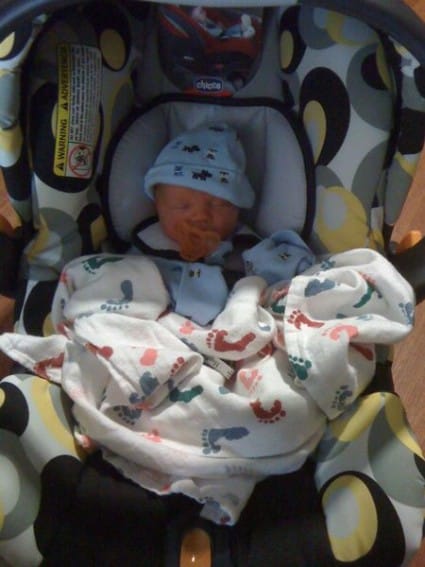 Chicco worked with Julie Prom, car seat safety expert with 25 years of experience, to help put together this list of tips on keep kids safe in the car:
Buckle up everyone, every time, every trip!  In a crash or emergency braking, an unbuckled passenger can be thrown into other passengers causing serious injury.  Also, ensure there are no heavy, loose objects in the vehicle that can be thrown around in a crash.
Keep children in a rear-facing safety seat until at least 2 years old.  A recent study showed that children under age 2 are 75 percent less likely to die or be severely injured in a crash if they are riding rear-facing.  Be sure to use a safety seat designed for the size and weight of your child.
Never put a rear-facing safety seat in front of an active air bag.
All children under at least 13 should ride in the back seat.  The back seat is nearly 40 percent safer than the front seat.
Never add any product (including toys and car seat covers or liners) or make any changes to a car safety seat or booster that is not approved by the manufacturer of the seat.  Add-on products can interfere with the crash performance of the seat.  Beware!  Many manufacturers of add-on products will state they have tested them—ONLY use products approved by the car safety seat manufacturer!  The safety seat manufacturer is the only one that can confirm the test results of its product.
Never put an infant-only seat on top of a shopping cart.  This makes the shopping cart top heavy.  The Consumer Product Safety Commission and the American Academy of Pediatrics warn against this practice due to numerous reported injuries from carts tipping over and/or babies falling out.
Finally, ALWAYS read and follow both the car safety seat instructions AND the vehicle owners' manual when using and installing your child's seat!
The Steal: Win a Chicco KeyFit Car Seat!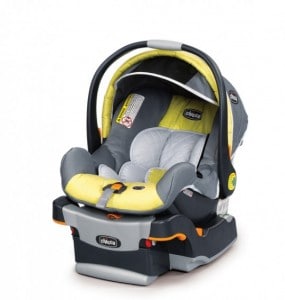 Details: One lucky winner will receive a Chicco KeyFit Car Seat valued at $189.99.

HOW TO ENTER TO WIN:



Step 1: Share this giveaway using the Facebook by clicking the FB "Like" button at the top of the page
Step 2: Leave a blog comment below letting us know that you did.
Get extra entries by repeating steps 1 and 2 once a day.  But be sure to leave a new comment each time.

Want more chances to win?



Feel free to do any or all of the following actions.  Each action counts as an extra entry but be sure to LEAVE A SEPARATE COMMENT FOR EACH ONE or the entry will not be counted.
Rules and guidelines:
18 years of age or older
US Residents only
Deadline to enter: Sunday, December 25, 2011 at 11:59PM PST
What is Monday Madness?
Every Monday, Trekaroo announces on our blog, either a fantastic giveaway or an incredible deal.  It could be a green water bottle, a hotel stay on Maui or theme park tickets. Return every Monday to the Talking Trekaroo Blog for the details. Want a reminder? Become a Trekaroo member or follow us on facebook or twitter.
---
Travel with kids to: CA |CO | DC | FL | HI | IL |MA | NC | NY | OR | PA | TN | TX | VA | WA
Comments
comments