(Last Updated On: October 19, 2017)
THIS CONTEST IS NOW CLOSED. CONGRATS TO LUCKY NUMBER 33 BELONGING TO KRISTI. WE KNOW YOU WILL LOVE YOUR PRIZE!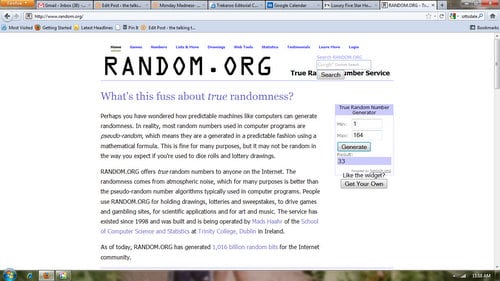 Researching and planning for a family road trip is always an adventure for us.  We love looking on Trekaroo to find out more about an area and what sorts of family friendly activities we can anticipate experiencing on our vacations.  When we decided to visit Palm Beach County and a lovely town called Jupiter, our preschooler was thrilled.  She had been studying the solar system in preschool and thought that a visit to Jupiter was really out of this world.  For days leading up to our trip, we had a countdown which we called "Blast Off to Jupiter!"  By the time we left for our trip, we knew that we were bound for one fantastic voyage!
Deciding on a place to stay in Palm Beach County is a wonderful pursuit.  There are so many incredible hotels and resorts to choose from and each offers their own unique twist.    The Chesterfield Palm Beach is a magnificent boutique hotel where each room is individually decorated to reflect Palm Beach's eclectic style.  The historical exterior and plush interior is a wonderful balance between old world charm and modern luxury.   The spacious rooms and suites are ideal for families looking to relax.  Kiddos will enjoy the fresh baked cookies in the lobby while the parents will be tempted to sneak the tasty chocolates left on your bed at turndown.  From the front doors, it's a short walk to world famous shopping on Worth Avenue.  You'll feel like a Palm Beach local as you enjoy The Chesterfield's afternoon tea and mingle while listening to live music each evening. 
The Chesterfield, a four-star boutique hotel, offers a variety of exceptional family friendly vacation specials including a Kids Go Free as well as up to 50% off second room bookings.  Please visit The Chesterfield's promotions page for the latest offers.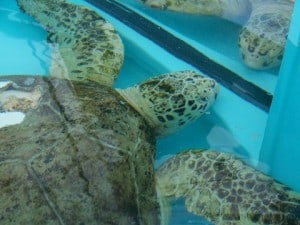 Jupiter is home to one of the most important sea turtle research and rehabilitation facilities, the Loggerhead Marinelife Center.  We planned our visit so our preschooler could participate in the free weekly story time program, Hatchling Tales.  She had a blast singing and hearing stories about the sea turtles.  There are replicas of turtle skeletons and shells for the kids to handle as well as hands on research activities to help them understand research responsibilities for scientists.  Afterwards, we watched as injured sea turtles received care at this world class marine hospital.  The outdoor recovery tanks and aquariums allowed us to see marine life up close and learn about conservation efforts underway in nearby waters.  Admission is always free but donations are appreciated. You can also help the turtles by purchasing goodies in the well stocked gift shop.  There are lots of books, toys, clothes, jewelry and decorative treats sure to please anyone.  The best part is that your purchases will help keep this very important facility running.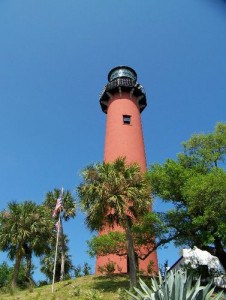 On Jupiter Beach, we spotted a red and black lighthouse peeking over the sea grape bushes and mangroves.  We had to explore it!  The Jupiter Inlet Lighthouse and Museum is a short five minute drive from the Jupiter Beach Resort.   During our visit, we learned that the lighthouse was built in 1860, quite a bit about the local history and that the climb to the top of the lighthouse was a must!  The lighthouse sits on a huge, for Florida, hill along the banks of the Loxahatchee River.  The volunteer docents offer excellent guided tours of the museum, the lighthouse and the outdoor exhibits.  We especially enjoyed learning about life on the Tindall Pioneer Homestead and Pennock Plantation.  There were lots of edible plants which gave a real glimpse into gardening practices ages ago.  At the Lighthouse Museum, we learned more about the Native tribes as well as the military and farming families that occupied the lands throughout history.  It was a great educational experience for everyone in our family.
Keeping with our theme to explore new and unfamiliar places, we decided to visit the Morikami Museum and Japanese Gardens.   After learning about the history of the Morikami, we enjoyed a leisurely stroll along winding garden paths and discovered koi ponds, peaceful landscapes, rock gardens and even an authentic Japanese home with interactive displays at the "Japan Through the Eyes of a Child" exhibit.  
Visiting Jupiter and the Palm Beaches was an out of this world adventure.   We left our footprints on the beautiful beaches and took away knowledge about the rich history and culture of this fascinating community.  We know that we'll be back again to explore even more of what the Palm Beaches have to offer.  This was only one small step.  Next time, we'll leap!
 

The Steal:  Win a Chesterfield Palm Beach vacation package valued at minimum $745 (this value is based on the low season. Actual value higher during the high season)!


Details:
A two-night stay for a family of four in an Executive Suite at The Chesterfield Palm Beach (subject to reasonable black-out dates, expires August 14, 2012).
Continental breakfast each morning
A Cool Kid's Surprise gift in your room upon arrival
Camera and photo album
 Tickets to the Dreher Park Zoo
Free in-room movie with milk, cookies, and popcorn
Children under 12 years old will also eat for free in the Dining Area
HOW TO ENTER TO WIN:



Step 1: Share this giveaway using the Facebook by clicking the FB "Like" button at the top of the page
Step 2: Leave a blog comment below letting us know that you did.
Get extra entries by repeating steps 1 and 2 once a day.  But be sure to leave a new comment each time.

Get even more additional entries:
Feel free to do any or all of the following actions.  Each action counts as an extra entry but be sure to LEAVE A SEPARATE COMMENT FOR EACH ONE or the entry will not be counted.
Rules and guidelines:
18 years of age or older
US Residents only
Deadline to enter: Sunday, August 14, 2011 at 11:59PM PST
What is Monday Madness?
Every Monday, Trekaroo announces on our blog, either a fantastic giveaway or an incredible deal.  It could be a green water bottle, a hotel stay on Maui or theme park tickets. Return every Monday to the Talking Trekaroo Blog for the details. Want a reminder? Become a Trekaroo member or follow us on facebook or twitter.
Disclosure: The author did received complimentary tickets to the Morikami Museum and Jupiter Inlet Lighthouse from the Palm Beach County CVB in order to complete reviews for Trekaroo. The CVB did ot request that any specific opinions be expressed.
– – – – – – – – – – – – – – – – – – – – – –
Lisa-Marie Leihy is the Trekaroo Destination Guroo for Florida.
Travel with kids to: CA |CO | DC | FL | HI | IL |MA | NC | NY | OR | PA | TN | TX | VA | WA
Comments
comments