THIS CONTEST IS NOW CLOSED. RANDOM.ORG SELECTED NUMBER 46. CONGRATS TO BARRY OUR WINNER!
When families with young children travel, a good stroller becomes a crucial part of the entire experience. I have had the not so enjoyable experience of trying to drag a heavy, beat-up, and beaten down stroller through airport security and it made for a very stressful experience.  I am often amazed at just how far stroller technology has come in the last few years. Recently, Trekaroo had the opportunity to test out the Bumbleride 2011 Flite stroller. We decided Heather Reed, Trekaroo's Texas Destination Guroo,  would be the perfect person to take on the job. With a 13 month old and an on-the-go lifestyle, we knew she would be able to give this stroller a run for its money. Here is what she had to say about the Bumbleride Flite: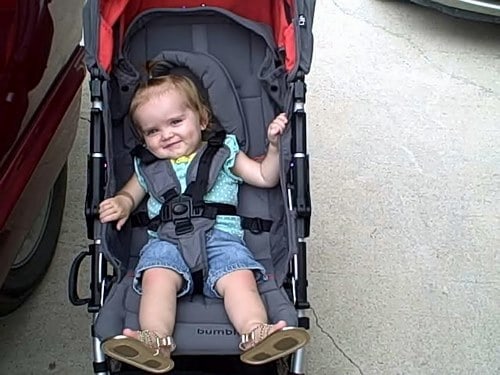 When I unpacked Bumbleride's 2011 Flite, I almost thought they had given me the wrong stroller. "No way can a sturdy, single stroller be this light!" I thought to myself as I tugged on the wrapping revealing the warm grey fabric with bright persimmon lining. The stroller came with it's wheels disassembled, but easily snapped right on. I took a few moments to familiarize myself with it, trying to savor its newness before my burly gang of 4 got a hold of it and tested it themselves. And test it they did. My 5 year old spun it's wheels, my 7 year old tested it's maneuverability while racing around the house, my 3 year old dropped grape jelly on it's water-resistant sport's fabric (it wiped right off), and my 13 month old climbed in (with help), laid back against the reclined seat and drifted in and out of sleep. All this and we hadn't even left the house yet! Luckily for us, taking the stroller out of the house was just as wonderful. We went on a mommy and daughter date in town for shopping and dining. The stroller's wheel suspension gave my daughter a smooth ride over gravel and grassy terrain through the park and the large sun canopy kept the sun's scorching rays off her little face. There are so many fun features that offer comfort, like the well-padded seat and adjustable footrests- I almost wish I could have climbed in myself!
Heather's Favorite Features:
SPF 45 Sun Canopy Reclining Backrest
Adjustable Footrest Water-Resistant Fabric
Cushioned Seat with  5-Point Harness
 Cup Holder
 Car Seat Adapter Bar
Folds Up Flat Like An Umbrella Stroller
Front & Rear Wheel Suspension
 Storage Basket Underneath
 Easy To Maneuver Lightweight & Has A Carrying Handle
 Extra Options Like A Rain Canopy & Snack Pack (To Name A Few)
Ways They Could Improve:
Users Have To Remove The Car Seat Adapter To Fold It
Storage Basket Is On The Smaller Side
Cup Holder Tips Easily (They Have A Parent Pack Coming Out Soon That Will Solve This- Yay)!
And since Trekaroo is all about travel with kids, Heather is happy to report that the Flite is great for road trips, public transit, and air travel since it only weighs 13 pounds and folds compactly! If this sounds like the ideal stroller for you, then check out our steal below!
The Steal:  Win a Bumbleride Flite Single Stroller in the color of your choice ($279 value!)




Details: One lucky winner will receive one Bumbleride Flite single stroller in the color of their choice (valued at $279)

HOW TO ENTER TO WIN:



Step 1: Share this giveaway using the Facebook by clicking the FB "Like" button at the top of the page
Step 2: Leave a blog comment below letting us know that you did.
Get extra entries by repeating steps 1 and 2 once a day.  But be sure to leave a new comment each time.

Get even more additional entries:
Feel free to do any or all of the following actions.  Each action counts as an extra entry but be sure to LEAVE A SEPARATE COMMENT FOR EACH ONE or the entry will not be counted.
Follow Bumbleride on Twitter
Sign up for the Bumbleride newsletter
Fan Trekaroo on Facebook.

Tweet a link to this Monday Mad Steal via @Trekaroo using the Twitter share button at the top of the page.
Rules and guidelines:
18 years of age or older
US Residents only
Deadline to enter: Sunday, August 28, 2011 at 11:59PM PST
What is Monday Madness?
Every Monday, Trekaroo announces on our blog, either a fantastic giveaway or an incredible deal.  It could be a green water bottle, a hotel stay on Maui or theme park tickets. Return every Monday to the Talking Trekaroo Blog for the details. Want a reminder? Become a Trekaroo member or follow us on facebook or twitter.
Disclosure: The reviewer did receive a complimentary stroller in order to complete her review and facilitate the subsequent giveaway. Bumbleride did not ask that the reviewer state an particular opinions and all opinions are the honest opinion of the reviewer.

– – – – – – – – – – – – – – – – – – – – – –
Sharlene Earnshaw is the Blog Editor for Trekaroo.

Travel with kids to: CA |CO | DC | FL | HI | IL |MA | NC | NY | OR | PA | TN | TX | VA | WA
Comments
comments