(Last Updated On: January 24, 2013)
As a mother who constantly travels with her child, I rely heavily on my stroller and I've struggled to find one that can accommodate my tall toddler. On the road, my stroller wears many hats; it serves as a retreat for an overwhelmed child, a bed, movie theater seating, and a shopping cart.
Recently I had the opportunity to test out the Baby Jogger City Elite 2012 while traveling to Mexico with family.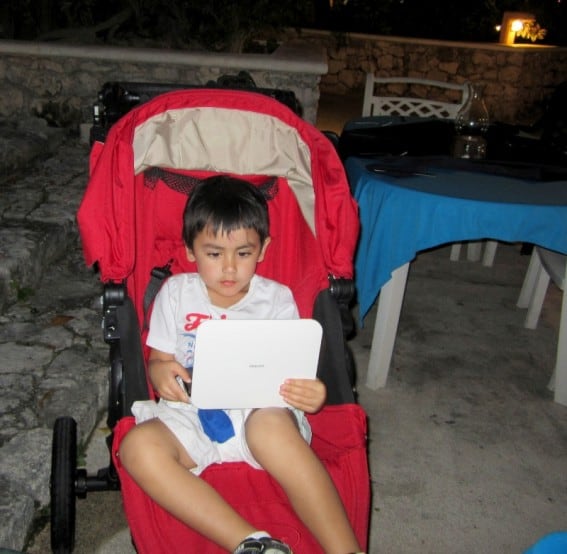 When Fed Ex delivered the stroller, I practically ripped the box open with my teeth in anticipation after learning the City Elite 2012 has the largest max head height of all the Baby Jogger strollers currently available.  The City Elite comes in 5 easy to assemble pieces. It took me just 5 minutes to build the stroller (and two of those minutes were spent reading the directions).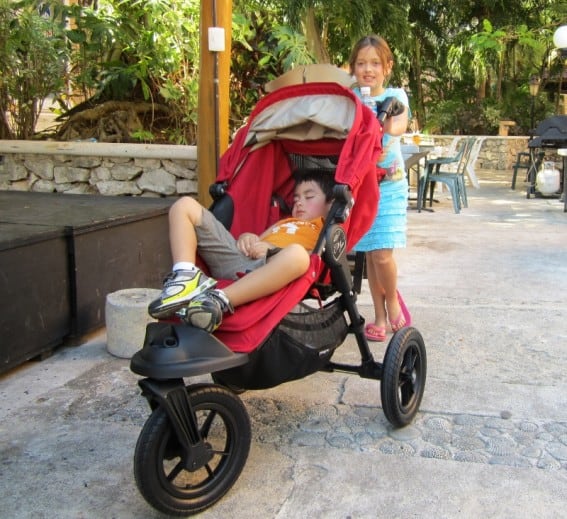 My favorite features of the Baby Jogger City Elite 2012:
Adjustable handlebar to accommodate individual users; it pivots from 34″ to 46″.
It steers so well even a six year old can do it (and mine did!).
Hand operated brake; at the San Francisco International Airport, our suitcases rolled down the shuttle stop; but the stroller stayed put.
Soft handlebar console; hey moms, that's one less accessory you'll have to buy!
Fits in the trunk of my Toyota Corolla with lots of room to spare.
Huge easy to remove sunshade with panels that secure with silent magnets.
Best raised kicker I've ever seen.
Storage basket can be accessed from the front or the rear of the stroller.
Plush padded seat reclines to a near flat position and the harness height adjusts via two secure clips.
Easy to fold with one hand.
Only downsides I could find:
If you remove the sunshade, you lose the ability to utilize the soft handlebar console.
The stroller's astounding array of storage compartments, gave SFO's TSA agent a run for his money, in fact, he discovered a Transformer toy hidden deep within.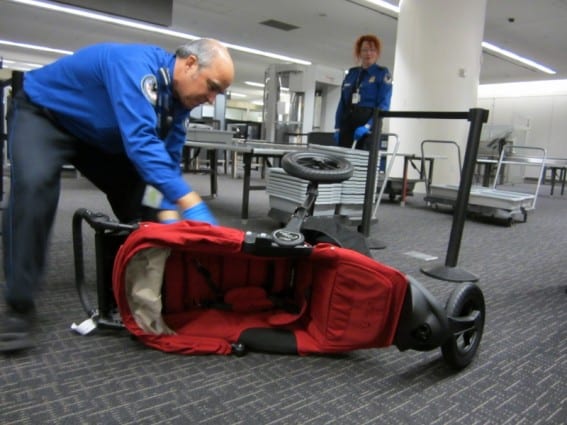 I'm happy to report the City Elite 2012 is great for tall toddlers, airport shuttles, air travel, napping, retreating to, viewing DVD's from, and doubling as a shopping cart. If this little chariot of fire sounds like the ideal stroller for you, then check out our steal below!

The Steal: Win a Baby Jogger City Elite 2012 Single Stroller ($400 value!)
Details: One lucky winner will receive one Baby Jogger City Elite 2012 single stroller (valued at $400)
HOW TO ENTER TO WIN:



Step 1: Share this giveaway using the Facebook by clicking the FB "Like" button at the top of the page
Step 2: Leave a blog comment below letting us know that you did.
Get extra entries by repeating steps 1 and 2 once a day.  But be sure to leave a new comment each time.

Want more chances to win?



Feel free to do any or all of the following actions.  Each action counts as an extra entry but be sure to LEAVE A SEPARATE COMMENT FOR EACH ONE or the entry will not be counted.
FollowBaby Jogger on Twitter
Tweet a link to this Monday Mad Steal via @Trekaroo using the Twitter share button at the top of the page.
Subscribe to the Trekaroo Blog
Follow Trekaroo on Twitter
Post this giveaway on your blog
Rules and guidelines:
18 years of age or older
US Residents only
Deadline to enter: Sunday, February 4, 2012 at 11:59PM PST
What is Monday Madness?
Every Monday, Trekaroo announces on our blog, either a fantastic giveaway or an incredible deal.  It could be a green water bottle, a hotel stay on Maui or theme park tickets. Return every Monday to the Talking Trekaroo Blog for the details. Want a reminder? Become a Trekaroo member or follow us on facebook or twitter.
Disclosure: I received a complimentary stroller in order to complete this review and facilitate the subsequent giveaway. Baby Jogger did not ask that I state a particular opinion and as always, all opinions are my own.
---
Travel with kids to: CA |CO | DC | FL | HI | IL |MA | NC | NY | OR | PA | TN | TX | VA | WA
Comments
comments