(Last Updated On: January 9, 2013)
At least once a week for the past six months my son has asked me to take him to LEGOLAND. He gets to go EVERYWHERE (lucky little travel blogger progeny) and yet he still begs, pleads, and whines for the chance to return to the plastic block capital of the planet.  Why did he want to go  LEGOLAND so much? In his words "Mooooommmmm! I just missed it!"
The summer commercials for Pirate Reef, LEGOLAND's newest attraction, have sent both of my kids into LEGOLAND overdrive. At risk of being driven to LEGO-based insanity, I decided to wake the kids up early one Wednesday and drive down to Carlsbad for a day of LEGO mania. When we pulled onto the lot and the kids started seeing those trademark LEGO letters, they freaked! Finally Mom, who never takes them anywhere (insert sarcasm here), took them to the one place they had been dreaming about!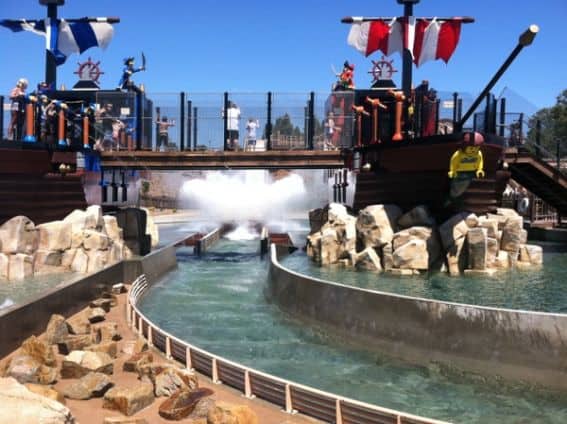 Splash down at Pirate Reef.
We hit all the "big kid" rides as soon as they opened, knowing that the crowds would soon come and the lines would no longer be tolerable for us spoiled "30 minutes is too long to wait for anything" theme park goers.  We all agreed that the LEGO Technic Coaster was the most fun but that the Dragon roller coaster and Royal Joust were both close seconds. Still, Miniland will have the key to my heart. I have a particular affection for the miniature San Francisco complete with a tiny carousel on tiny Pier 39.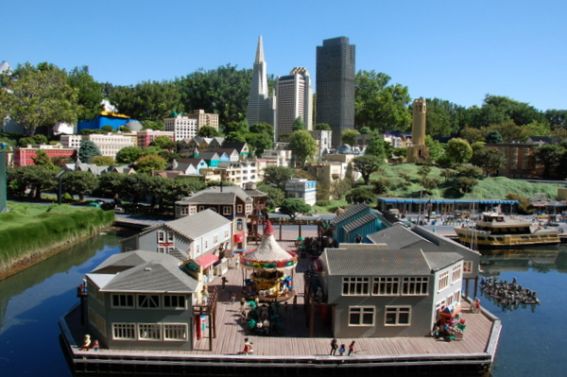 Note: I recommend following our strategy of arriving when the park opens and hitting the big rides first. We waited 5 minutes for rides that had 90 minute waits in the afternoon. Use mid-day for the aquarium and water park when the weather is warmer and the crowds are larger.
As soon as it was warm enough to tolerate getting wet, we headed to the LEGOLAND Water Park for some fun on the slides and time enjoying the lazy river. My daughter and I squealed with delight while rafting down the twists and turns of Orange Rush, my son stayed back with Grandma, passed out in a heap from all the LEGO delirium.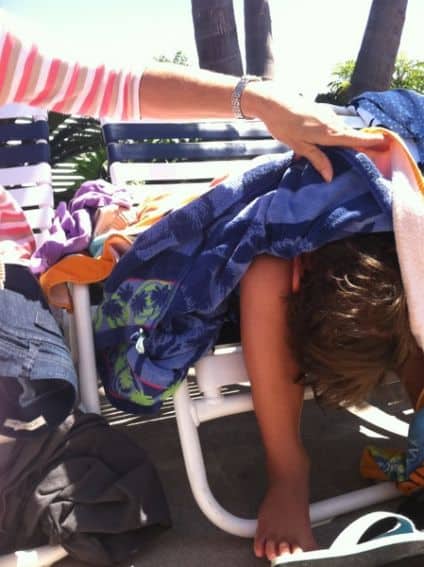 Truth be told, we never did make it on to Pirate Reef. I begged and pleaded with my kids to give it a go but they were struck with a bit of new ride stage fright. They insisted that they would go on Pirate Reef the next time we visit LEGOLAND; when they are older and more mature. Honestly, I think they just want to keep Pirate Reef in the back pockets for the next time they begin harassing me for a return visit. I expect the harassment to begin sometime around…tomorrow.

Make a Weekend of it!
Where to Stay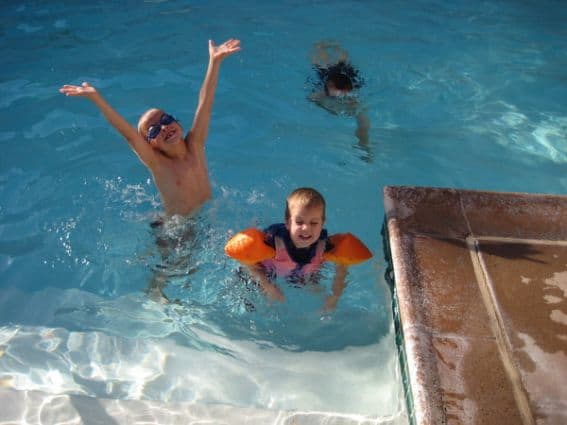 With one of the friendliest staffs on the West Coast, families will love the attention to detail and fun they can have at the
Hilton Garden Inn, Carlsbad
.  Our kids were treated to Otter Pops on a hot afternoon while we waited for the shuttle to take us to the beach. Although there is no direct access to the beach, the hotel is located directly across from the ocean bordered with cliffs with uninterrupted views of aqua blue waves and soaring pelicans.  Later that evening after swimming in the outdoor heated pool, we enjoyed popcorn while we watched "Up" with other families on blankets. Our next morning started perfectly with made-to-order omelets and waiter service. One of the greatest features of the Hilton Garden Inn is the free shuttle service to LEGOLAND, a perfect family vacation!
The Steal:

Win a family four-pack of resort hopper tickets to LEGOLAND California and a night at the Hilton Garden Inn, Carlsbad!



Details: One very lucky winner will win four (4) one-day resort hopper tickets to LEGOLAND resort in Carlsbad, CA and (1) night at the Hilton Garden Inn, Carlsbad.

How to enter:
Be sure to grab multiple entries for multiple chances to win!
Rules and guidelines: US Residents only.
Deadline to enter: Sunday, August 19, 2012 at 11:59PM EST
What is Monday Madness?
Every Monday, Trekaroo announces on our blog, either a fantastic giveaway or an incredible deal.  It could be a fabulous stroller,  a hotel stay on Maui or even theme park tickets. Return every Monday to the Talking Trekaroo Blog for the details. Want a reminder? Become a Trekaroo member or follow us on facebook or twitter.
Disclosure: Trekaroo writers received complimentary tickets to Legoland and a stay at the Hilton Garden Inn, Carlsbad in order to complete unbiased reviews. All opinions are their own.
______________________________________________________________________________
Travel with kids to: CA |CO | DC| FL | HI | IL |MA | NC | NJ | NY | OR| PA| TN | TX | UT | VA | WA
Comments
comments