When traveling with kids, many families forget to look into vacation rentals which offer a number of conveniences standard hotel rooms lack. We'll explain to you what a vacation rental is, how it works and why vacation rentals facilitate a perfect family vacation. Then, you might have a chance to see first-hand why vacation rentals are awesome by entering to win a one-week stay at a luxurious West Coast property offered by ResorTime.com, the sponsor of this post. Ready?
What is a Vacation Rental?
A timeshare is a vacation property that several people buy interests in for use during specified times of the year. When a timeshare owner can't use their designated weeks, ResorTime.com steps in to rent the property for them. This is why prices offered through ResorTime.com are great value as they are able to offer the benefits of luxury timeshares to the general public without the big investment or having to sit through those pesky presentations.
Two of our Superoos recently stayed at Sedona Summit and Scottsdale Villa Mirage, both members of the ResorTime.com portfolio of timeshare resorts, resort condos and beach homes that fit any size travel group.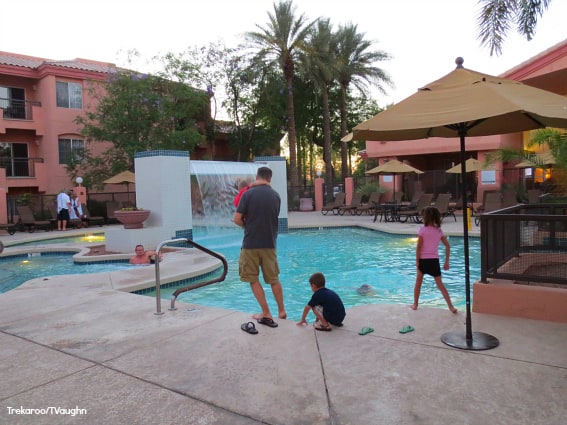 You'll LOVE the Benefits of a Vacation Rental
Sharing a hotel room with kids usually means that life stops the second they go to bed. There's total silence, reading only by dim light and tiptoeing to the bathroom in fear if you need to go. Should you toss and turn in the night or let alone cough, junior might wake up ready to party at an unsavory hour causing everyone to feel more tired than necessary the following day. These issues are eliminated by renting a timeshare condo, which typically has a separate living space from the bedroom.
There was plenty of space for everyone to sleep and play comfortably. The baby could nap without being disturbed by older siblings. Usually, at hotels, baby's nap time is quiet time. With the space here, the older kids were free to play how they wished.

Read Tiffany's full review of Scottsdale Villa Mirage. During their stay, they even enjoyed a poolside movie night!

Typical amenities include:
Exciting resort locations
Designer decorated furnishings
Fully equipped kitchens
King size beds
Living rooms with a sleeper sofas
Spacious bathrooms
Stereos and fireplaces
Balconies with views
Pools, hot tubs and barbeques
Family and children activities
Fitness centers
Bikes, game rooms and laundry facilities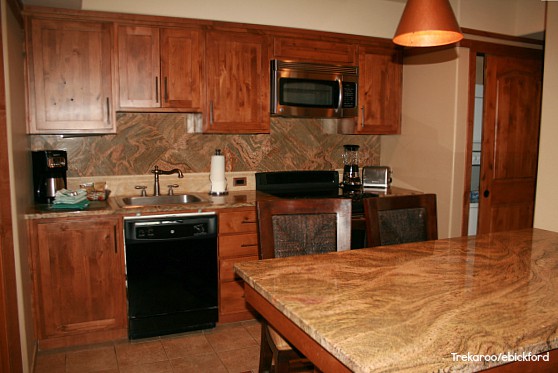 With multi-generational travel on the rise, vacationing with kids and grandparents is definitely made easier with a two or three bedroom timeshare rental.
What is ResorTime.com?
ResorTime.com helps families find luxury condos available for rent by the day or week. The reason why they are able to offer daily rentals is because of the special relationship they have with participating resorts. They are the largest and most-established vacation rental company in the industry.
Need flexibility? With ResorTime.com there are no booking fees or change fees and there is a low-price guarantee. If you find a lower rate within 24 hours of booking on another US-based website, they'll match it and refund the difference.
Check options in the city you'd like to visit or availability at a particular property, by using the easy search box on the home page of ResorTime.com's website. Also, don't forget to check the resorts for $99 or less section!
We were greeted with smiles and great hospitality. Activities were suggested for our family and assistance provided over the phone whenever required. I felt like staying at a time share property had a different type of atmosphere, there was a greater sense of community and it seemed like many people staying there were there to relax and not hustle around town. This was a nice change from my normal vacation experiences.

Read Elizabeth's full review of Sedona Summit.
The Steal: Win a 7-Night Stay at a ResorTime.com Property!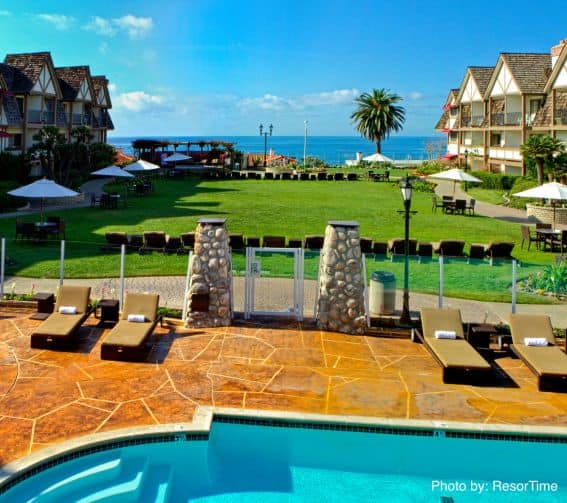 Details: One very lucky winner will receive:
8 days and 7 nights at a ResorTime.com resort that is listed below.
Maui- Ka'anapali Beach Club
Kauai- The Point at Poipu
Las Vegas- Polo Towers, Desert Paradise Resort
Sedona- Sedona Summit, The Ridge on Sedona Golf Resort
Scottsdale- Scottsdale Links
Carlsbad- Carlsbad Inn Beach Resort, Carlsbad Seapointe, Grand Pacific Palisades Resort (excludes summer months of June, July and August)
The travel certificate is good for one year for a one bedroom condo that sleeps 4 and it expires 6/13/14. Major holidays are excluded. Resorts and availability are subject to change.
Value: $1000-2500 depending on location selected by the winner.
Enter today & everyday for two weeks by filling out the Rafflecopter form below:
Restrictions:
The prize is non-transferable
Accommodations will be based on space available
No cash value
Does not include airfare or airport transfer to destination
Rules and Guidelines:
No purchase necessary
One raffle winner will be selected
Winners will be selected randomly and your chances of winning are based on the number of entry points you acquired against the total number of entries for this giveaway.
18 years of age and older
US residents only
Winner will be notified via the email provided and must respond to the notification to confirm their prize within the time specified in the email. (Usually 3 days)
After the winner has been confirmed, the winner will be announced on this blog post.
Entry Period: June 3 at 12:00am PST – June 16 at 11:59pm PST.
Special thanks to our sponsor:
ResorTime.com
5900 Pasteur Court, Suite 150
Carlsbad, CA 92008
(877) 477-7368
What is Monday Madness?
On select special Mondays, Trekaroo announces on our blog, either a fantastic giveaway or an incredible deal. It could be a green water bottle, a hotel stay on Maui or theme park tickets. Return every Monday to the Talking Trekaroo Blog for the details. Want a reminder? Become a Trekaroo member or follow us on Facebook or Twitter.
Comments
comments