This week, we are offering our readers a fun change to our normal Monday Madness giveaways.  We are partnering with Myrtle Beach Convention & Visitor's Bureau and travel blogs across the US to offer a "Pin to Win" contest.  That's right- for this contest, it's all about Pinterest.  Read on for more information on how to enter.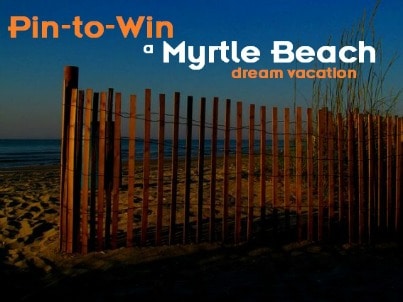 Photo by: Flickr/David N Cooper
Myrtle Beach is a fantastic year-round destination.  Trekaroo readers have fallen in love with the city and have shared their tips on fantastic family-friendly attractions, hotels, and restaurants within Trekaroo.  The city has been voted one of the Best U.S. Beaches, Best Family Vacations, and Best U.S. Boardwalks by Trip Advisor, US News and World Report, and National Geographic. Truly there is a lot of magic and charm to this seaside retreat.
And we want you to explore it!
To get you started in exploring Myrtle Beach, we've pinned nearly 40 of our favorite family-friendly activities to our Pinterest Board, "Trekaroo's Myrtle Beach Dream Vacation."  To enter in the contest, simply repin your favorites from our board onto yours.  (detailed rules below)
Explore Myrtle Beach activities | restaurants | hotels
The Steal: Pin to Win a 3-night, 4-day Myrtle Beach Vacation
Details:
Eight (8) Pinners will win a trip to Myrtle Beach, complete with accommodations, a restaurant giftcard, and a pair of tickets to choice attractions. Winners will be chosen from participating blogs across the US, not exclusively from Trekaroo.
One (1) grand prize pinner will win the above prize AND tickets to seven more attractions from their  own "Myrtle Beach Dream Vacation" pinboard.
BONUS TREKAROO WINNER:

If Trekaroo's Myrtle Beach Dream Vacation board receives the most repins out of all participating blogs, we will get to choose one of our readers to win a Myrtle Beach Vacation (lodging, restaurant giftcard, & pair of tickets).  So pin your heart out for better chances to win! Families from all over the blogosphere will be pinning!  Let's make Trekaroo #1 & score an extra prize!
HOW TO ENTER:
1.       Create a Pinterest board titled "Myrtle Beach Dream Vacation."
2.       Go to Trekaroo's Myrtle Beach Dream Vacation board and pick what you'd like to visit.  Then repin it to your own Myrtle Beach Dream Vacation board.  Include the tag #MYRDreamVacation in the comments for each pin.
3.       When your board is complete, Follow @MyMyrtleBeach on Pinterest and post a comment on the My Myrtle Beach Pinterest page with your name and pinboard URL.
To win the extra Trekaroo Prize, all Pinning must be completed by THIS Friday, September 7th.  The contest officially ends October 30th, 2012.
Rules and guidelines:
25 years of age or older
US Residents only
By entering, all participants agree to the official contest rules.
Deadline to enter: Tuesday, October 30th, 2012 at 11:59PM EST
What is Monday Madness?
Every Monday, Trekaroo announces on our blog, either a fantastic giveaway or an incredible deal.  It could be a green water bottle, a hotel stay on Maui or theme park tickets. Return every Monday to the Talking Trekaroo Blog for the details. Want a reminder? Become a Trekaroo member or follow us on facebook or twitter.
Thanks to CashNet Sweepstakes, and Sweepstakes Advantage.
---
Katie Bodell is Trekaroo's Blog Editor, a wife, & a mom to three sweet California girls.
Travel with kids to: CA |CO | DC| FL | HI | IL |MA | NC | NJ | NY | OR| PA| TN | TX | UT | VA | WA
Comments
comments