(Last Updated On: December 1, 2016)
My family loves to bowl. My son's only 3 and he's already been working on his game. If you love to bowl, you'll have to check out this great program called KidsBowlFree.com. Just like it sounds, this amazing program means that your kids can bowl up to 2 games a day for FREE all summer long! Nothing. Zippo. Zilch. Zero. Nada. Nothing!
This is our second year in the program and it's great especially if you get your friends in on the fun too. You can register any child that you're a parent/guardian of under the age of 18. The bowling centers win because they get traffic in the door during the day when the bowling league members are busy working their day jobs. This year, they even have a family pass that starts at $24.95 and allows 1, 2, 3, or 4 adults to play 2 free games daily this summer. What a steal.
So, go to KidsBowlFree.com and check out the 850+ participating bowling centers (keep in mind this list is constantly growing) and sign up. Let us know what you think too.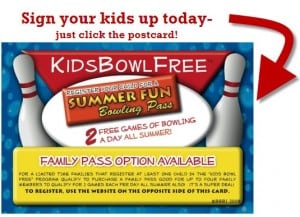 For more free fun in your neighborhood, check on Trekaroo for your city/region and set our cost filter on "free." The Trekaroo system will magically pull out all the activities in your area that are easy on the pocketbook.  Here are a few list of FREE activities in some major metro area.  But you can do this for any destination or city on Trekaroo.
What is Monday Madness?
Every Monday, Trekaroo announces on our blog, either a fantastic giveaway or an incredible deal.  It could be a green water bottle, a hotel stay on Maui or theme park tickets. Return every Monday to the Talking Trekaroo Blog for the details. Want a reminder? Become a Trekaroo member or follow us on facebook or twitter.
Photo licensed under Creative Commons from Jess2284.

– – – – – – – – – – – – – – – – – – – – – – – – –
Esther Lee is co-founder and CEO of Trekaroo – a reviews site dedicated to exploring and traveling with kids.

Travel with kids to: CA | CO | DC | FL | HI | IL | MA | NC | NY | PA | TN | TX | VA | WA
Comments
comments