There are a few essential items that every travel savvy parent has in her repertoire of gear.  For myself, our Ergo Baby Carrier is in my top 3 most useful travel gear purchases.  Our Ergo has traveled the world.  When we were in Paris with our 4 year old and 15 month old, the baby practically lived in the Ergo, happily napping on the go since big brother hijacked his umbrella stroller.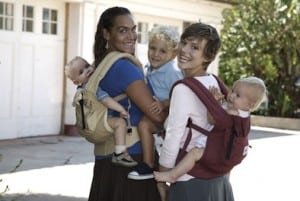 What I love about the Ergo:
It's compact: The Ergo folds up into a bundle about 12 inches long and 6 inches in diameter.  Just small enough to fit in my hand carry and a day pack when sightseeing
It's versatile: I love that you can carry a baby in the front and if big brother needs to be carried, we can use the Ergo with him on the back as well.  There are also some situations like crowded trains or when visiting a cave where it's advisable to carry a child in front instead of on your back.  The Ergo accommodates all those situations.
It saves your back: When you're traveling, you don't always have the luxury of being able to take a break from carrying your child, so it's even more important to have a carrier that doesn't strain your back.  The hip strap helps to distribute the weight of your child to your hips  whether you are carrying him on the front or back.
What I'm not so crazy about in the Ergo:
It's hard to use on the back without help. Especially with a younger child who still needs to be supported fully, it's a pretty dangerous maneuver trying to get your baby onto your back without assistance from another adult.
The child has an obscured view. In comparison to a frame backpack carrier or one that allows your child to look outwards, a child in the Ergo either in front or back has a more obscured view of the world.  When your child is awake and eager to look around he's got to turn his head side ways to see what's going on because his body is always facing the adult who's carrying and a toddler won't be able to look over your shoulder.  During nap time, this actually can work to your advantage.
Despite some of these drawbacks, I've found that if I have to bring just one child carrier on a trip, the Ergo's strengths almost always make it the most compelling choice.  For a more detailed analysis of the pros and cons of other child carriers, check out "What child carrier should I Bring on Vacation?"
The Deal:  Win an Ergo Baby Carrier ($110)

Get your very own Ergo Baby Carrier worth $110 so that exploring with Junior will only be easier.  The folks at Ergo would like to give one super cool Trekaroo family an Ergo of their choice.  Choose from a variety of styles.
Number of Winners: 1 winner
Prize: One (1) Ergo Baby Carrier
How to enter:
Leave a comment below about what features are most important to you in a child carrier and specify what age child you're thinking about.
For additional entries, feel free to do any or all of the following. Each one counts as an extra entry but be sure to leave a separate comment for each one.
Write a review on Trekaroo and post a link to it in the comments (include your Trekaroo username) one entry per review
Tweet a link to this Monday Mad Steal via @Trekaroo
Post this on your Facebook Wall using the Facebook Share link above
Follow Trekaroo on Twitter

Post this giveaway on your blog
Subscribe to Trekaroo in your reader

Rules and guidelines:
18 years of age or older
US Residents only
One entry per person
Deadline to enter: Sunday, May 16, 2010 at 11:59PM PST
What is Monday Madness?
Every Monday, Trekaroo announces on our blog, either a fantastic giveaway or an incredible deal.  It could be a green water bottle or Broadway tickets. Return every Monday to the Talking Trekaroo Blog for the details. Want a reminder? Become a Trekaroo member or follow us on facebook or twitter.