We did it.
3 kids.  14 nights.  4 national parks.  3,000 miles.  14 lunches on the road.  Countless potty breaks.  And slightly less than expected whines of "Are we there yet?"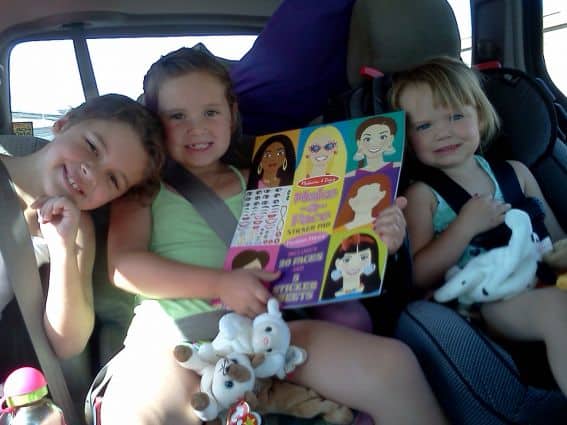 While planning for our family road trip I began to panic about the time spent in the car.  I worried that my girls would spend the entire time fighting, crying, and whining.  I also didn't want our time to be spent in a perpetual loop of DVDs; I wanted to interact with my kids, engage them with our surroundings, and still maintain sanity.
 Melissa and Doug, one of my favorite go-to toy brands, offered just what I was looking for: quality products, travel ease, and entertainment value, all coupled with a focus on spending fun together as a family.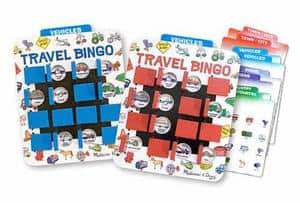 Flip to Win Travel Bingo
My kids loved playing with and against each other, and the four different game cards (city, road signs, country, and vehicles) made it perfect for any setting.  The wooden flaps stay connected to the board game: kids can easily mark off bingo, but no pieces are lost!  Major score!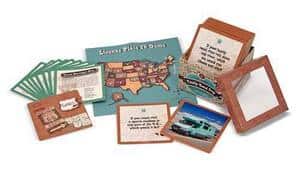 Family Road Trip Box of Questions 
 This box provided hours of games, trivia questions, and fun getting-to-know-you questions.  I was surprised how much I learned about my girls when they answered questions like, "What is your favorite city you have ever been to? Why?" and "What are you most looking forward to seeing on this trip?"  The questions are definitely re-usable as answers can change based on your destination and ages of your kids, making this a toy that will last through childhood.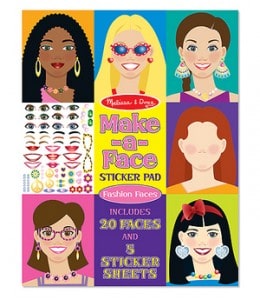 Make-A-Face Sticker Pad
I was a bit worried that this large (11″x14″) sticker and paper pad might be cumbersome or awkward in the car, but my girls absolutely loved it.  My three girls loved making faces, adding in accessories, and naming their beautiful creations.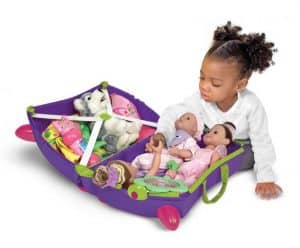 Trunki Ride Along Suitcase
We threw all of our road trip toys into our Trunki suitcases.  Every where my girls toted their Trunkis they got cute looks from passer bys.  Did you catch that?  Where ever my girls toted them.  That's right.  My own children were pulling their luggage instead of me – talk about a travel perk!  Some of my favorite things:
What I love about our Trunkis:
They are ADORABLE!
They are very sturdy and can hold up to 75lbs.
Hard sides prevent contents from getting crushed
Versatile: can be carried with strap, pulled, or even ridden!
Doubles as stool while waiting in hotels/airports
Carry-on approved for air travel
Perfect fit for a few days of clothes, travel toys, coloring books, or games.
Hard sided plastic is easy to wipe down after spills (and insides remain dry and clean!)
Ideal for kids 3-6, but my experience proved it was great for 2-8!

Overall, I can't recommend these products enough to fellow traveling families.
Read my full review of Trunki | Make-a-Face Sticker Pad | Family Road Trip Box of Questions | Flip to Win Travel Bingo
The Steal: Win your very own Trunki & Road Trip Toys by Melissa and Doug
One lucky winner will receive:
(1) Trunki in the color of their choice
(1) Make-a-Face Sticker Pad
(1)Family Road Trip Box of Questions
(1) Flip to Win Travel Bingo
How to enter:
Simply follow the directions on the widget below. The more you do, the more entries you will receive!
a Rafflecopter giveaway
Rules and guidelines:
18 years of age or older
US Residents only
Deadline to enter: September 9th, 11:59pm PST.
What is Monday Madness?
Every Monday, Trekaroo announces on our blog, either a fantastic giveaway or an incredible deal. It could be a green water bottle, a hotel stay on Maui or theme park tickets. Return every Monday to the Talking Trekaroo Blog for the details. Want a reminder? Become a Trekaroo member or follow us on Facebook or twitter.
Travel with kids to: CA |CO | DC| FL | HI | IL |MA | NC | NJ | NY | OR| PA| TN | TX | UT | VA | WA
Comments
comments