All I want for Christmas is my smart phone back.  Isn't that how the song goes?
You know the routine: at the airport, on the road, in the carpool line, at the dentist, and your children somehow steal your phone to pass the time playing their favorite games.  I don't know about you, but I want two things: I want my phone back AND happy kiddos.
Enter the MG, one of the newest offerings in the hand-held gaming system.  It's the first Wi-Fi Android App gaming system made just for kids, the perfect size to slip in their pocket or backpack.  This ingenious little device uses Wi-Fi exclusively; your kids get all their online content, you avoid cell phone data packages and expensive gaming cartridges.
My family took the MG for a test drive over the past few weeks.  Here's a run down of my kid's favorite features (with some supporting mom comments to go along with it).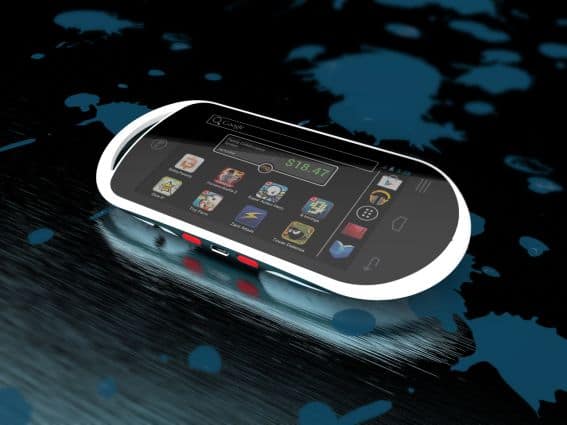 The Pros and Cons of the MG
Gaming System
Works just like mom's phone (no learning curve on operating system, even 3-year-old knows how to navigate apps)
Has all my favorite games and movies (Utilizes Android's Google Play Store and even comes preloaded with some awesome EA Sports & other premium apps)
Mom's texting/facebook obsession doesn't interrupt my game play!  (um, I plead the fifth!)
I don't have to ask mom to buy an app, movie, or book (an innovative Family Collaboration System & included SpendSmart debit card give your child freedom to purchase, while keeping you completely in control and in the loop.)
Easier to hold than mom's tablet (4″ screen is perfect size for gaming and portability.)
Battery runs out too quickly (properly managing apps and taking advantage of micro USB charging eliminates most problems, but the system does need frequent charging- conveniently, it is the same charger as most Android based smart phones.)
Bottom line from this mom: I have my phone back!  My kids are so happy with the MG for all of our travel and life-related waiting moments; I now only wish I had three.
Check out this video to see even more reasons your kids (and you) will love it.

The Steal: Enter to Win an MG portable Wi-Fi Gaming System
Details: One lucky winner will receive the brand new MG Portable Wi-Fi Gaming System, $10 of preloaded games, 8GB micro SD card,  and included SpendSmart debit card, valued at $169.99.
To enter, simply fill out the rafflecopter widget below:
a Rafflecopter giveaway

Rules and guidelines:
US Residents only
18 years of age and older
Restrictions may apply.
Christmas delivery can only be guaranteed if winner responds back to the winning email by December 17th.
Deadline to enter: Sunday, December 16 , 2012 at 8:59PM PST- one week only!
What is Monday Madness?
Every Monday, Trekaroo announces on our blog, either a fantastic giveaway or an incredible deal.  It could be a green water bottle, a hotel stay on Maui or theme park tickets. Return every Monday to the Talking Trekaroo Blog for the details. Want a reminder? Become a Trekaroo member or follow us on Facebook or Twitter.
Disclosure: The author received a complimentary MG for the purpose of this review.  She was not required to state any particular view; all opinions are her own.