This contest is now closed. Congrats to Trekaroo Member Hbomb for winning!!!
Recently, I drank water out of Orange County's only natural lake and didn't get so much as an upset stomach. Sure, the water was a little murky going into my bottle, but when I took a sip it came out clear and tasted great!  How did this incredible transformation occur?  The secret to making the water both tasty and safe to drink is in the Ionic-Adsorption Micro-Filtration System of my new Ech2o Water Bottle.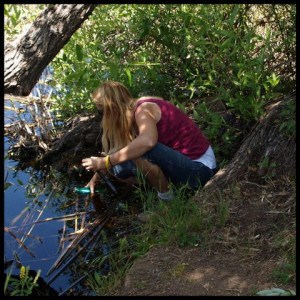 Ever since we started hiking with our kids and I was forced to lug around enough water for all of us to drink, I had been dreaming of a portable water filtration system. In the past, everything I had seen in stores was either too complex or out of my price range. Then, I stumbled upon Get The Bottle.com.  The website promised a reasonably priced water bottle (only $39.99) could filter 100 gallons of water from any non-saltwater source and provide the drinker with clean, fresh tasting water each and every time.  My curiosity had officially been sparked.
Over the next 8 weeks, I brought my bottle everywhere: hikes, sporting events, airports, Disneyland, and errands around town.  I was amazed that no matter how nasty the water may have looked or tasted before filtration, it always tasted clean and fresh when it went through the Ech2O.
In addition to having great tasting water, I also had a clear conscience.  I have always been a water snob and have been known to turn my nose up at the tap.  With the Ech2O, I no longer needed to create so much waste by drinking bottled water.  Even though I had always recycled my plastic water bottles in the past, I always felt guilty about consuming so much plastic.  The bottle is 304 food grade stainless steel which is non-leaching, BPA-free, and taste-neutral  In addition to being eco-friendly, it is also wallet-friendly. When I think about how much money I have saved since I stopped drinking bottled water and started using the Ech2O , I know for a fact that this bottle more than pays for itself.  The bottle filters up to 100 gallons of water and replaces 757 half-liter bottles!  Once the filter stops working (usually around 6 months of use), all you have to do is pop in another filter and you are good to go!
The only criticism I have of the bottle is that when the water gets low, sometimes it doesn't make it up into the straw and I have to refill sooner than I would like to.  That being said, the benefits far outway any extra trips to the sink I might have to make.  Alright, I have gushed enough about the water bottle, now lets get to the good stuff: the giveaway!
The Deal:  Win an Ech2O Water Bottle
A lucky Trekaroo family will win a Ech2O Water bottle and replacement filter. Thats one year of water people!
BONUS: All Trekaroo readers will receive 15% off their orders at Get the Bottle when they use the offer code: TREK15 . Don't you just love a coupon?
Number of Winners: 1 winner
Prize: One (1) Ech2O Water bottle and one (1) replacement filter
How to enter:
Leave a comment below telling us which color bottle you will pick if you win and where you are most excited to use the Ech2O Water Bottle.
For additional entries, feel free to do any or all of the following. Each one counts as an extra entry but be sure to leave a separate comment for each one.
Write a review on Trekaroo and post a link to it in the comments (include your Trekaroo username) one entry per review
Follow Get The Bottle on Twitter.
Fan Get the Bottle on Facebook.
Subscribe to the Get the Bottle Blog.
Subscribe to the Trekaroo Blog
Tweet a link to this Monday Mad Steal via @Trekaroo
Post this on your Facebook Wall using the Facebook Share link above
Follow Trekaroo on Twitter
Post this giveaway on your blog
Subscribe to Trekaroo in your reader

Rules and guidelines:
18 years of age or older
US Residents only
Deadline to enter: Sunday, June 27, 2010 at 11:59PM PST
What is Monday Madness?
Every Monday, Trekaroo announces on our blog, either a fantastic giveaway or an incredible deal.  It could be a green water bottle, a hotel stay on Maui or theme park tickets. Return every Monday to the Talking Trekaroo Blog for the details. Want a reminder? Become a Trekaroo member or follow us on facebook or twitter.
– – – – – – – – – – – – – – –
Travel with kids to: CA |CO | DC | FL | HI | IL |MA | NC | NY | PA | TN | TX | VA | WA