(Last Updated On: October 19, 2017)
This contest is now closed. Congratulations to Gina. Your comment, #43 was chosen by random.org.
If there is one piece of equipment a mother of an infant can't leave home without, its her diaper bag.  They come in all different sizes, colors, and sizes, and are often packed full with a bunch of stuff that us moms really don't need.  As a mother of twins, my diaper was doubly full, doubly heavy, and doubly cumbersome.  I got rid of it about two years earlier than my friends with children the same age because I just couldn't be bothered with a big bag any longer.  I ended up cramming a couple diapers and a ziploc full of wipes into my purse and hoping for the best.  It wasn't always the best plan….
Luckily, mom's now have options.  They can go all day at Disneyland with their giant diaper bags packed with 14 spare outfits and enough baby wipes to clean every kid in the park or they can head to the park for a couple hours with nothing more than an ultra slim and ultra fashionable Parent Pod.
The Parent Pod is Bella Tunno's answer to the cumbersome full-sized diaper bag.  Recently, Trekaroo had Superoo Brenda Gradek (aka Brendag) put the Parent Pod to the test.  Here are her pros and cons:
Pros:
Very stylish, with 5 modern patterns/colors available
Multiple pockets inside and out
Snap-out zippered, waterproof pouch
Hidden hanging hook (great for keeping it handy, but clean, in a public bathroom)
Cons:
Small overall size (which is also a Pro depending on how you look at it)
Snaps can be difficult to close one-handed
Want the full lowdown?  Read Brenda's full review of the Parent Pod.
Bella Tunno has many other great products on their website, including the Designer Diner.  The Designer Diner is the entertainment solution for when a restaurant doesn't offer a paper children's menu and crayons.  Actually, its your solution even when a restaurant offers a paper menu because us parents know that our kids will completely color over every picture and finish all the mazes in about 3  minutes.   The Designer Diner features a brightly colored place mat on one side and a reusable chalkboard mat on the other.  It has a handy removable chalk pouch and comes with 12 pieces of non-toxic chalk.   My kids love it because they can use it over and over again during the same meal.  I leave it in the car during road trips so we always have something to occupy my little ones while we wait for our food at restaurants.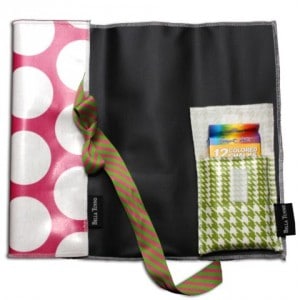 The Deal: Trekaroo readers will receive 25% OFF THEIR ENTIRE PURCHASE at www.bellatunno.com when they enter the code TREKAROO25 upon checkout. 


The Steal:
One lucky winner will receive a Bella Tunno Parent Pod and a Designer Diner!
Number of winners: (1)

Details: One winner will receive a Bella Tunno Parent Pod and Designer Diner in the patterns of her choice.
HOW TO ENTER TO WIN: Go to the Bella Tunno website and tell us your favorite product in the comments section.

For additional entries, feel free to do any or all of the following.  Each one counts as an extra entry but be sure to LEAVE A SEPARATE COMMENT FOR EACH ONE or the entry will not be counted.
Follow Bella Tunno on Twitter
Tweet a link to this Monday Mad Steal via @Trekaroo .

Rules and guidelines:
18 years of age or older
US Residents only
Deadline to enter: Sunday, May 1st, 2011 at 11:59PM PST
What is Monday Madness?
Every Monday, Trekaroo announces on our blog, either a fantastic giveaway or an incredible deal.  It could be a green water bottle, a hotel stay on Maui or theme park tickets. Return every Monday to the Talking Trekaroo Blog for the details. Want a reminder? Become a Trekaroo member or follow us on facebook or twitter.
Disclosure: This complimentary product was received from the manufacturer to be reviewed by Trekaroo. The reviewer received no other compensation, and was not required to express any particular point of view.
– – – – – – – – – – – – – – – – – – – – – –
Sharlene Earnshaw (aka doubleadventure) is Blogger-in-chief for Trekaroo and the blogger behind Double the Adventure.

Travel with kids to: CA |CO | DC | FL | HI | IL |MA | NC | NY | OR | PA | TN | TX | VA | WA
Comments
comments