This post was sponsored by FamilyGetaway.com, the first advertiser on the Family Travel Ad Network, a partnership amongst Ciao Bambino, Delicious Baby, Travel Savvy Mom, The Vacation Gals, Trekaroo, See Jane Fly, and Traveling Mom.
I am forever in search of a great deal. I get a thrill out of digging through the clearance racks at department stores, squeal when produce is in season and a fraction of the normal cost, and I LOVE to travel well for less. Getting a great deal on lodging means I can dedicate more of our vacation budget to sampling local cuisine or visiting regional attractions. So when I found out that FamilyGetaway.com offers discounted family vacation packages for up to 65% off, I just had to test it out for myself.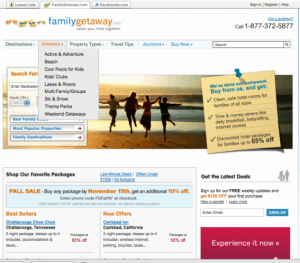 The first thing I loved about FamilyGetaway.com was that all the hotel packages listed on their site are family-friendly. It is nice to search for a bargain vacation package that's already got your kids in mind.
The next thing that interested me were the different search functions, families can use to find the perfect vacation spot. Parents can search by destination, interests (aka awesome kid pools), or property type. Whether you want to spend a week in San Diego, take advantage of some fabulous kids' clubs or be pampered at an all-inclusive resort, FamilyGetaway's search tool will easily find a package to fit your needs.
Finally, the most interesting feature on FamilyGetaway is its Ebay-style auctions. Families have the opportunity to get spectacular hotel deals by either bidding on packages or choosing the "buy it now" option. How well does it work? I decided to put the entire experience to the test.
I love taking my family down to San Diego. Between Sea World, the zoo, and Legoland, my pre-school twins are always eager to vacation there. I bid the minimum, $767, on a hotel package at the Estancia La Jolla Hotel & Spa near San Diego which included:
3 nights in an estate room with 2 queen beds and a private balcony or patio
A welcome gift basket upon arrival, including children's snacks and juices
Breakfast for up to four each morning at the resort's restaurant
$100 resort credit, good for food and beverages and activities
Movie rental on one evening of your choice, including turndown service with milk and cookies
Taxes & resort fees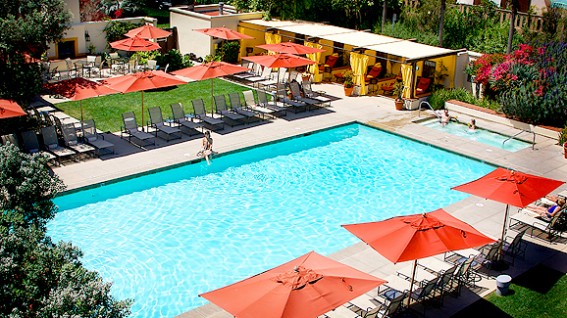 According to the website, the package I was bidding on had a $1322 retail value. I also saw that there was a date range for availability (Oct 3, 2010- March 31, 2011) and that there were a few black out dates to avoid. Upon bidding, I discovered there a $40 handling fee, which brought my total to $807. However, shortly before bidding, a screen popped up informing me that if I signed up for the FamilyGetaway newsletter, I would get $100 off my first booking so my total was now, in fact, $707. Then I searched popular hotel booking websites such as hotels.com and found the price of the exact room without all the listed perks plus taxes and fees was $297 a night ($891 all-in). Add in all the perks and the Earnshaw family is in for a great deal.
After I bid, I received email confirmation of my bid letting me know that I was the current high bidder and that I would receive an email if anyone outbid me. Lucky for me, nobody did and I won my $1322 package for only $707!!! Woohoo! Once I won the auction, FamilyGetaway processed the payment and asked me to submit my top three travel date ranges ranked in order of preference. FamilyGetaway's concierge department then works with the property to confirm your travel dates and then sends you the reservation number plus any other pertinent information.
One concern I did have was just how often families got their first preference on travel dates. I was reassured that the majority of customers get their first choice. However if a customer is not flexible with their dates, two things they can do are:
1. Call the hotel and check availability for those dates.
2. Use the Buy Now option. For that option, a customer does not have to pay for the package if FamilyGetaway.com's concierge cannot get their dates confirmed.
The deals were real and the experience really was that easy!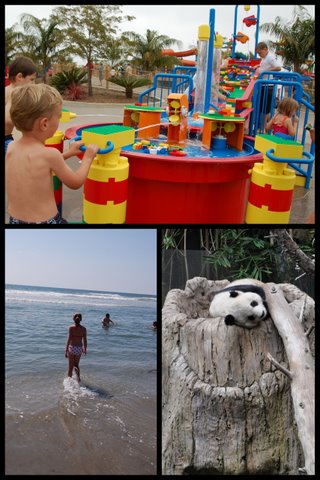 The Steal: Get 10% off any FamilyGetaway Package!
Details, Details: Now through November 15, 2010, families will receive an additional 10% off their hotel package by entering the promo code: FGFall10* at checkout. That's 10% off an already heavily discounted package. What a bargain! Visit FamilyGetaway.com for details.
You can also get another $100 off your next FamilyGetaway package by signing up for their newsletter.
For great suggestions on vacation destinations with tots, check out this post full of great ideas from FamilyGetaway partner, See Jane Fly.
Tomorrow, be sure to head over to The Vacation Gals to read all about the Dreams Tulum Resort and Spa.
What is Monday Madness?
Every Monday, Trekaroo announces on our blog, either a fantastic giveaway or an incredible deal. It could be a green water bottle, a hotel stay on Maui or theme park tickets. Return every Monday to the Talking Trekaroo Blog for the details. Want a reminder? Become a Trekaroo member or follow us on facebook or twitter.
– – – – – – – – – – – – – – –
Sharlene Earnshaw (aka doubleadventure) is Blogger-in-chief for Trekaroo and the blogger behind Double the Adventure.

Travel with kids to: CA | CO | DC | FL | HI | IL | MA | NC | NY | OR | PA | TN | TX | VA | WA
Comments
comments