(Last Updated On: March 31, 2016)
Their high kicks are famous.  The show is a bona fide holiday classic.  For over 75 years, the Rockettes have been entertaining families with their annual Radio City Christmas Spectacular. For decades, only families who were in New York City had the privilege of attending the show, but these days, even those of us on the West Coast have an opportunity to see the show.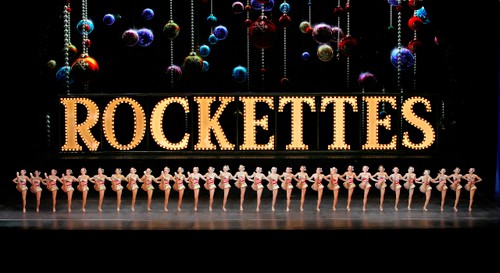 The Rockettes are currently in the midst of a national tour, bringing the Christmas Spectacular to 25 cities along the way.  In between shows, the Rockettes are kept busy with promotional appearances and charity events. Last Friday, I met up with the Rockettes at Fire Station #11 in Anaheim, CA, where they were "kicking off' the annual Spark of Love Holiday Toy Drive.  For 18 years, Southern California firefighters have collected toys to help the less fortunate.  The drive has been been incredibly successful, and 500,000 toys were collected last year!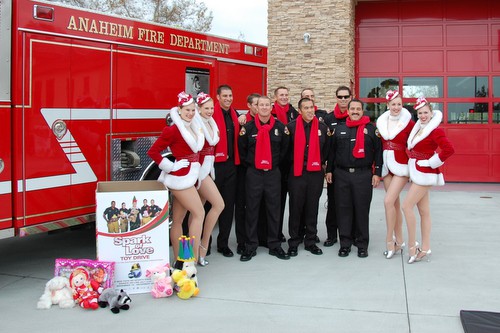 After the kick off, I had the opportunity to talk to Rockette Vanessa Mc Mahan, and ask her a few questions  about the Christmas Spectacular:
Trekaroo: What do families who attend the show have to look forward to?
Vanessa: The arena tour is the exact same tour that is in New York, but on a much larger scale.  You have the lights, the costumes, everything is larger than life. We have an LED screen this year and its the third year we are touring with this company so we're really excited to be bring this show to families across America.
Trekaroo: Do you have a favorite part of the show?
Vanessa: One of my favorite parts of the show is when Santa takes the kids on a journey to Santa's workshop where all the ragdolls come to life.  The Rockettes are dressed as ragdolls and Santa puts a spell on us and its nice to see the kids' smiles when we come to life.  Oh- and there is a special message that we spell out at the end of the show which is really fun.
Trekaroo: What is the minimum age you would recommend for children to view the show?
Vanessa: There is really no minimum or maximum age. Its good for all ages and all families. People might think their child isn't going to sit through it but my little cousin went and he was only a year old. He was just fascinated the entire time he was watching the show.

Trekaroo: As a Rockette you have had the opportunity to travel around the country on tour. Do you have a favorite travel destination that you would like to recommend to families?
Vanessa: I really like California but I also like Portland, OR.  Its beautiful, it has a wonderful atmosphere, there's lots to do, plus there is fresh air and I really love that. I am from the Midwest so its pretty flat there. I like seeing the mountains and smelling the fresh air.
Trekaroo: Any advice for little girls with big dreams of becoming a Rockette one day?
Vanessa: Oh of course!  I would say just to follow your dreams.  Don't let anyone tell you that you can't do anything.  It actually took me four times of auditioning for the Rockettes to finally get it.  So as long as you really want your dreams to come true and you have the tools, you just have to follow your heart.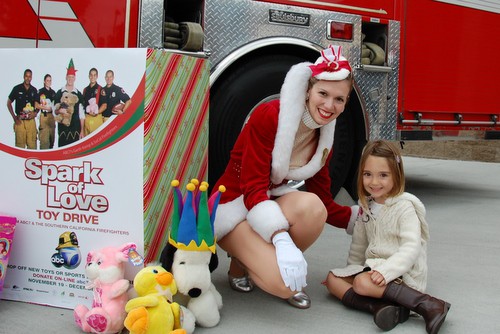 The Radio City Christmas Spectacular will be at the Honda Center in Orange County December 6-7. Toys will be collected at Honda Center during each Rockettes performance so if your family gets a chance to attend, don't forget to bring a toy!
The Steal:  Get 20% off tickets to the Radio City Christmas Spectacular
Purchase tickets to the Radio City Christmas Spectacular tour online at ticketmaster and use the promo code: train to receive 20% off the price of tickets to the show!
What is Monday Madness?
Every Monday, Trekaroo announces on our blog, either a fantastic giveaway or an incredible deal.  It could be a green water bottle, a hotel stay on Maui or theme park tickets. Return every Monday to the Talking Trekaroo Blog for the details. Want a reminder? Become a Trekaroo member or follow us on facebook or twitter.
– – – – – – – – – – – – – – –
Sharlene Earnshaw (aka doubleadventure) is Blogger-in-chief for Trekaroo and the blogger behind Double the Adventure.

Travel with kids to: CA | CO | DC | FL | HI | IL | MA | NC | NY | OR | PA | TN | TX | VA | WA
Comments
comments