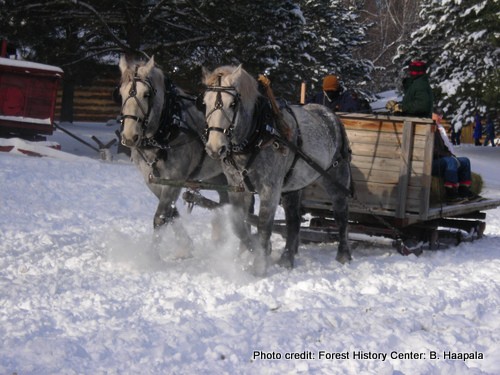 Enjoying a family hike through a pine forest in Minnesota today is quite different than what one would have experienced during the turn of the century. Take a trip with me to the Minnesotan forest of 100 years ago when the trees would have been towering and impressive – some nearing 200 feet! Now, envision yourself layering up with woolens for a cold December day in the early 1900s. Imagine the adventure of riding by horse drawn sleigh across the frozen paths through this behemoth forest. You're on your way (via the tote road) to Northwood's #1 Logging Camp at the Forest History Center.
More than Paul Bunyan
My family was captivated by the colorful characters and the history of northern Minnesota heritage during our trip to Minnesota's Forest History Center. The center is nestled in the towering pines of the Northwoods near Grand Rapids (about a three hour pilgrimage north from the Twin Cities). Here families will find an authentic replica of a turn-of-the-century logging camp complete with charismatic interpreters in period-appropriate costumes. Almost as impressive as the dress, is the acting. Some actors excel at showing the daily woes of life in the Northwoods as curmudgeons. Make sure to visit the handsome fellas in the barn that make all the magic happen. (We all love lumberjacks, but here I mean the Percherons!)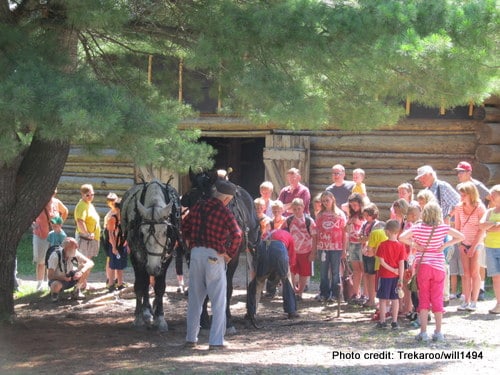 Paul Bunyan is perhaps the most famous persona in lumberjack lore and legend but the truth is ol' Paul and Babe didn't lay down a tree in Minnesota, Maine, or anywhere else until around the 1920s or later. (There is also a pretty tenuous debate in some intra and interstate circles as to who gets to claim the oversized ox and axe man.) The real lumberjacks of the logging boom during the early 1900s (and even earlier) were true heroes and made a rich and lasting part of Minnesota history and culture. Though smaller than Paul in stature, they were larger than life and all were stalwarts. In fact, you'd have a hard time in most rural Minnesota towns finding a local Minnesota native who does not have a relative connected to the logging industry. This visit felt like a link to my ancestral heritage. (I'm oh-so Scandinavian in complexion and spirit.) Sharing experiences like this with my son is definitely a way I keep the Minnesotan logging legacy alive within our family.
Watch as your kids' faces light up when they walk down from the Vistor's Center modern age and get catapulted into the early 20th century as they hear the yells of 'timber' and the clangs coming from the blacksmiths' shop. Kids will get even more excited as the silhouettes of the old logging camp buildings come into view.
Hands-On Fun for Little Lumberjacks
Kids will delight in seeing enormous horses put to action with a 'center show' performance put on during most daily tours. Kids can even be selected from the audience to take part in the lumberjack show. Replete with humor and energy, the crowd laughs and learns at the same time. Even when we visited in the heat and humidity of July and clad in woolen wear head to toe, the jovial cast made the audience feel like it could have been a cold winter's day. The camp has a gorgeous horse team. In the early days, the camp would have had about a dozen horse teams (about twenty-four horses total) as well as men to drive (teamsters) and work them. Audiences learn about how lumberjacks are responsible for everything from "swamping", to felling, to cooking, and being road monkeys, which is where many greenhorns (the likes of the entire audience) would have made their start. Even the most poker-faced fellows smile when they see what you'd be signing on to as a road monkey–hint: it has to do with road apples.
If you're feeling brave, visit the dentist and see how he works on all the teeth in the camp! Kids can visit the Office Wanigan to sign on when the push is around or get their freshly cut cookie stamped with the company symbol. My son got a kick out of the hammering of the stamp. It is a treasure my son will adore for years and is now safely displayed on a shelf in his room. Visitors actually have the opportunity to figure out three different meanings of the word cookie while in camp. I'm not going to spoil them for you. You'll have to trek back in time with your kids to a logging camp to find out the answer!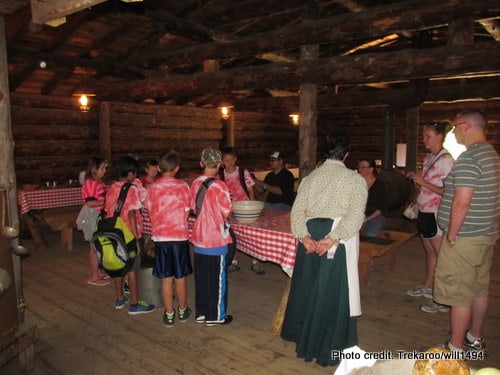 Children (and their parents) sometimes need a little magic to be interested in history or any educational endeavor for that matter. So many different skills can be learned from one old logging camp. Your day is sure to be full of fun, while unbeknownst to younger visitors, they'll be learning new vocabulary, math, reading, and many science-based skills. Today, as my son uses his pretend chainsaw to cut firewood, he yells, "Timber!". The lessons from a logging camp stick even for one so young!
By the time they leave, families will have learned a vast vocabulary peppered with fun lumberjack lingo like: sweatpads, swamp water, blackjack, skid roads, cold shuts, hay burner, splinter cat, greyback, sow belly, and loggin' berries! Older kids may like to take a peek in the outhouse. Brave visitors can venture into the root cellar, which is not only where the rutabagas are kept, but there was a rumor goin' around when we visited that it was where they stored ol' Eldon Marple after he met his maker. Only until the next tote sleigh glided into camp, of course!
A trip to a historical site like the Forest History Center is full of real knowledge and fun facts but is presented in a way that children can really take home the historical content without having to hit the books. It also gives an opportunity for visitors to develop perspective and empathy; two attributes that are sometimes rare in this modern world full of technology and hurrying. Kids of all ages and even adults can marvel at how 'tough' life was back then and appreciate how easy we have it today. (Maybe loading the dishwasher isn't quite as bad as washing the dishes of nearly one hundred people for six hours after making trips to the frozen river for water). I heard two tweens standing near me comparing their 'meager' allowances with the average one dollar per day wage of a typical lumberjack. I heard them whispering to each other about how 'lame' that would be and stated 'Man, that's rough!'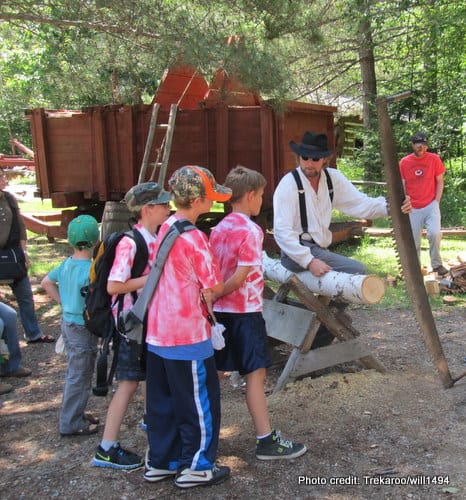 Forging Future Forest Stewards
Camp tours can be self-guided or led by a costumed tour guide and the tours last just a bit over one hour. In that span of time you might just be compelled to delve a little deeper into your family tree. Do you have roots in a logging camp? Mine do! Such a trip can unleash an interest in family, legacy, and heritage–and it's left our family wanting to know more of what made Minnesota the place our ancestors decided to call home. While at the camp, visit the Visitor's Center which brings the past and present together with several other aspects of natural history and the logging industry. The multi-media film about the Cloquet Fire of 1917 had us captivated in under ten minutes. To see the woods from above, take a climb to the top of a 100 foot fire tower where you'll see a panoramic view and the mighty Mississippi roll along the forest landscape past the UPM Blandin Paper Mill. The forest is and always has been an integral part of Minnesota. I'm thrilled that I was able to take my son to the Forest History Center. One of the most important parts of family travel for me is for my son to learn history (both factual information and family heritage) that he can apply to his future. The Forest History Center did just that.
The Forest History Center is just ONE of 26 Minnesota Historical Society sites that raise the bar on historical interpretation — have you been to any others? Do you have travel secrets for entertaining your children while educating them? Have you experienced a fantastic historical site that other families need to know about? Share your stories with us on Trekaroo!
Explore More Minnesota Family Fun:
Top 10 Things for Families to Do in Minnesota 
Lumberjacks and Family Heritage at Minnesota's Forest History Center 

Fun Family Day Trips from Minneapolis/ St. Paul
Explore the best of kid-friendly hotels, activities, and restaurants in Minnesota
Check out our Minnesota Pinterest Board