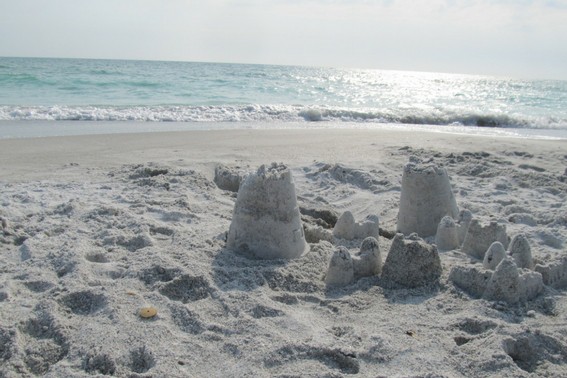 Photo by: Amanda Williams
Sometimes the planning part of a vacation is at least half the fun. Sometimes if you're lucky, the vacation itself is easily the best part and all of your planning pays off. When the stars align and the universe is on your side, you find a place that is otherworldly. A place where you can Just Let Go of all your troubles and also hold on to those precious few moments of pure fun with your loved ones. For my family, that place was the TradeWinds Island Resort.
Marine Memories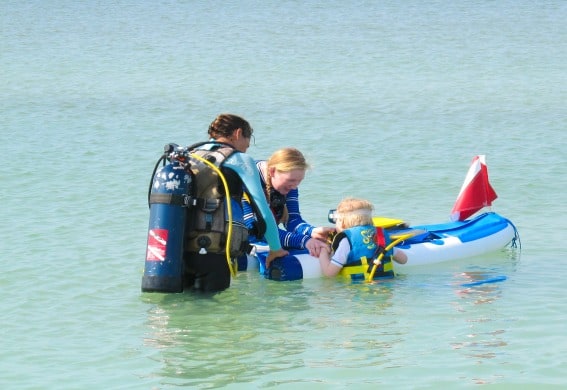 Photo by: Amanda Williams
We all have them–those memories that stick with us for a lifetime. They aren't always monumental — like having breakfast with Disney Princesses or standing in the midst of Machu Picchu. Some are ordinary. Those are the ones I cherish. I live for those moments that are created by exploring together with my children and by creating new experiences in which we have each other's undivided attention. One of these moments played out in Florida on the Sunshine Coast while my family enjoyed every minute at our resort.
I stood in the dark, seeing the first hint of sunrise on the horizon. I debated internally whether to sneak out of the suite while my family slumbered on, maybe grab some good coffee and enjoy the peace, or if I should try to rouse them. Ultimately, I chose to let the baby sleep and stay back with dad while mom and the big boy had an adventure.
There were a lot of firsts for the boys on this trip: first time to the ocean, first time on a plane, the first time to Florida, and first time seeing seashells. This was the first time in a LONG time that I'd get a chance for some dedicated one-on-one time with my first born.
"Buddy, wake up." I whispered into his ear. "Wake up." Trying to ease him into an awakened state and not stir the rest of the family, I finally got a sleepy response with a squinty-eyed face.
"Do you want to come looking for shells on the beach with mommy?"
To my surprise, my little monkey who is also not a morning person, slid out of bed and silently pulled on a rashgaurd and shorts and we were out the door.
We padded down the stairs, barefoot on the cement, hand-in-hand and out to the beachfront. A few indistinct shadows moved along the shoreline in the distance as we made our way through the soft sugar sand to the wet surf.
"Hey bud, look around. Only a few other people are out here – we have the beach and the ocean and the shells all to ourselves!"
It hadn't taken him long to move from fast asleep to sleepily becoming my sidekick, to being an eager little boy ready to take on the world, one bare foot at a time. I was secretly delighted that my little boy had woken up with adventure in his heart and agreed to come down with mom rather than sleep in. Moments of simple time together are becoming more rare as he becomes a big kid. I'd been collecting these precious moments, like a bird collecting nest material, lining my heart with tender moments. Kindergarten, after all, was on the horizon and just as one dreads an oncoming squall, so too was I dreading the day my boy would no longer be as free to set off on forays with mom on a whim. But for now, the beach, the sea, our time…they were ours.
The balmy morning was just coming into view as we got to the waters' edge. We spent some time puddling and I drank in the laughter and excitement of watching this first time experience as my son splashed and stomped and let loose howls of delight. Something about the muted tones of daybreak added magic to the morning. This is the stuff vacations are made of, I smugly thought to myself.
As the sunbeams started showing detail, so did my son in the variety of shells. It was interesting to see his rating of the shells uniqueness change as he found more and more diverse offerings! Starting with more common cockles and scallops, we soon found some real treasures like worm snail shells, Lightning whelks that were nearly perfectly intact, and some intricate boring turret snail shells, which I told him, were "ice cream cone shells." We must have collected several pounds and by the time we were feeling the heat descend from the sky my pockets were akin to a chipmunks cheeks, packed tight with our scavenging bounty.
It felt a bit like a race against time – I knew that the perfect temperature and respite from the burning sun would only last a short while more, so we strolled along, the waves gently breaking beside us as the tide came back in. "Can we go just a little further, Mom?" We walked until signs and barricades suggested we turn back.
That morning, we didn't find any conch shells. I have vivid memories of my own vacation to the same shores with my parents and I was ecstatic as I found a pail full of these gorgeous, perfect shells. I took them to our room and began rinsing them – when suddenly they came to life! All of the shells reanimated under the warm water – my introduction to the creatures that sometimes inhabited in the conchs! Naturally, I gathered them up and wished them a fond farewell as I released them back into the ocean promptly. I was hoping we'd find a few this trip to have a beach biology lesson as we wandered and walked in wonderment together. Those unplanned travel surprises are the kind that cannot be purchased or guaranteed but when they occur, you can be certain they are the events that end up in the photo album and they are the stories that are retold while recalling 'the good old times!'
The resort is set up for families to be carefree all day, everyday. There is SO much to do that we felt leaving the resort would be absurd! We dined, played, and occasionally broke away from the fun for a little sleep–all on property. Throughout the day we'd make countless trips up and down the High Tide Slide. We'd enjoy a dive-in movie and dinner al fresco at the Flying Bridge Restaurant. We braved the ocean waves and we all exited with wide smiles and a better idea of what fun SNUBA is! We even saved room for ice cream and watched an iconic Florida sunset come to pass. We missed regular bedtime by hours. We fell onto our beds worn out and happy and full and anticipating more resort adventures.
The Early Bird [Gets the Shells]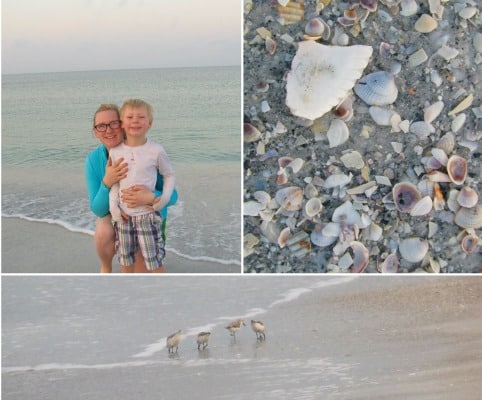 Photo by: Amanda Williams
Normally, I'm a gal that sleeps until 8 a.m., but if you happen to be in Florida, never pass up an oceanfront sunrise. Never pass up the sunsets either! Just succumb to the beach vacation reality: you don't want to miss a thing, so you'll end up missing sleep!
"Wake up, buddy. Do you want to walk with mom or sleep?"
It didn't take more than three minutes to get out the door that last day. We had the goal of being the very first people on the beach.
Walking hand in hand, and this moment, this morning…I tried to commit it to memory and lock it up tight. There were a few more "ice cream cones" to be found that day. Every shell pile-up held a vestige of a formerly whole, delicate sand dollar. We drew our names in the sand – because he could do it now, a seasoned veteran of the four letters required of him. Terns and gulls and other shorebirds flocked to the surf, the fickle fowl hoping for fast food. Though a formally trained ornithologist should know better, I even turned my head the other way as my boy gleefully gave chase to some gulls, watching the birds scuttle then take off in unison, a great feathered wave. The lady meditating nearby was kind enough to alert us to the dolphins out yonder, squealing and calling to the new day.
Yes, the mattresses at the TradeWinds are divine and a little siesta is what vacations claim to be for, but I implore you—set that alarm! Roll out of bed, bring your kids down to the beach, and have those simple experiences so effortlessly afforded to the guests of the resort. Be early birds AND be night owls.
The sun settled in the sky, reigning over the sea and the sand, with the High Tide Slide humming, slowly inflating, the harbinger of a new day at the Tradewinds Resort.
We entered the room just as the rest of the family started to stir.
"Dad! Guess what we did?! We saved FIVE 'hermit crabs' from the beach tractor rake! They had claws and they moved! There were REAL 'hermit crabs' inside!"
Just Let Go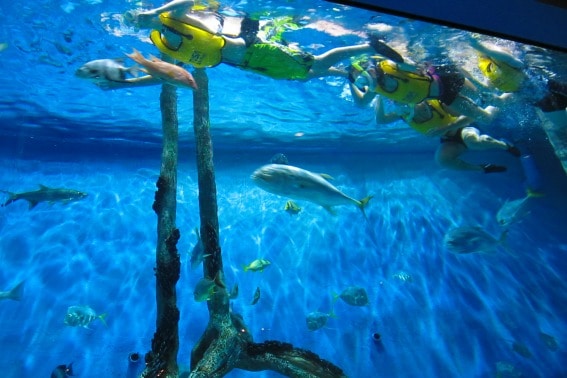 Photo by: Amanda Williams
Hearing the excitement in your child's reiteration of your morning adventure will melt your heart. Skipping the coffee and the much-needed rest will seem like a small price to pay when you get a fleeting moment when you're still the coolest person in their world! These are moments that can be created in few places – the safe, salty sand in front of the resort is the perfect place for making memories in the early morning. You will have to plan time for the games and activities at the Konk Center, steel away from the sea and sun and eat something on-site — it's all amazing and you'll need that energy for more adventure. Say yes to the hydraulic trampoline and the glowing toys that kids whip into the sky at night. Do it all. After you've satisfied your need for fun, fuel up on-site at the noteworthy and delicious Rumfish Grill, made popular by its fantastic food and famous by its gorgeous tanks featured on the hit TV show Tanked.
Take advantage of the intimate, private-feeling, immaculate beaches. Just Let Go. (Of plans, schedules, deadlines…) You'll be surprised by how following the ebb and flow of the tides can transport you to exactly where you ought to be. And then they'll ask you to hit the slide. Over and over and over. So enjoy the peaceful calm of the Gulf Coast and brace yourself for days full of fun.
Disclosure: My family and I were guests of the TradeWinds Island Grand Resort. All opinions are my own, as usual.
Featured photo by: Bigstock/shakzu