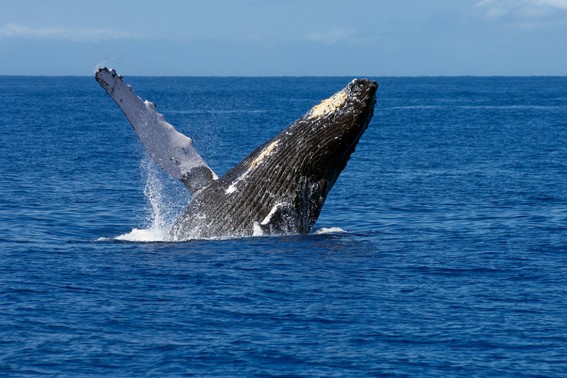 Where to Find a Humpback Whale near Maui
Lead and Social Media Photo by: Bigstock/raphoto
One thing you're sure to notice immediately upon arrival is Maui's fascination with the mighty humpback whale. Of all the islands and all the channels in between, the southwest coast of Maui offers the best chance to see these mighty creatures. The whales seem to favor the warm, protected waters within the boundaries of Kahoolawe, Lanai, Molokai, and Maui. The area of ocean that surrounds Maui has been designated as the Hawaiian Islands Humpback Whale National Marine Sanctuary.
From Kaanapali in the west to Makena in the south, several dozen commercial boat operators offer tours that will guarantee a whale sighting (in season—November through April). It pays to shop around, as some will offer discounts to children and free transportation to and from your hotel. Others offer breakfast and/or lunch and include a snorkeling trip along with the whale watching.
If you opt for a tour that includes a snorkeling excursion and it's during the whale-watching season, be sure to stick your head underwater and listen carefully. One thing that differentiates humpbacks from other whales is their ability to sing. While no one has yet been able to decipher what their songs mean, it is clear that they communicate. Researchers from the Pacific Whale Foundation in Kihei say the singers are "escort males" that protect the females and their offspring. Intriguingly, all humpback whales sing the same song, over and over again.
But even if you can't hear the song, the whale-watching trip will be an unforgettable experience. You have to keep your eyes on the horizon and look for spouts. As soon as you see a spout, keep looking in that same area for a whale to breach. A breaching whale rises out of the water, arches its enormous body, and splashes back into the Pacific. It's an amazing feeling to witness such an impressive force of nature. When you see a mammal weighing several tons throw its body out of the water and land with a resounding "thump," it's quite awe-inspiring. Full-grown humpback whales can be more than 45 feet long and weigh more than forty tons!
The waters surrounding the Hawaiian Islands are designated a safe haven for these return visitors. Commercial whale-watching tour operators are prohibited from chasing a whale and from moving too close. Nothing, however, prohibits the sometimes curious whales from investigating you! Most boat captains, upon sighting a whale, will simply turn off the engine or take down the sails and drift. Oftentimes, a whale will swim right up to the boat, then turn on its side so it can check out the passengers with its large eye. Once you've stared right into the eye of a whale, you'll never forget the experience.
For whale-watching tours families can expect to spend $30 to $99 per person, depending on the season, the length of the tour, and the inclusion of meals.
Humpbacks can also be seen along the west and south Maui shoreline. Favorable vantage points along the west shore include Papawai Point, McGregor Point scenic overlook, Launiupoko State Wayside, and Wahikuli State Wayside; on the south shore, Wailea Beach Park. The Pacific Whale Foundation, 300 Maalaea Road #211 (800–942–5311; www.pacificwhale.org), supports its research with daily whale-watching cruises beginning in December.
Related Articles:
________________________________________________________________________
Licensed from GPP's Fun with the Family – Hawaii 2007 edition. Authored by: Julie Applebaum-DeMello.
updated: April 29 2009 by GPP_HI