Don't you just love it when you're traveling with your family and you happen upon a town that makes you feel so comfortable and at home that you wish you didn't have to leave? That was our family's experience in Marquette, the largest city in the Upper Peninsula (U.P.) of Michigan, on beautiful (and immense!) Lake Superior. While the weather during our visit could have been better, we still found so much to do and so much to see that we wish we hadn't needed to leave so soon!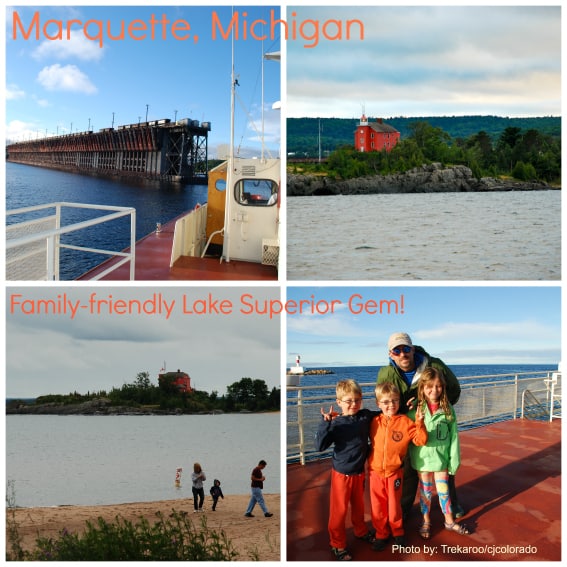 While the U.P. is a bit off the beaten path, that is exactly what makes a visit to Marquette worthwhile. For starters, we found it to be a perfect launching-off point for exploring the wild natural beauty of the surrounding area–all but one of Michigan's nearly 200 waterfalls, intriguing lighthouses, hiking, biking, skiing and snowshoeing trails, and wild animals galore. Since we had stormy weather during our visit, we had to save most of those adventures for future trips and focused instead on what we could do in and around town…and there was plenty!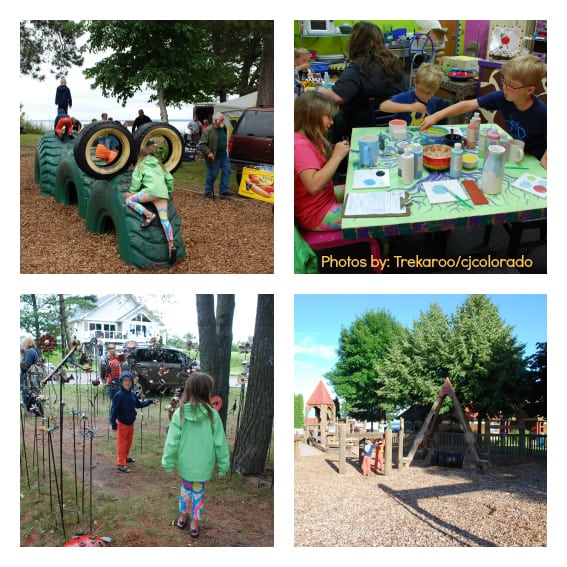 Marquette is a town that celebrates family and fun as well as its unique location and heritage. Our first stop for the weekend was dinner at the iconic Up North Lodge; a beautiful big wood cabin nestled in the sprawling forest, which serves some seriously tasty food. We decided it would make for a fun destination on a snowmobile trip during the winter. That same evening, Marquette had just wrapped up a ton of activities with the annual Blueberry Festival. We made sure to get our hands on a beautiful crate of fresh blueberries, which happened to be our favorite souvenir from the trip! The next day, we jumped into Marquette's celebration of art with a quick visit to the Outback Art Fair and Art on the Rocks. As the skies opened up again, we quickly looked for a place to eat lunch and explore the downtown area. We enjoyed sandwiches and soup at Doncker's Restaurant, which is a kid-friendly local favorite that features fresh, homemade food (and some delicious homemade candies for dessert)! Inspired by our morning looking at the art exhibits, we scooted up the street to a paint-your-own pottery place called HOTplate where we giggled, ooohed, and ahhhed over our various creations. If we'd had a little more time, we would have made a stop at the Upper Peninsula Children's Museum, too.
Marquette has a number of family-friendly restaurants and activities to explore during your visit!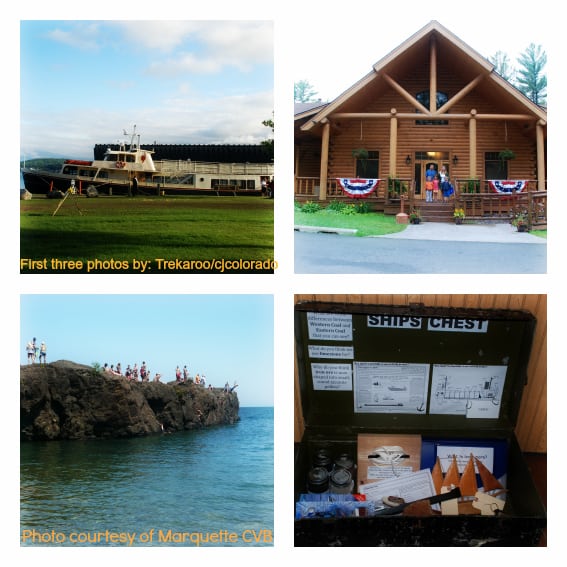 As it was, we caught a break in the clouds just in time to hit the Kids' Cove Playground for a few minutes before a harbor cruise that gave us insight into the history of the area's past mining operations and gave us some ideas for future trips. We all gasped as we saw locals jumping off the famous Black Rocks at Presque Isle into chilly Lake Superior! After passing by the lighthouse and Maritime Museum on the cruise, we made sure to stop in the next day to explore the history of shipping and shipwrecks on the lake. We were pleased to see how kid-friendly the museum was–we had a hard time dragging the kids out to head home! In all, the weather only hampered our weekend exploration a bit on this quick visit; but the family-friendly vibe of this beautiful town on the lake made us feel like we could settle in for quite awhile.
We enjoyed our stay at the Comfort Suites in Marquette; there are several family-friendly hotels available in town, as well.
*Disclosure: While this visit was sponsored by the Marquette County CVB, my opinions and reviews of the area are entirely my own.