On a night just like any other night, at a restaurant in the Pacific Northwest, something magical happened. Something so splendid it became the highlight of our 8-day journey through Vancouver, Victoria, and Seattle.
But that's not where the story began.
Exploring Pike Place Market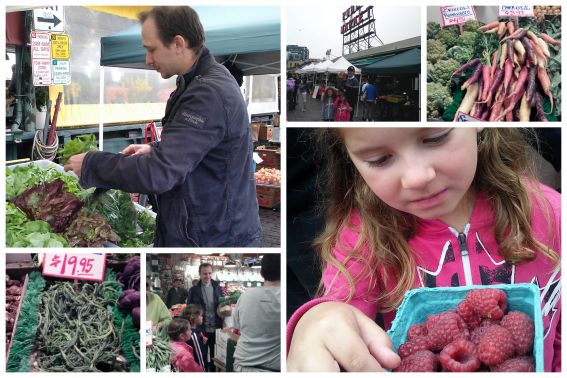 Earlier that morning, my family toured Pike Place Market with Chef Jelle from The Four Seasons' ART Restaurant in Seattle. Offered to guests of the hotel on a request basis, or to any visiting family on select "Organic Wednesdays," touring the Market with Chef Jelle was a treat. Chef Jelle, who was extremely down-to-earth and personable, even with our littlest ones, gave us background information on the market and on the food he was needing to gather for dinner that night. He allowed my girls to help him select a few of their favorite vegetables from the organic produce stalls, and even gave them some samples to nibble on (including a perfectly ripe basket of raspberries that melted in our mouths!). Somehow, Chef Jelle even got my picky eaters to try Sea Beans (he hid the name from them before they ate!) Touring the Market was a great way to enjoy this major Seattle attraction, not just because Chef Jelle was personable, knowledgeable, and friendly, but also because it gave our meanderings purpose.
Read kid friendly reviews of Pike Place Market and Chef Jelle's ART Restaurant Market Tour
The Magic of a Wonderful Meal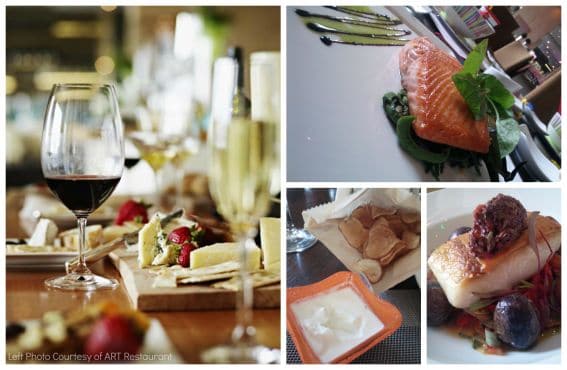 Fast forward a whole day full of Seattle sightseeing, and we found ourselves back in the lobby of The Four Seasons, ready to head to dinner. Nearing the end of our 8-day PNW vacation, we were all a bit tired of eating out and were craving something spectacular; ART Restaurant delivered! The magic of this meal was in so many different things:
1. Epic Food & Drinks
The meals served at ART feature locally grown produce, sustainably caught seafood, and only the highest quality ingredients. Oh, and the food is simply amazing. Sipping a few glasses of wine, enjoying some amazing Copper River Salmon, exquisite sides, and salads, made us want to linger longer.
2. Kid Friendly Perks
ART doesn't simply cater to grown up tastes, our kids were treated as valuable guests with small touches making them feel welcomed and at home with every portion of the meal. From the LEGO inspired silverware, to a lengthy interactive coloring activity book to complete during the waiting periods, to a kid friendly menu with great surprises (like the Seattle Space Needle shaped pasta!), kids are not an afterthought at this restaurant. The freedom for our kids to be kids gave us ample time for conversation, laughs, and great family moments together. If your kids eat their meal, consider ordering the Ferris Cool Spin, a giant Ferris wheel ice sculpture lined with cotton candy, a giant stack of homemade donuts, and an ice cream sundae!
3.  Parent Friendly Planning
I am always hesitant to ask the server to bring the kid's food before the adults. Although they certainly get hungry and squirmy well before the average adult meal is ready to be served, I often am left with full and tired kids as my meal approaches. Our meal at ART was perfectly timed; from starting with artisan potato chips, to bringing out kid's meals a bit early, the flow of the meal went off without a hitch. The restaurant's surprise trick up their sleeve provided the perfect way for us parents to enjoy the end of their meal in peace. Magically, as the kids finished off their meal, they were whisked off to the kitchen to join the pastry chef to make their own cotton candy treats!  They returned to the table full of stories and excitement, and we got extra time to enjoy our meal!

The magic behind ART restaurant was subtle. My kid's grew fond of Chef Jelle and the restaurant during our early morning tour of Pike Place Market, and they were kept busy, well fed, and entertained during the meal without the flashing bells and whistles of a kid-centric fast-food theme. Two hours after our arrival, without a hitch, time out, or frustration, I took the final sip of my delicious glass of Pinot Noir and told my husband that our meal was my favorite part of our Pacific Northwest tour.  
Read my full review of ART Restaurant and Lounge 
Disclosure: I received a complimentary meal at ART Restaurant as a guest of Four Seasons.  I was not required to state any particular view; all opinions are my own.