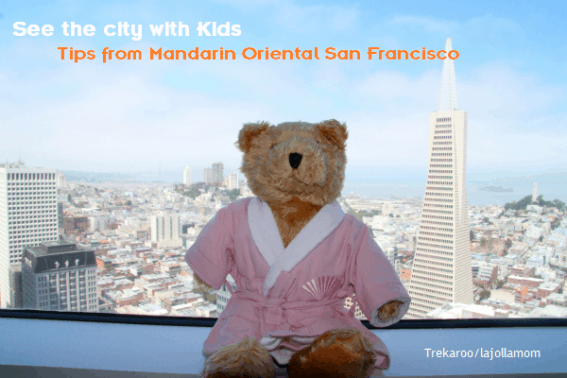 We're fans of Mandarin Oriental hotels. In fact, my 5-year-old never associated a fan with anything other than a Mandarin Oriental hotel during her early years because we lived in Hong Kong, where the flagship hotel is, and we tend to gravitate toward these chic hotels when we travel. So, when it came time to book a quick couples trip up north, the Mandarin Oriental San Francisco was a top choice. Needless to say that when my husband and I returned home with the above teddy bear in tow, my daughter immediately knew where we had stayed and we caught some grief (she did, eventually, get over it).
Though I was thrilled to enjoy a weekend away with my husband, I kept thinking about how much my daughter would love the Mandarin Oriental San Francisco. I'm bringing her back in the new year, so I stopped by the concierge desk to ask for kid-friendly recommendations. First, allow me tell you about the hotel.
Why Mandarin Oriental San Francisco Is Kid-Friendly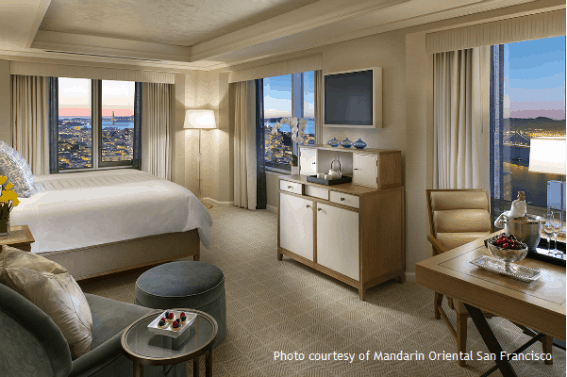 The hotel, located in the city's third tallest building, exceeded our expectations all the way around. Our newly-renovated room was spacious, light and comfortable, sporting views of BOTH the Bay Bridge and the Golden Gate Bridge through giant windows. The daytime view was spectacular, but the nighttime view was even more so. I could have very easily moved in for the long haul plus there's loads of space in this style of room for kids to sprawl out. If you are traveling with kids, the Mandarin Oriental San Francisco can provide cribs, kid-sized bathrobes and slippers, baby bath amenities, and bottle sterilizers and warmers.Video games and DVDs are on offer for older kids.
With advance notice, babysitting can be arranged. Do it, because I highly recommend a gin cocktail at Brasserie S&P on the lobby level. They specialize in gin and housemade tonics that even the most skeptical gin drinker (a.k.a. me) will enthusiastically enjoy.  Also, the newly renovated spa and fitness center are now open. The spa infuses Eastern influences with contemporary therapies and, frankly, I've never met a Mandarin Oriental spa I didn't think was above 5-star. Due to the renovations, I did not experience it first-hand but the reviews are stellar and the decor is exactly how I wish my house looked.
The Mandarin Oriental San Francisco is located in the Financial District, within walking or stroller-pushing distance to many shops, restaurants, and attractions. The Mandarin Oriental San Francisco offers a hotel car that takes guests within a short radius of the hotel (subject to availability), a convenience I would certainly utilize with a small kid in tow. I also could have just eaten in the hotel between Brasserie S&P and room service. The room service menu caters to an international clientele and is enormous. Yes, there are kid's menus throughout the hotel.
We were extremely impressed by the level of customer service offered throughout the hotel and felt truly taken care of. Not to mention, everyone was beyond nice.
Things To Do In San Francisco With Kids
I highly recommend ditching the guidebooks and utilizing the concierge desk. Describe your needs and let them tailor a specific itinerary. This is exactly what we did so, as I mentioned earlier, at check-out I asked for advice regarding what to do in San Francisco with kids. Below is a brief summary of their recommendations. What you choose to do (obviously) depends on age, amount of time you have to spend in San Francisco, and whether or not you've been prior.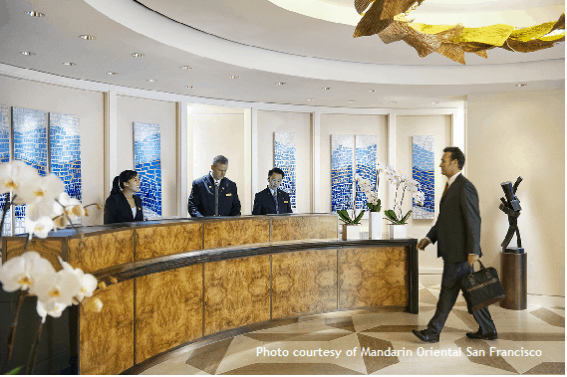 Golden Gate Park
Golden Gate Park features more than 1000 acres of parkland and a wide range of activities. Highlights include:
California Academy of Sciences: This must-see for kids features an aquarium, a planetarium, a natural history museum and more. At an impressive 412,000 square feet, plan to spend a decent amount of time here exploring the living roof, testing out the earthquake simulator, the rainforest, and more.
Japanese Tea Garden: Enjoy a serene, but quick walk with the kids. Admire the koi fish and the giant Buddha.
Strybing Arobretum and Botanical Gardens: Let the kids burn off some energy at the Botanical Gardens while you try to sneak in a few photo opps among the 7500 varieties of plants and trees. Bring a picnic.
Fisherman's Wharf
Walk or have the hotel car take you. We even looped through Chinatown for lunch on the walk back to the hotel.
Sea Lions at Pier 39:  The sea lions remain despite efforts to move them. They're fun to look at!
Aquarium of the Bay: Learn about the marine life in the San Francisco Bay. Walk through tunnels, touch sea life, and brush up on conservation.
San Francisco Maritime Museum and Park:  Have a look at the four national landmark ships just behind the museum. It's a National Park, where kids can participate in the Junior Ranger Program.

A ferry to Alcatraz (suitable for ages 8 and older): Visit the famous prison. The self-guided audio taped tour (offered in several foreign languages) takes approximately 2-2.5 hours including the ferry ride. Reservations are strongly recommended.
San Francisco Zoo
All ages love the San Francisco Zoo. Beyond the usual zoo animals, see  Gorilla World, Australian Walkabout, Penguin Island, Koala Crossing, the huge Children's Zoo and more.
Ride A Cable Car
It's a symbol of San Francisco and, let's face it, what kid doesn't love a moving vehicle. Ride in an open air car to Fisherman's Wharf, Chinatown, or Union Square. A cable car ride is an inexpensive must. At the Cable Car Museum, see the cables and apparatus responsible for keeping the cars in motion.
Exploratorium
Most suitable for ages 8 and older, kids can roll up their sleeves and play with over 475 hands-on science and art exhibits at the Exploratorium. Then, take a stroll through the Palace of Fine Arts across the street. Rest and watch the ducks around the pond.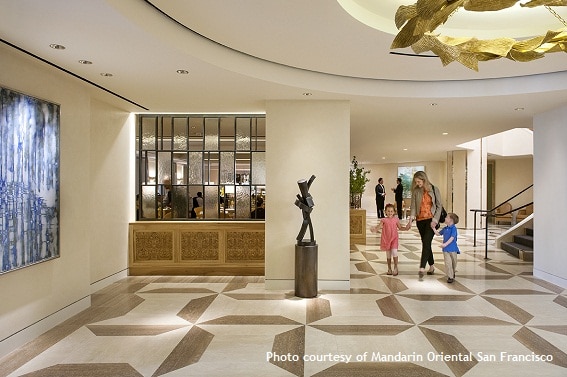 If you're a Bay Area local or happen to be visiting during the first weekend in December, stop by Mandarin Oriental San Francisco on December 8 from 2:00-4:00pm for Ho-Ho-Homes for the Holidays. Kids will work alongside Executive Chef Adam Mali and his team to build lavish gingerbread houses and other baked creations to take home. Parents can enjoy bubbly and other festive drinks while kids sip hot chocolate, don kid-sized aprons and hats, and decorate with an array of sweets. Contact Mandarin Oriental San Francisco for more details.
*Disclosure: I visited the Mandarin Oriental  San Francisco on a media stay. All opinions are my own. My husband can't stop talking about this hotel experience…and he's picky, picky when it comes to luxury hotels. It was pretty much that awesome of a stay.
___