Today's guest post was written by Amanda Williams, an energetic mom to an adorable little boy and native Minnesotan. She once told Trekaroo's editor that single digit temperatures were great for ice making. Trekaroo's editor firmly believes that single digit temperatures are good for nothing.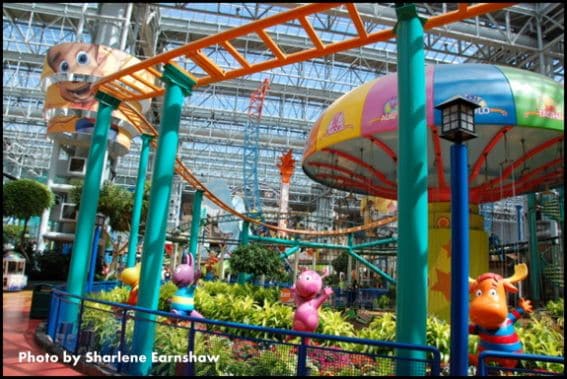 It is no secret that a Midwestern winter is cold, especially in my home state of Minnesota. Growing up Minnesotan, I learned to never let the weather keep us from having a great time, both indoors and out. In the face of wintery weather my family decided to spend a weekend indoors and we went BIG by going to the largest mall (Mall of America®) and the largest indoor waterpark (Waterpark of America) in the country. I have to admit, I was a bit skeptical bringing a 20-month-old to a giant mall and all of the "big slides" at the waterpark, but this trip totally changed my mind and reminded me never to underestimate a kiddo or a destination for the potential for family fun!
Wet and wild fun at the Waterpark of America
Waterpark of America has so much to offer for kids all ages, from tiny tots to adventurous teens and tweens. We started out in the lazy river, which tours around the entire park. As we drifted along in a tube in nearly bath-warm water, we sometimes found ourselves in a deluge beneath a waterfall or going through a cave-like tunnel. The shallow pool (ankle to calf deep) includes a large climbing structure for younger kids and three medium-sized slides, along with spray guns, dumping buckets, and a small kiddie slide (which was a favorite among many children!) I was surprised that my son wanted to try a big slide – so we put him on our laps, and took turns sliding down. All giggles and grins; he kept repeating "'gin, 'gin"! (That's his version of again!) He learned many words that weekend, including: Slide, Ride, Again, and Fun.
We did end up taking our son down the "ten story family slide" – which was a success! When he got to the bottom, both me and my husband looking for his reaction, were quite surprised when he said "Vroom, vroom!" This is toddler code for "Let's do it again! That was awesome!" The wait for this popular slide is the longest one in the park, but still only about 10-15 minutes.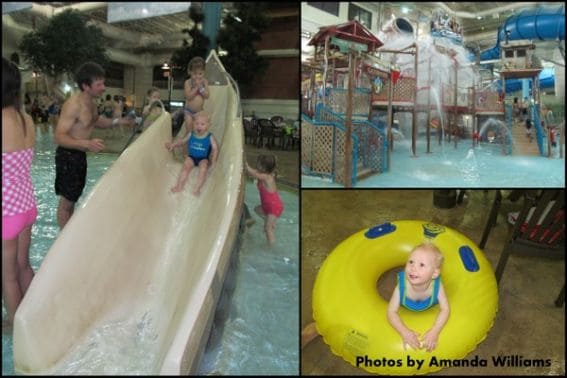 We swam until "closing time." Do make sure you pay attention to the times the park is open – there is a different schedule for Radisson Mall of America hotel guests than the general public, so check in advance to make the most of your time.  We really enjoyed our room at the Radisson, especially the bunk beds for the kiddos. We also had the convenience of a refrigerator and microwave in the room, so we could pack snacks and cater to toddler grazing habits! The room was big enough to accommodate our small family, was very comfortable, and really clean. It was a bonus to have exclusive access to the waterpark and the availability of the shuttle service to the Mall and airport.
Read my full review of the Radisson Mall of America on Trekaroo.

Mall of America with kids- so much more to offer than shopping!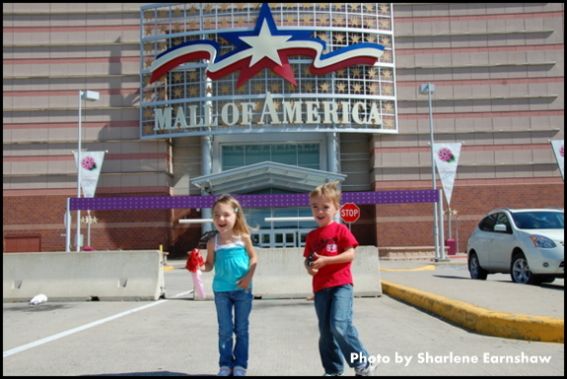 Up until our recent visit, I hadn't been to the Mall of America for many years and my husband and son had never been.  Before our visit, I became a tad stressed thinking of masses of people likely getting their last minute holiday shopping done while I was trying to keep track of my busy toddler. Luckily, Mall of America has much to offer than department stores and specialty shops- it has its own aquarium and amusement park too!
We started with a trip through the largest underground aquarium in the world, SEA Life Minnesota Aquarium™. As we strolled along, echoing through the tunnel for most of our morning you could hear a small voice shouting excitedly, "Ish! Ish! Ish!" I do think that my son is a bit too young to fully appreciate how cool this aquarium really was—but as self-proclaimed science nerds, my husband and I loved it! We also opted into a "Behind the Scenes" tour of the operations of the aquarium which I'd highly recommend. We were able to see a feeding of the saw fish and shark rays, got within three feet of a Ridley's sea turtle, and saw the lab and kitchen for the rehabilitation and care of all the water critters.
We knew that we had a big day and wanted to get it all in before nap time – most parents understand how that sometimes dictates your schedule – so we scooted on over to Nickelodeon Universe®. I was surprised by how many rides my son could enjoy despite his toddler-size and young age. The only thing to worry about with a toddler in Nickelodeon Universe is running out of points on the wristband!! We were able to ride as "chaperones" for free on most of the rides with my son, so his 40 points lasted quite a while—about 16 rides. One thing to note is that for small kiddos you are required to accompany them, and the restraints are not made for large parents. This is where our son learned to say "ride." He had never been on any sort of rides before, so this was an exciting surprise. It took about three rides for him to realize as we dried his tears and ushered him to the next, that when one ended, another fun one was sure to begin!  I was really surprised by the number of "stroller families" that we saw among our ranks. Prior to our trip, I didn't consider MOA a 'toddler-friendly" destination, but again, this was a happily erroneous stance, disproved not only by what I experienced, but by a little investigation into the offerings they feature for families—including Toddler Tuesdays! It would take a few days to fully enjoy everything the Mall has the offer—including The LEGO Store® and various dining options including the Rainforest Café.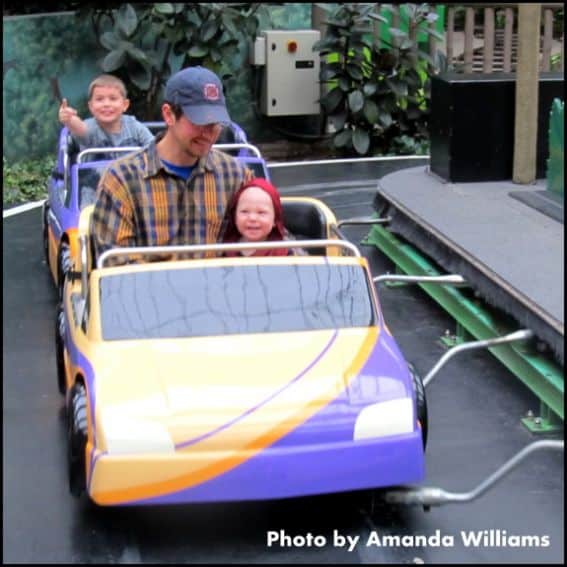 From a family perspective, this was a stellar trip. Our toddler cannot voice it in so many words, but while sharing trip photos of rides and slides on our television,  he started trying to climb onto the television to have fun all over again. All the while he was signing "more" and had a desperate look on his face! It was an entertaining and heartwarming sight—and I was pleasantly surprised by just how fun this trip was for the entire family.
*Disclosure: The author received one complimentary night of lodging at the Radisson – Waterpark of America and complimentary Waterpark admission wristbands for the duration of our stay for the purposes of writing this review. In addition, she received complimentary admission to SEA Life Minnesota Aquarium™ and a complimentary wristband with 40 points for rides at Nickelodeon Universe® at Mall of America® to facilitate this review. She received no other compensation, monetary or otherwise, and my opinions and thoughts about the entire experience are 100 percent her own.