My eleven year old embraces any opportunity to make me nervous.  Yet as she concentrated on connecting the fully powered soldering iron in her hand with the small piece of metal before her, I ignored the devilish glance she cast in my direction and didn't feel a single pang of doubt.  Today's event is a group soldering activity.  Young, old, fathers, mothers, and kids are seated around a table donning safety goggles and soldering, most of them for the first time. I don't know where my child will use this skill again but the confidence she gained from discovering that she could manage such a tool was even better than the cool lighted recycled metal pin she constructed. This is the essence of Maker Faire.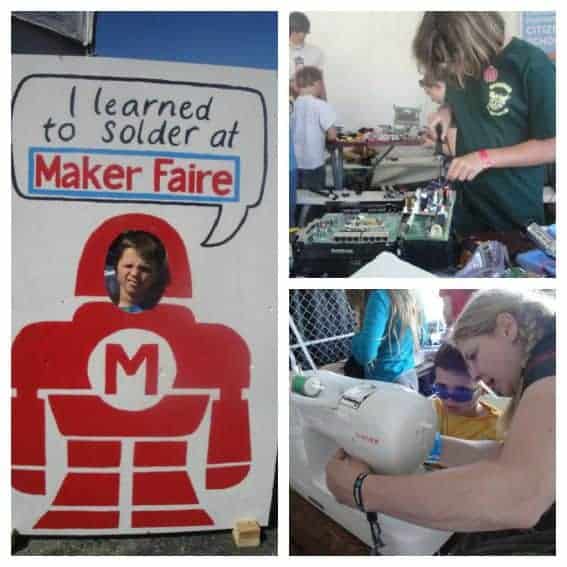 A family-friendly festival embracing invention, creativity, and resourcefulness, the Maker Faire is a science and county fair all rolled into one. Scenes like the group soldering session play out in various ways  throughout the event.  My 7-year-old son took his first crack at sewing when he designed and reworked a standard men's shirt into a super hero cape.  Later my kids tested the powers of laser beams by crawling under them to escape detection.  This should be a very handy skill should they ever need to escape a gulag. The point of such activities, however, is stepping outside your comfort zone and getting up close and personal with technology.
Like other events fueled by innovation and ingenuity, the Maker Faire was born in the Silicon Valley. Launched at the San Mateo Fairgrounds in 2006, it was an offbeat exhibition of 100 makers, hand-on workshops, demonstrations and DIY competitions. It has since grown to over 500 exhibiting makers and inspired additional Maker Faires in Detroit and New York City. Community-driven, independently produced mini Maker Faire events are also popping up around the world.
Families are the latest population to join the legions of crafters, hobbyists, engineers, tinkerers, tech enthusiasts, scientists, authors, and artists who flock to this event.  In fact, family participation has spawned spinoffs with "Maker" summer camps and after school programs.
While the bulk of the activities at the faire revolve around crafts, engineering, recycling, building, science and technology, there are some classic major Maker Faire attractions that are not to be missed as well.  These include:
The Life-Sized Mousetrap:  A hand crafted, 16-piece interactive sculpture set atop a 65,000 square foot game board.
Coke Zero and Mentos Show: Geysers of soda shoot over twenty feet into the air in this spectacular mint-powered Maker Faire version of the Fountains of Bellagio in Las Vegas.  If you want to see this demonstration, go early to get a spot because everyone in the fairgrounds turns out!
Power Racing Series: Heavily modified youth ride-on toys are raced in three different styles of competition: drag race, road course, and an Endurance Battle Royale.
Cupcake Cars: Small go-kart type cars shaped and decorated like cupcakes.  These sweet modes of transportation are powered by an electric wheelchair motor.
Noteworthy Attractions My Kids Enjoyed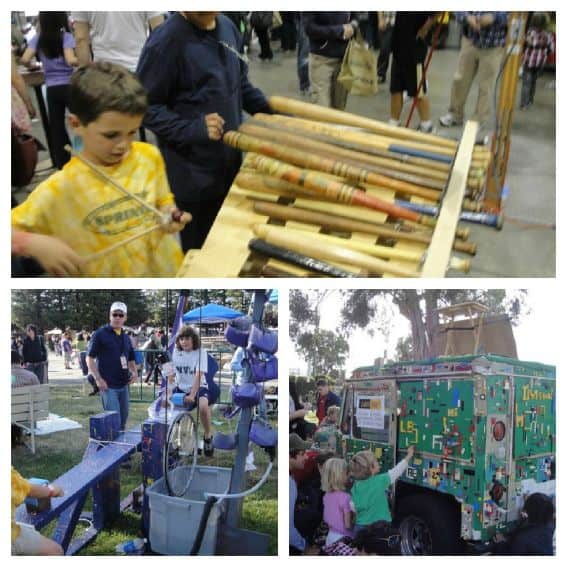 From unusual vehicles, like a motorized barcalounger to workshops on lock picking, there is so much to see and do at the Maker Faire.  Here are just a few attractions that resonated with my kids.
The Water Totter:  This seesaw uses kid power to drive a water fountain.  I begged the guy for help wearing out my high energy children by letting them ride longer than the allotted 5 minutes but, alas others were waiting!
The Lego Jeep: A unique interactive and ever changing art display where children build onto and rearrange Legos on a Jeep fashioned into a building station.
The Instructables Booth:  A place where visitors can pick up lots of cool projects they can make at home. My kids and I have turned our patio into a work station where we've made magnetic putty, cake pops, duct tape bags, and much more using the Instructables worksheets.
The Swap-O-Rama:  This tent was filled with second hand clothing that the kids used to create a new wardrobe piece or functional item.  This is where my son fashioned his cape.  My daughter gave an old t-shirt a second life as a workout towel she cut, patterned, and sewed.  The possibilities were endless and the kids were delighted to get some experience on a sewing machine.
The Expo Pavilion:  When you see the projects coming out of the Young Maker community, you'll be blown away!  My kids found a lot of inspiration here and had a wonderful time testing fun and offbeat products like a xylophone made from baseball bats and a pinball machine constructed of recycled wood pieces. This pavilion featured everything from robotics to printmaking, and the kids were exploring every area.
One thing for sure is that the spirit of the Maker Faire is catchy.  I knew my kids were hooked when my daughter and I walked into a tent filled with old computer parts, keyboards, and assorted odds and ends.  I saw a tent full of junk. My daughter saw a garden sculpture.  With a little mechanic's tape, the soldering iron, and glue, she turned junk into art — and another Maker was born.
If you're interested in going, it's easy to find a Maker Faire near you. 
Maine | Oregon | New York | Ohio | California
---
Travel with kids to: CA |CO | DC| FL | HI | IL |MA | NC | NJ | NY | OR| PA| TN | TX | UT | VA | WA