I found a place that hearkens back to fond memories of family picnics, summer camps, and long summer days spent paddling, splashing, diving, and laughing in the water. For me, growing up in my 'tweens' meant staying out until 'the ten o'clock whistle' blew for the curfew in our small town. The television was seldom on and the internet was still mostly for researching school assignments, not for social media. We lived for playing outside or maybe having a 'movie night' on a Friday after the high school football game. Those times of wholesome family fun seem long gone, and even writing these memories makes me feel older than I should, with the onset of 'smart' devices and such. Recently, I saw some of that same wholesome goodness from my generation come back to life on a private island paradise in the middle of nowhere. This relapse into 'the good old days' made me wish that life was simple again. And, for a few days it really was.
Ludlow's Island Resort is tucked away on about five acres of pure nirvana on Lake Vermillion, one of Minnesota's premier fishing lakes. After a full valet service for your car, you'll take an antique boat shuttle to this tranquil retreat. Ludlow's is a playground for everyone. The fishermen in the family can find guides to help them catch the infamous Minnesota walleyes that are abundant in the lake or catch some bragging rights with trophy class musky fishing. Several lounge chairs, an elevated sunning deck, a full-service spa, and the peace and quiet of isolation can appease even the most steadfast workaholic in the group. My mission on this trip was to embrace the relaxation, and family togetherness. I also wanted hear the call of the common loon, Minnesota's state bird whose haunting yodel hangs nearly tangible on lakeside breezes.
Unique Lodging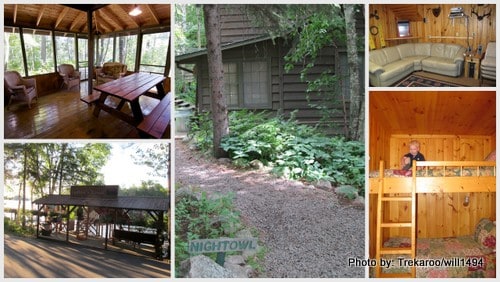 Ludlow's has 20 unique cabins—and I do not use the word lightly—I really mean each is completely different from the next. There is a cabin perfect for families of all sizes from one bedroom to five bedrooms. We entered out cabin and were blown away by how "homey" it felt. There was no mass-produced uncomfortable hotel furniture to be seen. It was very rustic but clean and comfortable. The couch was the kind that envelops you when you sit—the kind of place you really WANT to go to drink coffee or curl up with a good book. Each and every room in the cabin seemed to be begging us to really make ourselves at home. Night Owl is a special cabin, since it's the one that started it all. It's been renovated and polished, but it still has a rustic feel and it's easy to sit in the screened in porch and imagine life in 1933. It's also easy to see why there are now 19 more cabins on the island and families that return year after year. The place is a true paradise.
Outdoor Adventure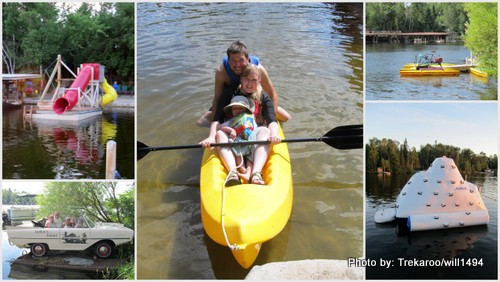 My son's mission for this trip was fun. And, Oh boy, is Ludlow's ever fun for the kiddos! My son was delighted to see the waterslides and the full gamut of watersports available along the shoreline of the resort. There is a giant iceberg to climb and then flop back into the water. There is even a zip-line. As much as I wanted to try the zip-line, I resisted after seeing a boy about one-third my size really make the rope dip down—I didn't want to forever be known as the girl who put the zip-line out of commission! We did see many kiddos do their best to get it really zipping quickly!
Safety and Serenity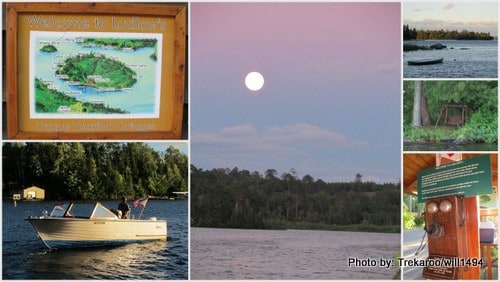 Nestled in Minnesota's towering, majestic pines, Ludlow's Island Resort offers families a chance to enjoy a secure, comfortable vacation like nowhere else can. I could see right away on the faces of some of the pre-teen girls we saw that Ludlow's was an adventure for them. It is an island where their parents were comfortable letting them roam around the five acres, feeling secure that they were safe to explore and have some independent outdoor experiences. We overheard one girl say "Isn't this place like so fun?" as she pet the island's resident canine, a friendly British Lab named Kirby.  Instead, there is a special Movie and Pizza night for kids only! In the hustle and bustle of today's world, to steal away to an island paradise such as this one, where parents can unwind and children can plot epic adventures, is a much-needed break from a fast-paced, technological society.
Slow Down the Pace and Connect with Each Other
Televisions are available—but you won't find them in every room like you would in many homes. There is Wi-Fi and a cell phone booster for those calls that absolutely cannot be put off. At Ludlow's, what's buzzworthy is enjoying a rare mosquito-free Minnesota sunset or overhearing a pack of children pretending to be detectives as they solve mysteries and invent great schemes trekking along the islands' trail system. Here, you may not have all of the modern, technological luxuries, but, you most certainly will find a better connection.
The most endearing exchange I overheard was between a father and daughter. "I cannot believe you had NEVER played Monopoly until last night!" the father exclaimed almost appalled (and honestly, I was too, thinking of the many nights that I fought to be the little Scottie dog.) The daughter responded genuinely, "Yeah! And it was actually really fun!"
Each morning we enjoyed not only the area newspaper, but also a personalized newsletter which showcased the daily events and activities for the next few days and any news on the island, such as contest winners and photos of participants. We stood by the dock slips and had a wonderful time watching jubilant kiddos participate in a 20 minute fishing derby, just to receive awards and a winning trophy at the end. We also "took the gold" in the sailboat races. Our prize was a stuffed animal beaver that my toddler son chased us the rest of the week saying "neeng, neeng, neeng!" (Imitating a beaver's gnawing sound to the best of his ability.) These snippets are the mental postcards that I will forever keep close.
My family enjoyed many delicious meals grilled out on the porch, overlooking the water, an abundance of laughs and memories made in the lake and at the beach, and some snuggly sunsets in the evenings, enjoying the cool air and even a brilliant full moon over the tree line.
While plucking Juneberries from their twigs on a trailside tree and indulging in the succulent little morsels during the last sunset of our vacation, I finally heard the eerie call of the loon, echoing the expanse of the glassy lake. I cannot help but feel very lucky that this is the backyard which I consider my home. I also think of the island friends we made from California, Missouri, Kansas, and states all over and hope that their families are hearing the loon's soundtrack, visceral and profoundly Minnesota. Hopefully, these families too will have some stellar moments that they will remember fondly from this awesome family haven.
Look at what's happening on our social media- think you know the answer?
Thank You to the folks at Ludlow's Island Resort for hosting my family for the duration of our stay. We were not compensated in any other way and as always, our opinions are honest and are our own.