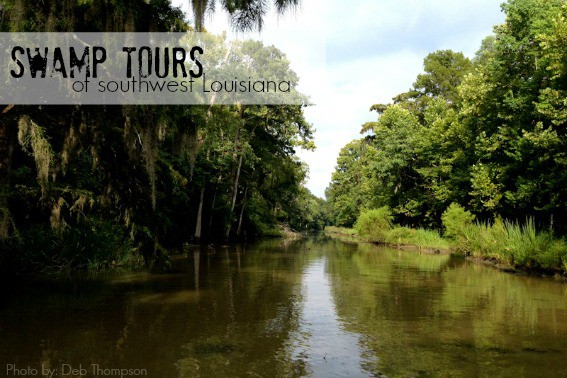 When mentioning Louisiana, Mardi Gras, Bourbon Street, and plantations probably come to mind, but one of the true gems of Louisiana is the abundant wildlife. Come and see hundreds of birds at a rookery, feed the alligators, or watch raccoons or muskrats play. The coastal waters, bayous, and swamps are the perfect settings for wildlife adventures that are fun for kids and adults alike.
Swamp Tours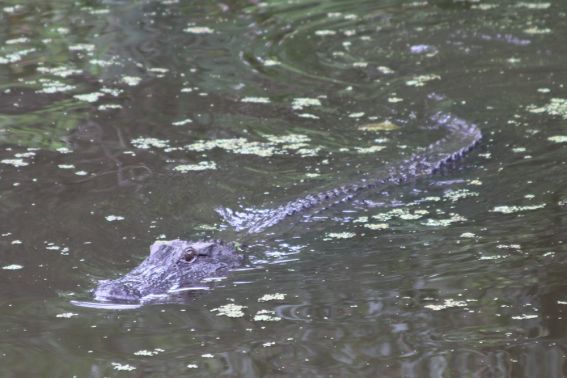 Upon leaving the shore, Nolan, the boat captain, wove lively stories and commentaries about Cajun life. Small waves rippled through the water and looking closely, a pair of eyes peeped out from above the surface. Just like that you can spot your first alligator. We spotted many alligators and wading birds; a few raccoons also came out to play when the captain tossed marshmallows onto the shore. Towards the end of the tour, Captain Nolan opened a small crate and picked up a baby alligator. Everyone had the opportunity to hold the baby gator and have their photos taken.
Many swamp tours are operated on privately owned waterways, the preferred mode for viewing wildlife. I selected Cajun Pride Swamp Tours just outside of New Orleans, which provides hotel pick up. The covered boat is shaded while benches that run along each side allow for great viewing. The tour length is approximately 90 minutes. Children ages 5 and up are recommended.
Airboat Rides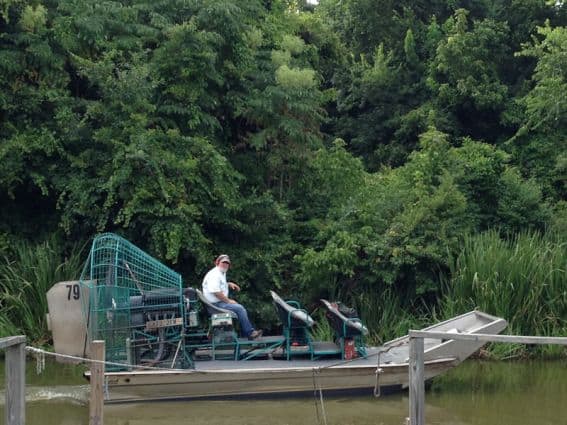 While the swamp tours are calm and quiet, an airboat ride through the swamps of Louisiana is a breathtaking experience- loud and adrenaline-inducing. Our Swamp Adventures captain sped across the water, took corners quickly, and zipped us fast into deep  swamp water.
Once the boat slowed down and lulled into a slow idle, our captain, with a keen eye for camouflaged animals, pointed us to the myriad wildlife. He lured an alligator almost to the top of the boat by feeding it raw chicken bits. It provided a great photo opportunity and was the highlight of the tour. Much too soon, we sped back to the dock, dodging around fallen trees and stumps, and enjoying one heck-of-a-ride.
Bird Rookery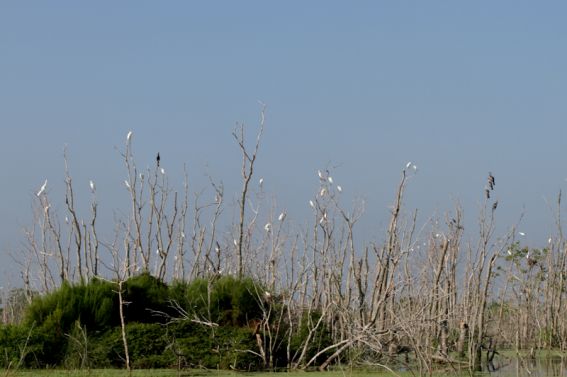 A visit to a bird rookery showcases just how many birds call this area home, either year-round or on a seasonal basis. Louisiana is one of the top 10 birding states in the country.
It was just past daybreak when I boarded the boat, owned by Grosse Savanne Eco Tours, that took me out into the marshes. I was still figuring out why I thought an early morning tour was a good idea as the boat moved away from shore. Soon enough, I realized that morning is the ideal time to see the birds in this region. Our nature guide for the tour started to identify the different birds-ducks, egrets, osprey, yellow rail, great blue heron, and more. He identified them by both sight and sound, and I soon learned that having a nature guide is a really helpful for bird watching! A flock of roseate spoonbills flew overhead and I "ooh"ed and "ahh"ed at their gorgeous colors. Another bird started to make its way into the marsh, and our guide identified it as a yellow rail, a bird that people come from all over the world to see.
The bird rookery is teeming with birds as well as alligators, and our small boat put us right in the midst of them. Our guide expertly guided us through the marshes. The two hour wildlife tour was the perfect length of time.
Tips: I recommend this tour for children 8 & up. Grosse Savanne will customize a tour to fit your family's needs.
Creole Nature Trail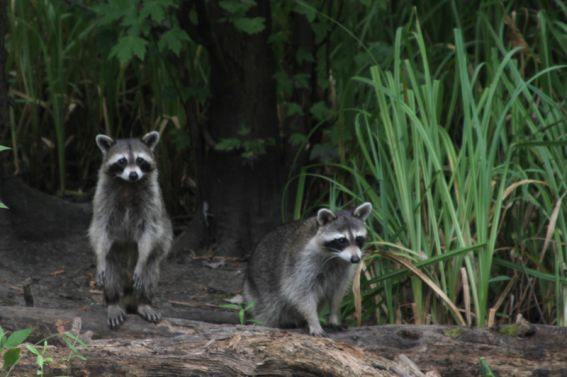 One of my favorite wildlife adventures is the Creole Nature Trail. Located in southwest Louisiana, the 150+ mile trail takes you by the Gulf of Mexico where you can search for seashells, wade, or swim in the cool water, and enjoy the views. Drive to Rutherford Beach Road on the way to the Gulf for crabbing opportunities. The road is narrow with steep embankments on either side, so be careful where you pull over to park. Part of the trail passes through Sabine National Wildlife Refuge, a great location for bird spotting by land. The refuge offers groomed walkways and platforms. A 1.5 mile boardwalk is wheelchair and stroller accessible. Here you can look for alligators, birds, rabbits, and muskrats.
For more tips on viewing wildlife, stop by the Wildlife Refuge Visitor's Center. An animated show is set up to engage visitors, especially youngsters. You can easily spend one to two days exploring the area around Creole Nature Trail. Plan to stay overnight in nearby Lake Charles.
*Tip: During the month of August, Insta-Gator Ranch in Covington, LA allows visitors to hold an alligator egg as it hatches. Be sure to stop by for this incredible experience.
Remember before heading out for a wildlife adventure, pack a tote bag with essentials: binoculars, camera, sunscreen, insect repellent, bottled water, and snacks. By land or marsh, Louisiana offers a rich array of wildlife adventure and unforgettable experiences for you and the family.
Disclosure: I was a guest of New Orleans Plantation Country and Lake Charles Visitors Bureau which provided these tours. All thoughts and opinions are my own.