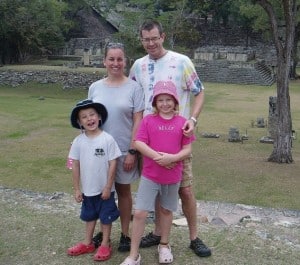 "I think the time for our BIG Europe trip has come," I exclaimed on the way back from our summer abroad to Honduras.  My wife had to talk me down from an around the world trip (RTW) for a year and this is what we came up with.  Many people we know share a similar dream, but supporting a family of four on a teacher's salary in the San Francisco bay area makes it tricky to make this dream a reality.  Yet, if there is a will there is a way. So from mid August to late December I'm taking a semester off work, to embark on 4 ½ months of travel, learning and adventure with my wife and kids.   As a teacher, I'm a bit of a planner. Through this article and others to follow, I hope to share with you how our family has methodically planned for this trip of a lifetime.

MotivationOur biggest lessons in life have often been learned during our travels.  While school is important, travel has provided an education, by expanding our world view in incredible ways.  It's shaken our American perspective as we've learned that not everyone in the world has the American dream. Some parents worry about taking kids out of school to take such a trip. But speaking as a teacher, the lessons you and your kids will learn traveling in another country will far surpass what they will miss out on the classroom.  As an adult, I wish we could have done more traveling earlier in life. That's why we want to expose our kids to wonderful travel experiences early on in life so that they can expand their view of the world at an early age.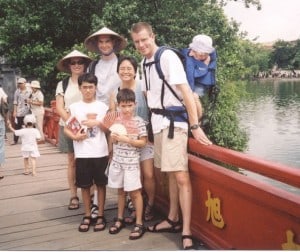 Why take this trip now?
As a teacher, I'm blessed with summers off and we have often taken advantage of the time to see the world.   Since having kids we've been to the Philippines, Vietnam, Cook Islands and several trips to one of our favorite destinations, Honduras.  We've now gotten to a point where a summer just is not enough and we want to take a really BIG trip.  My wife and I travelled to Europe pre-kids and it beckons again, this time with kids as a family!  

Why go now versus in retirement or when the kids are older? I've been teaching for 17 years now and really look at this trip as a time of sabbatical rest.  I'm looking at it as taking a semester off to study abroad as a family. Sure I could wait until retirement, but why wait! Who knows what our health will be like or what our life situation will hold. We want to live in the moment and live life to the fullest now. On a more practical note, our kids are also at a good age where they are generally enthusiastic about travel and more independent. They can wheel their own luggage, help wash their clothes in the sink, prepare meals, help with grocery shopping, and read quietly during down time.
Choosing Dates and Destinations
Our plan is to leave for our trip early August of 2010 and return mid December 2010.  We'll be traveling during the off peak season and hope to stretch our travel dollars by waving goodbye as our friends head back to school. Our goal is to start in Northern Europe and work our way south as the weather cools off. We've never traveled off season, so we're hoping weather will be more ideal and crowds less.  We want to be able to travel slowly, meeting people along the way, stopping for a cappuccino, taking a day off just to read and relax, and not cramming lots of sightseeing into each day. Due to visa restrictions that limit travel to mainland Europe to three months, we'll spend at least six weeks outside these locations. These limits don't apply to the UK and several other countries where we are traveling.
While we would love to see all of Europe, we're hoping to go at a slower pace, soaking up the culture as we go.  Our route at this point is: England – Scotland – Ireland – Netherlands – Denmark – Czech Republic – Germany – Austria – Switzerland – France – Spain – Portugal – Morocco –Croatia – Bosnia – Italy.  Our kids are really wanting to go to Greece and Turkey, but I think those countries may have to wait for another trip.  Advice we have received from travelers in Europe is that when you're traveling with kids, visit fewer countries and be flexible!  One final note about itinerary planning, Google Maps is a great tool for marking destinations with nice visuals.  Completed maps can then be saved and printed.
Travel Goals
For our family, our goals are as follows:
Have wonderful times as a family
Meet locals in each place we visit who can give us a real behind the scenes look at their country and culture
Experience the history of Western Civilization first-hand through art, architecture and music
Travel SLOW, savoring the sights, sounds, smells and tastes
Focus more on relationships and not as much on sights
Do it all on an extremely tight budget –200 per day/1500 per week/6200 a month
Finding the Money for a Long Trip:
Our family lives off a single income in Silicon Valley which has an unusually high cost of living.  So how did we come to be able to afford a trip like this? As one of our favorite travel writers, Rick Steves says, "travel is a matter of priorities." For us, travel is important, so we make sacrifices in other areas of our lifestyle to make it happen. First, we try to live a nearly debt-free life. Our main expense is our mortgage and housing expenses. Next, we live simply even at home. We own older cars, don't eat out much and live in a simple house. Our backyard is small, but we like to think of the world as our backyard. We've saved a little each year and now have enough saved to make the dream a reality. We are hoping to have some trusted friends sublet our house for the four months we are away to help with housing expenses.  I'll get a bit more into budget details for our trip later in the Getting Around and Accommodations section.
We have some good friends with a five and eight year old who are hitting the road to live a nomadic life for the next three years.  They are estimating they can live overseas for approximately 20-30k a year. Part of the time, they will be living and working on organic farms through the WWOOFing Network.  In our work driven culture of the San Francisco Bay Area, and America in general, getting a long leave of absence from work is unusual.  In Europe however, this is quite common.  I just got this email today from a family we are going to stay with in the Netherlands, "People here often have "sabbaticals" for half a year or a whole year. I have two colleagues; one is sailing one year around the Atlantic, the other one is sailing half a year on the Mediterranean Sea. So I guess I have to follow some day!" Another family we hosted this past year from Montreal with twin 9 year old girls, live on 80% of their salary and take a six month trip every four years with their savings.  Their last trip was to Central America and next they are looking at Southeast Asia.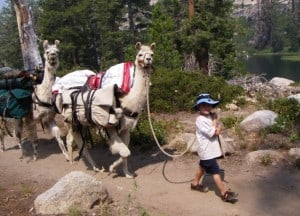 Packing Light Makes for Happy Travels
In the spirit of our favorite travel guru Rick Steves, you can't do all three things. 1) Travel fast, 2) Take everything you want, 3) Have fun. You can only choose two so I guess we'll go with one and three!   How do you do this while planning on camping as well? The plan is to have all our camping gear fit into one large rolling duffel. I've researched lightweight and compact camp gear and below is a list of what I came up with.  We'll also have two smaller rolling duffels that each parent will split with a kid. Each of us will then have a backpack for our small often used items.  Check back on Trekaroo for a full article on packing for a long trip.  I also researched the best electronics for traveling and will have a write up on that shortly.
Getting Around
By far the most economical way to travel with four people is by rental car. We are looking at leasing a Peugeot vehicle. I think we'll have too much gear for a sub compact so we'll probably spend a couple more dollars a day for a small five seater like the 308 SW through the Peugeot Open Lease Buy Back Program. This program is only available to non European residents.  It's an 85hp diesel which gets 55 MPG. This will be our tiny home on wheels taking us to remote (read more economical) locations throughout Western Europe. Within big cities, we'll travel via public transit.  The longer you have the car the less it costs.  For the 308, the cost is $61 for the first 21 days and then $25 a day after that.  With Auto Europe, this price includes everything including zero deductable insurance.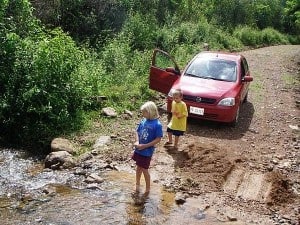 Affordable Accommodations
For accommodations, we will do a combination of couch surfing, camping, hostels and pensions.  Just this past summer we discovered couch surfing and have met some wonderful families already who have offered to host us.  Couch Surfing is more than a free place to stay, but a cultural exchange.  Couch surfing is made up of tens of thousands of people all over the world.  We're part of a smaller group made up of families who welcome other families.   We've made connections with literally dozens of like-minded (well traveled) families in Europe already who are excited to host a real American family!  Over the Christmas holiday, we hosted a family from Quebec, a young man from Germany and a couple from Boulder.  A fantastic time was had by all.  A couch surf friend of mine from Norway wrote up a nice set of guidelines for families listed below.
While couch surfing is a fantastic (and free) way to meet local families up close and personal and really get to know the culture, it can also be quite draining.  We will be alternating couch surfing with camping and an occasional hostel or pension as a treat.  In any given week, we're planning for three days of couch surfing, two days of camping and two in a pension or hostel.  For many European families, hostels are the way they travel.  A lot of money can be saved by preparing your own meals for dinner and picnicking for lunch.  Many hostels in Europe have private rooms at a fraction of the cost of a hotel.  Mom and pop pensions give a much more local flavor and the off season can offer exceptional deals.  Often, the more you spend on accommodations, the further removed you are from authentic Europe.
Resources
Couch Surfing International – http://www.couchsurfing.org
Couch Surfing Tips for Families – http://www.couchsurfing.org/family_tips.html
Schertle Couch Surf Profile –  http://www.couchsurfing.org/people/schertle/
Rick Steves' Europe – http://www.ricksteves.com
Rick Steves' Camping with Families – http://www.ricksteves.com/plan/tips/0899camping.htm
Auto Europe – http://www.autoeurope.com/buyback_home.cfm
WWOOF (World Wide Opportunities on Organic Farms) – http://www.wwoof.org/
Hostelling International – http://www.hihostels.com/
Wrapping it Up
We're planning for an extended trip, but this model could easily work for shorter trips as well.  Kids add a whole new dimension to travel.  While we now travel at a slower pace, the richness of our travel experiences has never been greater.  Exploring the ruins of Copan now becomes an Indiana Jones adventure, not just a learning experience.  A visit to the cheese factory in Tillamook, Oregon is a fascinating exploration in curds.  Now we'll take on Europe.  I'm curious to see how the Schertle family can single handedly lay siege to a castle?  Only time will tell but one thing is for sure, memories of a lifetime await.
About the Author
Rick is a middle school teacher in San Jose, CA where he lives with his wife, 10 year old daughter and 7 year old son.  Rick's blog posts will appear occassionally here on Trekaroo before, during and after his BIG trip to Europe.
Travel with kids to: CA | CO | DC | FL | HI | IL | MA | NC | NY | PA | TN | TX | VA | WA